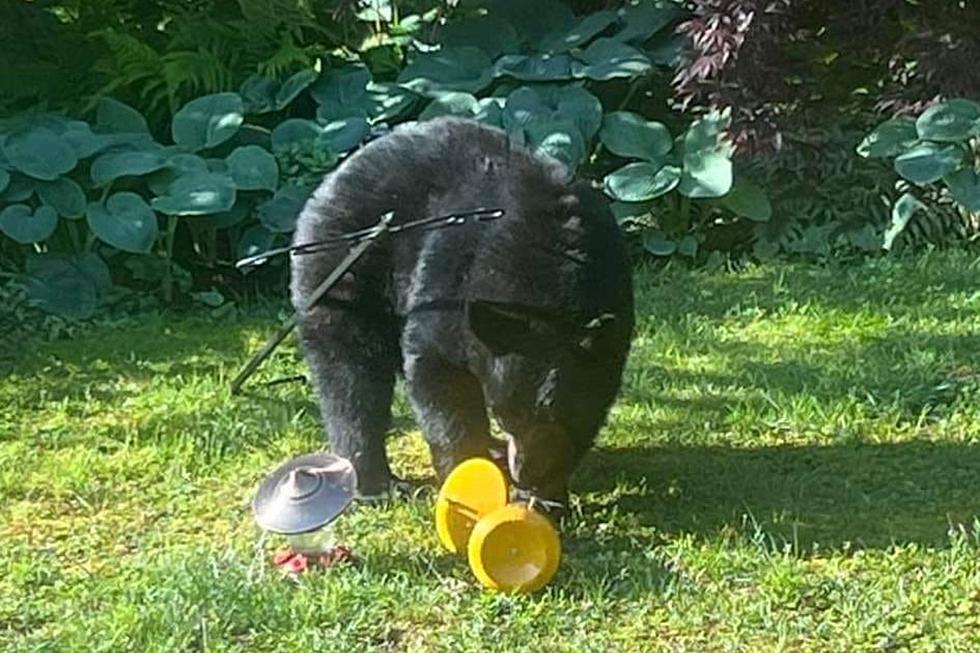 MassWildlife Bear Expert Confirms Second Bear on the SouthCoast
Courtesy Resina Brennan
MassWildlife has confirmed what many on the SouthCoast already knew: there is more than one bear that has been making its way through the region.
Over the past few weeks, a black bear had become the talk of the SouthCoast as he was spotted in cities like Taunton, Fall River and New Bedford, as well as numerous suburban communities such as Dartmouth, Assonet and Acushnet.
He was even captured on film taking a swim in Sippican Harbor in Marion.
On Tuesday, May 30, WBSM consulted with Dave Wattles, Black Bear & Furbearer Biologist, for the Massachusetts Division of Fisheries and Wildlife. At that time, Wattles said he believed there was just one bear roaming through the area, a male around two years old.
"It's almost certain that it's the same bear," Wattles said on WBSM Tuesday. "You can see as it went from Franklin and Wrentham into Taunton, you can follow the path…It's pretty much one animal that is moving through all those towns."
Even by that time, as the bear had moved into the Plymouth, Middleboro and Carver area, many who had been following the bear's movements came to believe there was more than one.
Through the latter part of last week, many on social media claimed there were bear reports happening at the same time with significant distances between them. How could a bear be photographed in Carver around the same time it was photographed in Lakeville? Even though bears can cover great distances in a single day, the numbers didn't seem to add up.
We checked back in with Wattles, who said there is indeed more than one bear meandering across the SouthCoast.
"Yes, about a day after I spoke with you, we started to get reports that indicated there were two bears," Wattles told WBSM Monday morning. "All the reports you had been tracking were certainly made by the one bear, but suddenly we had another pop up, with one being reported in Carver while the second was in Lakeville and Berkley."
Wattles said MassWildlife got a report in Carver but had dismissed it.
"It was a one-off report and we dismissed it as part of the hysteria following the traveling bear, especially since we hadn't had any reports anywhere in the area prior to that," he said. "As you can see from the past month, we don't typically end up with a bear that far east without a trail of reports leading it there."
Since the Carver sightings seem to be off the expected path for the SouthCoast bear, Wattles believes we are dealing with a second bear.
"I'm suspicious that the one in Carver may be a bear that had regularly been seen in Sharon and Easton last fall and earlier this spring, but that had been relatively settled," he said.
Wattles said "no recent sightings of either" bear had come his way.
States with the most registered hunters
Stacker
analyzed data from the U.S. Fish and Wildlife Service to determine which states have the most registered hunters. Read on to see how your state ranks on Stacker's list.
LOOK: Here are the states where you are most likely to hit an animal
Hitting an animal while driving is a frightening experience, and this list ranks all 50 states in order of the likelihood of such incidents happening, in addition to providing tips on how to avoid them.
More From WBSM-AM/AM 1420