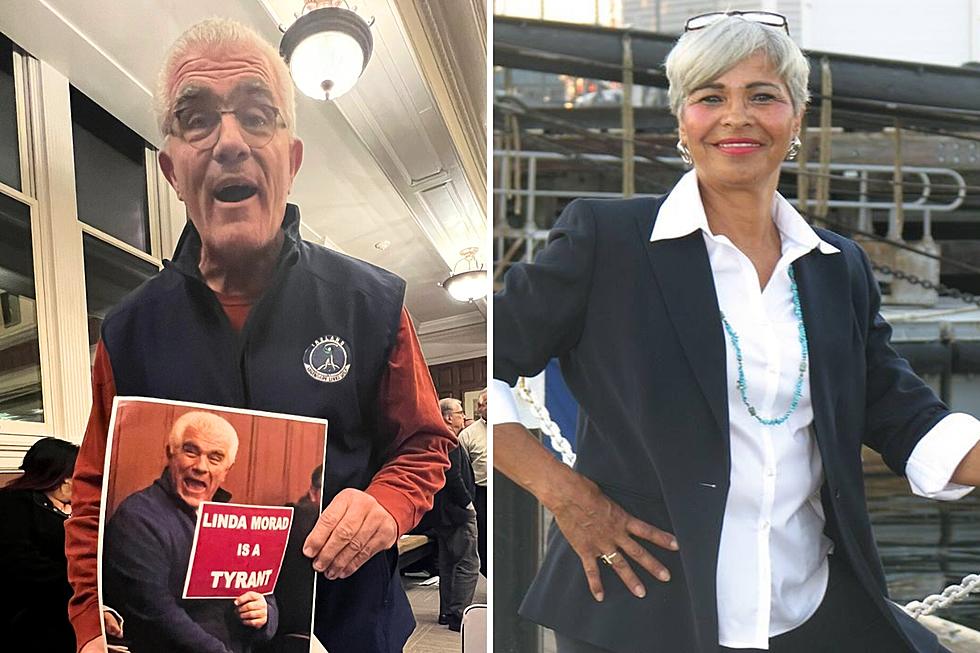 Safioleas Files Assault Charge Against New Bedford City Councilor Carney
@AdamBassofMass via Twitter; Naomi R.A. Carney New Bedford Councilor at Large via Facebook
NEW BEDFORD (WBSM) — Political gadfly Evangelos "Gilly" Safioleas has filed an assault and battery charge against New Bedford City Councilor at Large Naomi Carney over an incident that happened at a recent licensing board meeting.
Meanwhile, Carney has accused Safioleas of attempting to blackmail her by threatening to press charges if she refused to put forth a particular motion on the council floor.
Safioleas called into WBSM's Barry Richard Show on Thursday and claimed that at the July 24 meeting, in which the licensing board voted 3-0 to ban so-called "nip" bottles from being sold in New Bedford, Carney assaulted him when she knocked his cell phone out of his hand.
"She assaulted me at the liquor licensing board, with witnesses," Safioleas told Richard.
However, Carney denies that she assaulted Safioleas.
"I assaulted his phone, not him," she told WBSM Thursday.
What Happened Between Carney and Safioleas
Safioleas provided WBSM with a copy of the police report regarding the incident, which was written by Officer Jonathan Miranda. According to the report, Safioleas walked into the meeting and sat down on a wooden bench in the back of the room, next to Leo Choquette, who is running for the Ward 1 city council seat.
"Mr. Safioleas said that City Councilor at Large Naomi Carney entered the room, and asked Mr. Safioleas where his signs were," the report states. "Mr. Safioleas said that he just looked at Ms. Carney, and just paid attention to the meeting."
Safioleas is known for bringing handmade signs into city council meetings, most often targeting City Council President Linda Morad and Councilor at Large Brian Gomes.
As the meeting went on, Carney said she began to have trouble seeing and hearing what was transpiring, so she propped herself up on the wooden bench and sat on the back of it in order to see a little better.
Safioleas took exception to her sitting that way, stating in the report that "if he did that in the city council chambers, he would be kicked out."
Carney told WBSM that Safioleas began chastising her, saying things like, "ladies don't sit like that," which Safioleas later confirmed to WBSM that he indeed said.
"Ms. Carney and Mr. Safioleas then exchanged words," the police report states. "Ms. Carney states that Mr. Safioleas then stood up and put his phone close to her face."
Safioleas told WBSM he planned on taking a photo of Carney and the way in which she was sitting.
"Ms. Carney said that Mr. Safioleas was in her personal space, and she felt she was going to be attacked," the report states. "Ms. Carney states she then swiped Mr. Safioleas' phone out of his hand."
Carney admitted she knocked the phone from his hand, but asserts that it was a move not with an assaultive intent, but rather a defensive one.
"From my armpit to the tip of my finger is 24 inches long, so he was within 24 inches of my space," she told WBSM. "He got up and came into my space. I was trying to listen, and he kept humming at me."
"I've known Gilly for over 40 years, and I've seen him in a rage. He can be a very rageful person," she said.
In 2010, Safioleas pleaded guilty to charges that he physically assaulted former New Bedford High girls softball coach and retired attendance officer Kenneth Soares outside a city gym in October 2008.
Safioleas has been arrested and removed from city council meetings for what the councilors feel is disruptive behavior on multiple occasions. In October 2016, he was arrested for clapping in council chambers despite warnings not to do so, which he claimed was part of a "vendetta" against him by Council President Lind Morad. He later was found guilty of criminal trespassing.
Safioleas was then arrested again in March 2018 for once again clapping during a council meeting.
He sees the response to Carney's alleged assault on him as a double standard.
"If it was the other way around, they'd all be hanging me in Brooklawn Park," Safioleas said.
He also said that he was not as close as Carney claims, because he said Choquette was in between the two and that Carney had to lean forward to slap the phone from his hand.
The police report mentions that Choquette called the police station later.
"Mr. Choquette stated that he just wanted to clarify to me that he never saw Mr. Safioleas hit Ms. Carney," Officer Miranda wrote. "Mr. Choquette only saw that Ms. Carney slapped the phone out of Mr. Safioleas' hand."
Safioleas and Carney Reach a Supposed Understanding
Both Safioleas and Carney later met with Police Chief Paul Oliveira, who attempted to mediate the situation and squash the issue. Safioleas and Carney both said that Safioleas agreed not to press charges if Carney offered him a written apology.
"So I wrote a letter apologizing for slapping the phone out of hand," Carney said.
WBSM was shown the letter, in which Carney did apologize for her actions.
"It was done, a done issue," she said.
Safioleas Asks for a "Favor," Carney Calls It Blackmail
However, on August 2, Safioleas called Carney and asked her to file a motion to put a question on the November ballot regarding term limits for city councilors, after a citizen petition failed because the petitioners had apparently been following an incorrect procedure throughout the signature-collecting process.
"Gilly called me and said, 'I need you to do something. I need you to put a motion on the floor to put term limits on the ballot," Carney said.
She said she herself declined to sign the petition because she "doesn't believe in term limits," and that she was currently in the process of gathering information as to what happened with the failed petition drive.
Carney said she also supports a review and possible updating of the city charter, and that she intends to seek the council presidency next year if re-elected in November so she can push for it.
"He said 'I want a yes or no answer,' and I said I don't know," Carney said. "He said, 'If you don't tell me yes, I'm going to press charges against you.'"
Carney said that the ballot question issue "had nothing to do with what our agreement was, which we did as friends for 40 years."
"Now you want to blackmail me, and hold it over my head?" she said. "I told him 'do what you have to do' and hung up the phone."
Safioleas objects to the characterization that he was attempting to blackmail Carney.
"I did her a favor in not pressing charges," he said. "I just asked her to do me a favor in return."
He went to the police station earlier today and pressed charges against her.
The charge of assault and battery in this case would be a misdemeanor, according to the police report.
SouthCoast's Best-Looking Police Cruisers
Check out these police cruisers from throughout the SouthCoast. Rochester may have been crowned No. 1, but it had some stiff competition.
Your Complete Guide to Outdoor Dining on the SouthCoast
We compiled a list of all of the restaurants on the SouthCoast that offer outdoor dining. That's right. We did all the legwork for you. Now all you have to do is pick one and call to make that reservation so you can dine al fresco tonight.
*UPDATE: This post was revised in April of 2023.
More From WBSM-AM/AM 1420