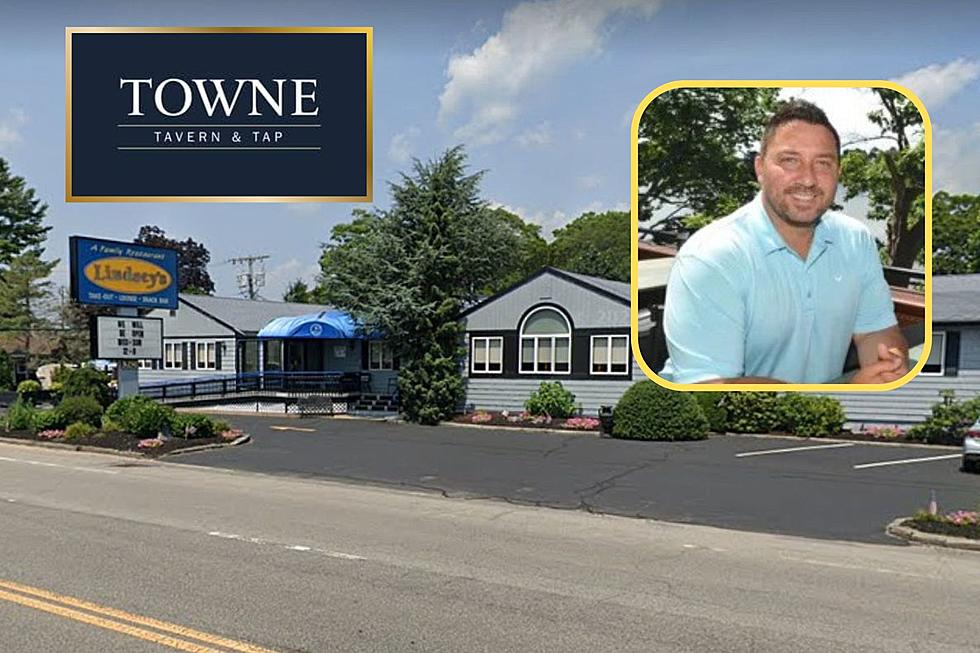 Wareham's Iconic Lindsey's Restaurant Will Become Towne Tavern & Tap
Google Maps; LinkedIn; TowneTavern.com
WAREHAM (WBSM) — A successful restaurateur is in the process of purchasing Lindsey's, the legendary Wareham family restaurant that closed last November after 74 years in business.
The new owner of Lindsey's is Dave Barry, who owns the Towne Tavern & Tap in North Attleboro and the Towne Tavern & Treehouse in Pembroke.
Barry confirmed the sale to WBSM in a phone interview back on May 19, and said the former Lindsey's will become a Towne Tavern & Tap location as well.
"It's definitely an institutional spot," Barry said. "I'd never really gone over there over the years, in all my years going back and forth to the Cape. I toured the facility, I liked the area. They're putting in a lot of extra money on the Cranberry Highway. I thought it was a good spot for my brand."
Barry was referring to the Cranberry Highway undergoing a major facelift in recent years, with a $17.4 project that is expected to be wrapped up by the end of 2024.
Speaking of facelifts, Barry also plans on renovating Lindsey's to fit his Towne Tavern & Tap concept.
"It's still going to be that family restaurant, just with more of all generations of offerings. It's a very eclectic menu," he said. "We're not looking to replicate what Lindsey's did, even though it was successful for so many years, but we are going to have seafood."
The Towne Tavern & Tap menus feature items such as carne asada fries, lobster poutine, ahi tuna wontons, korean fried chicken, prime rib mac and cheese, and pizzas made with their house-made pizza sauce and other combinations such as a pastrami and pickle pizza.
Brian Bulzacchelli is the culinary director and executive chef of Towne Tavern & Tap. He trained at The School of Culinary Arts in Pennsylvania and has cooked for celebrities like Jay-Z, former NFL players Tiki Barber and Dan Marino, and the cast of The Sopranos.
"Mine will be a very eclectic brand to that area. Nobody's like what we do," he said.
Barry said he expects the sale to close sometime in the next couple of months, and then he will take a few months to renovate the former Lindsey's before officially opening in the fall. He said waiting until then will allow him to give his full attention to the Wareham location when it opens.
"My other two locations are very summer-driven, and I want to be able to focus on my brand when it gets down to Wareham 110 percent to make sure it's executed to perfection," he said.
Lindsey's closed in November 2022, with owner Cheri Lindsey telling Fun 107 at the time "My heart is broken" but that she was left with no choice after a "lack of staffing, increased wages, increasing food cost and a decrease in consumer spending" led her to a "startling reality."
The property was formally listed back in December 2022, and Lindsey told Wareham Week that she had "four or five other offers" for the property before agreeing to sell to Barry.
Seven Legendary Wareham Restaurants to Try Now That Lindsey's Has Closed
Wareham is more than just the Gateway to Cape Cod, it's also the gateway to good eats. Even as the legendary
Lindsey's has closed
, there are still plenty of family style restaurants in the 'Ham that you have to try.
The Dishes to Try Most at Over 100 SouthCoast Restaurants
From the freshest seafood you can find to some of the best dang Portuguese dishes outside of Portugal itself, there are so many dishes to enjoy and love here on the SouthCoast, and we put 'em all into one spot. Check out more than 100 of the SouthCoast's favorite restaurants, and let us know if your favorites made the list.
More From WBSM-AM/AM 1420