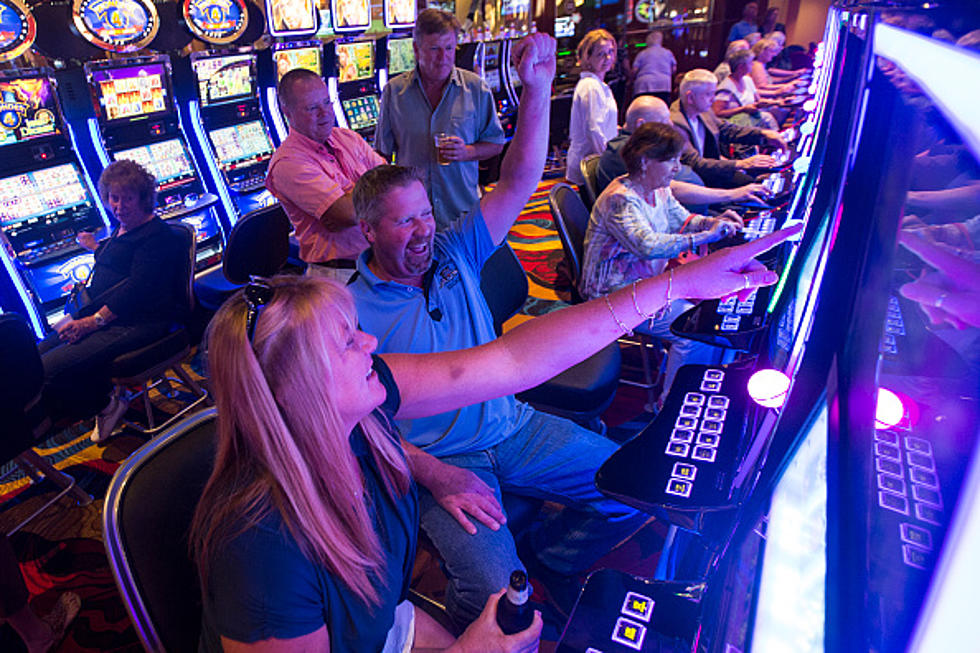 Plainridge Park Casino Officially Opens
Photo by Keith Bedford for The Boston Globe via Getty Images
(Associated Press) - The start of casino gambling in Massachusetts kicked off Wednesday as the state's first slots parlor, Plainridge Park Casino, officially opened for business to a large and eager crowd of gamblers.
Hundreds of special guests cheered as casino officials and state gambling regulators cut a ceremonial ribbon held by two women dressed like Las Vegas showgirls.
``It's showtime!'' state Gaming Commission Chairman Stephen Crosby declared, calling it a ``momentous'' day for Massachusetts, which became the 40th state to offer casino gambling after years of contentious debate , including last year's failed attempt to repeal the state's 2011 casino law.
``Take a look at this facility,'' Crosby said. ``Take a look at 500 quality, high paying jobs.''
Less than two hours later, hundreds of paying customers streamed into the casino as the doors officially opened for business just before noon.
Some, like Alan Conroy, of Plainville, had been waiting in the summer heat since the early morning hours to try their luck on the facility's 1,250 gambling machines.
``I just want to gamble,'' Conroy said as he showed off a picture he took earlier with former New England Patriots quarterback Doug Flutie, who was on hand for the opening because he owns a restaurant and bar in the casino. ``I've been waiting for this place to open for years.''
Massachusetts leaders have high hopes for the $250 million casino, which also features a harness racing track that's long been on the property.
Plainridge is projected to generate about $200 million in gambling revenues in its first full year of operation. About $98 million will go the state.
The casino has also pledged to pay the town of Plainville at least $2.3 million annually, on top of some $1.5 million in property taxes.
``It's never easy being the first operator in a new jurisdiction,'' remarked Tim Wilmott, CEO of Penn National Gaming, the Pennsylvania-based casino operator that developed the facility.
Located near the Rhode Island border, Plainridge is expected to draw Massachusetts residents who would otherwise travel to Twin River Casino in nearby Lincoln, Rhode Island, or the two Indian tribe-run casinos in Connecticut, Foxwoods and Mohegan Sun.
Boston resident Doc Palmer, a regular at Twin River, is among the gamblers the casino hopes to woo. ``I go where the money is. They pay out good at Twin River. If they pay out better here, I'll come here,'' he said as he waited to enter the casino floor.
Penn National Gaming officials Wednesday bristled at Plainridge being described as simply a ``slots parlor.''
Indeed, few of the facility's flashy machines resembled the old-time slot machines fed by quarters and activated by the pull of a lever, and the venue offers other amenities, like a stage for shows in addition to bars and eateries.
At the same time, the gambling house is not a full-fledged casino in the Las Vegas resort mold.
While it offers electronic versions of blackjack and roulette, it does not offer traditional casino table games managed by a live dealer.
It operates essentially around-the-clock, but last call for alcohol is 1 a.m. and there's no smoking allowed inside.
Plainridge is also the smallest of three gambling halls slated to open in the Bay State in the coming years.
MGM is building an $800 million resort casino, hotel and entertainment complex in Springfield, while Wynn is building a gaudy, $1.7 billion one in the Boston area.
More From WBSM-AM/AM 1420