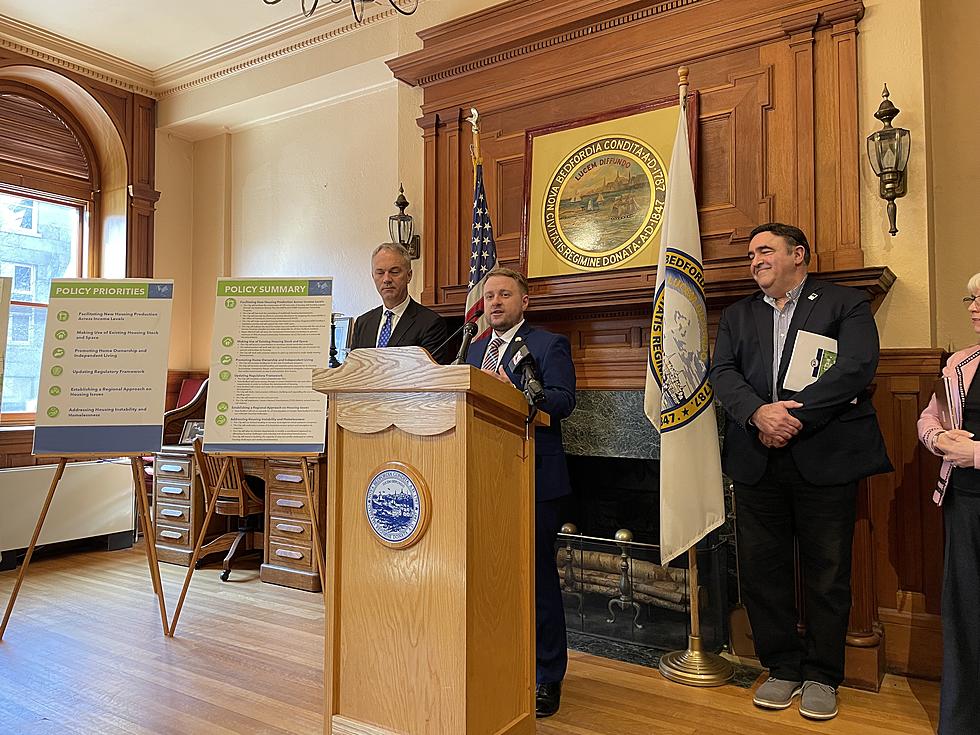 New Bedford Releases 22-Point Plan to Address Housing Crisis
Kate Robinson/Townsquare Media
NEW BEDFORD — At a press conference Wednesday morning, New Bedford officials unveiled a 22-point plan focused on increasing the supply of housing to address the growing cost of housing in the city.
As outlined by Mayor Jon Mitchell, the plan includes measures to stimulate the development of new housing, use existing vacant properties, and promote home ownership for local residents.
Mitchell also proposed making changes to city regulations — including reducing minimum lot sizes and parking requirements — to make development easier, as well as strengthening rental assistance programs and the homeless service system.
The city will also fast-track permitting for multi-family housing development projects, among many other measures, Mitchell said.
Read the city's comprehensive housing plan
Housing has become a major issue in New Bedford in the past few years, the mayor noted at the press conference, adding that city residents have experienced "price shock" in both the rental and real estate markets.
"This has meant that, in many corners of our city, folks have really struggled," he said.
"It's not an overnight exercise," Mitchell added. "We're not gonna solve everything concerning the housing market that is beyond our reach. But we're going to be doing everything that we think is effective to address the problem here."
The mayor finished by stating that New Bedford holds around 50% of the area's population, but an estimated 90% of the rental units.
Meanwhile, Mitchell noted, none of the neighboring towns in the greater New Bedford area are in compliance with the state's affordable housing requirements.
"That's an issue," he said. "So we do need a commitment from the towns...New Bedford can't operate in isolation on this front."
His plan makes use of federal and state funding provided through a variety of grants and programs, including the American Rescue Plan Act, HOME Investments Partnership, the Housing Development Incentive Program, and the Community Preservation Act.
City housing director Joshua Amaral, city councilors Scott Lima, Naomi Carney, and Shawn Oliver, and  Tony Sapienza also spoke at the conference.
Finally, PACE executive director Pam Kuechler, and Carl Alves of PAACA and chair of the New Bedford Homeless Service Providers Network also spoke at the press conference.
Amaral called the plan "a sea change" for the city's housing, stating that increasing residential units is a major priority.
To that end, he said the city's Office of Housing and Community Development will work to reduce red tape, fast-track large housing developments, recruit developers, and put vacant properties "back to productive use."
"We have to throw the kitchen sink at it, every approach that we can," he said.
"If you are a developer with the capacity to build the types of projects that we need here in New Bedford...we need you," Amaral added. "We are open for business."
Hilarious New Bedford Slideshow Has Travel Site Catfishing Tourists
A travel website called
UniverseTravel.org
has created an
online 'story'
enticing potential tourists to visit beautiful New Bedford, Massachusetts. The only problem? It features photos that hilariously have nothing to do with the Whaling City. This is what happens when you let AI do your job for you.
Peek Inside New Bedford's Historic Rodman Mansion
This 1833 granite mansion on County Street was designed by architect Russell Warren in the Greek Revival style. It now houses office condo spaces, but some of its former glory is still visible!
More From WBSM-AM/AM 1420