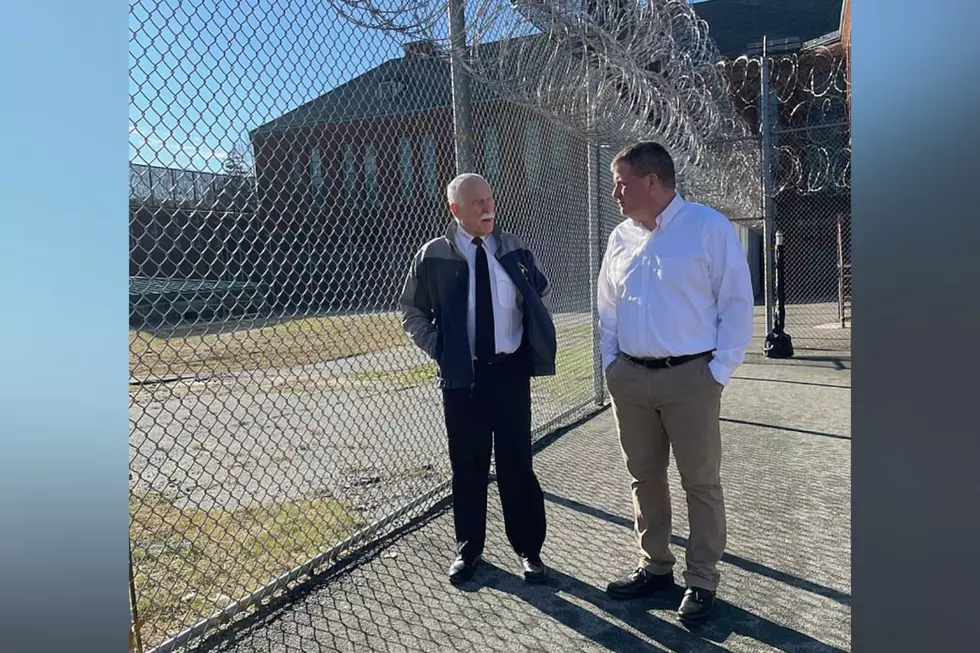 Heroux Announces Plan to Close New Bedford's Ash Street Jail
Courtesy Bristol County Sheriff's Office
In an appearance on WBSM's SouthCoast Tonight Tuesday, Bristol County Sheriff Paul Heroux announced that he has developed a plan to close the controversial Ash Street Jail in New Bedford and move the inmates to the now-defunct ICE detention facility in Dartmouth.
Heroux's plan includes working with the Massachusetts Division of Capital Asset Management and Maintenance (DCAMM) to build out 120 single cells in the large open space where ICE detainees had previously bunked and transferring the approximately 96 inmates occupying Ash Street to the new facility in Dartmouth.
Heroux said he would need funding appropriated by the state legislature and Massachusetts Governor Maura Healey in order to make the project a reality.
"Bottom line is, I will close Ash Street and I will do the right way, slowly and thoughtfully," Heroux said.
Heroux added that the state's current moratorium on new prison construction wouldn't apply in this circumstance.
"This isn't new prison construction," Heroux said. "This would be a retrofitting of existing inmate space, and arguably it's actually downsizing because then we could close Ash Street, which has a lot more than 120 cells."
The Ash Street Jail was built in 1888 and is the oldest operating jail in the country. It has been the center of controversy for decades.
Former Sheriff Tom Hodgson had been steadfastly committed to keeping the old jail open during his 25-year tenure despite protests by local activist groups and community leaders that the jails dated infrastructure makes it unfit for inmate habitation.
Even though many of those local activist groups, such as Bristol County for Correctional Justice, played a key role in helping the Democrat Heroux defeat his Republican rival Hodgson in last November's election, Heroux had been noncommittal on closing Ash Street throughout the campaign and the transition.
He cited concerns that its closure could overcrowd the House of Correction in Dartmouth and create some logistical difficulties with housing certain inmates who need individual cells like the ones available at Ash Street, but he had also left open the possibility of closing it upon further evaluation.
Heroux had recently said he was surprised at the cleanly conditions of Ash Street Jail when he toured the facility with Hodgson in late December, which he said were contradictory to some of the "horror stories" he had heard. He said he was also encouraged by some of the amenities that were made available to inmates.
The ICE detention facility once held detainees awaiting process from the U.S. Department of Homeland Security's Immigrant and Customs Enforcement agency. Hodgson had entered into an agreement with DHS widely known as a 287(g) agreement that allows sheriff's offices to assist ICE holding detainees.
However, after a May 1, 2020 conflict between BCSO and detainees at the facility, then-Massachusetts Attorney General Maura Healey launched an investigation into the incident and concluded Hodgson's office had used excessive force and violated the detainees' civil rights.
Following the investigation, the BCSO's agreement with ICE was terminated by President Biden's Secretary of Homeland Security Alejandro Mayorkas. Hodgson maintains that Healey's investigation was "baseless," and called Mayorkas' decision to terminate his contract with DHS was a politically motivated stunt.
Heroux explained that he had conceptualized the idea to retrofit the now-empty ICE detention facility to replace Ash Street after a conversation with Hodgson during the transition.
Hodgson had told Heroux he had heard a rumor that Heroux would move the Ash Street inmates to the old ICE building. Hodgson had cautioned his successor that he could not do it because the Ash Street inmates need single cells and the ICE detainees were all bunked in a wide open space.
The new sheriff said the rumor his predecessor had heard wasn't true, but it gave him the inspiration to figure out how he could move the Ash Street inmates to Dartmouth. Shortly after, he came up with the idea to convert the open space in the ICE building into single cells.
Heroux plans on hosting members of Bristol County's Beacon Hill delegation as well as other legislative leaders on January 27 to tour Ash Street and then tour the ICE facility and make the pitch to them to secure the funding for the project. He said he has gotten several commitments from lawmakers already to attend the tour.
Heroux also said he invited Healey as well, and if she is not able to attend the January 27 tour, he hopes she can visit the facilities at a later date.
"In politics, coming up with solutions is not usually difficult," Heroux said. "Even implementing solutions isn't very difficult. It's the in-between, getting the buy-in from the stakeholders who are going to cooperate to help make it happen."
Listen to Bristol County Sheriff Paul Heroux on SouthCoast Tonight.
Top Stories for the First Week of 2023
More From WBSM-AM/AM 1420