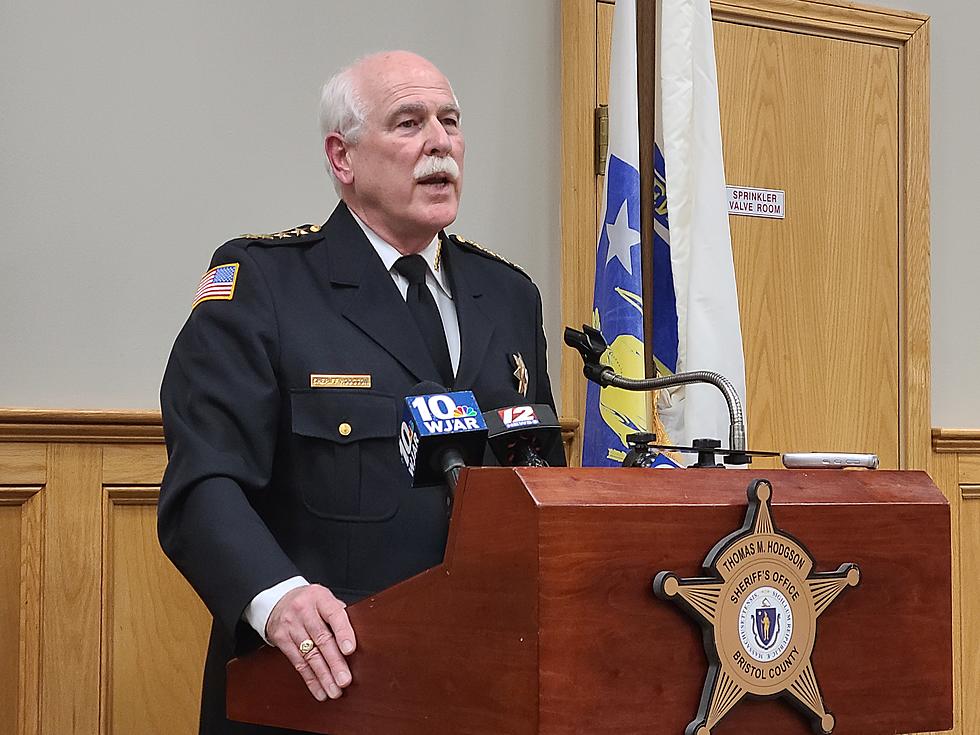 Hodgson: AG's Report 'Baseless' and 'Politically Motivated'
Brian Fraga/Townsquare Media
DARTMOUTH — Bristol County Sheriff Thomas Hodgson attacked as "baseless" and "politically motivated" this week's report from Massachusetts Attorney General Maura Healey that accused his officers of using excessive force and violating detainees' civil rights during a May 1 melee at an immigration detention center in Dartmouth.
"The attorney general's report goes to incredible lengths to dismiss and discount the truth about what really happened," Hodgson said during a press conference Wednesday at the Bristol County House of Correction.
Hodgson said Healey's investigators never interviewed him and left out evidence that he was struck by a chair that a detainee is alleged to have thrown at him during the fracas, which was sparked by detainees refusing to be taken to the jail's medical wing to be tested for COVID-19.
Whereas the attorney general's report said correctional officers escalated the altercation and used excessive force that included a flashbang grenade, K-9 police dogs, anti-riot shields and pepper spray, Hodgson defended the officers and said his staff "did everything by textbook."
"The report frankly is doing what the attorney general does best. She writes these outrageous sorts of reports as a way to try to get notoriety for what her political aspirations are," said Hodgson, who called Healey "a political hack".
Hodgson, a staunch Republican, also accused Healey, a progressive Democrat, of creating a "false narrative" of the incident and of "weaponizing" her office against people who disagree with her on political issues such as illegal immigration.
"She didn't want to know the truth," said Hodgson, also claiming that he was "the only one who got hurt" in the violent altercation. He told reporters that he had suffered bruising on his shoulder and was still dealing with "nerve" issues.
In a statement released Wednesday after the sheriff's press conference, Healey said her office's findings were "based on solid evidence" from her investigators' review of multiple videos of the incident, as well as "hundreds of pages of documents" and interviews with more than a dozen Bristol County Sheriff staff members.
"Just because Sheriff Hodgson does not like my office's factual findings does not make them any less reliable or true," Healey said. "If the Sheriff disputes the accuracy of our findings, he should immediately release all of the video footage, incident reports, and other evidence related the incident to the public – instead he is fighting against their release in court.
"Every day that Sheriff Hodgson does not implement much-needed reforms at the facility, he is risking the lives of every single person there, detainees and his own staff alike," Healey added.
The attorney general's report says the melee began when 10 individuals, after being initially screened for COVID-19, were told that they would need to leave their detention unit to be tested for the novel coronavirus, and isolated if the results were positive.
The detainees refused to be taken to the jail's medical wing because they feared being exposed to the virus, according to the attorney general's report, which indicates the situation escalated when Hodgson arrived at the scene and warned the detainees that they would be removed by force if necessary.
Hodgson and the officers left the unit as a group of 24 detainees at the C. Carlos Carreiro Immigration Detention Center threw chairs, smashed mirrors, destroyed sinks and other appliances. Hodgson told reporters that the detainees damaged "thousands upon thousands of dollars" in property damage.
The attorney general's report says the detainees had been "calm and nonviolent" for about an hour when the Bristol County Sheriff's Office executed a "calculated use of force" that Healey's office says was "excessive and disproportionate based on the totality of the circumstances."
The attorney general's report also said the Bristol County Sheriff's Office "acted with deliberate indifference to a significant risk of serious harm" to the health of several detainees, two of whom were taken to the hospital after showing signs of respiratory distress. A third detainee suffered a shoulder injury.
Hodgson said the entire operation was video-recorded and told reporters that the detainees, in addition to barricading the doors, had makeshift weapons in their hands. Hodgson said the detainees, in addition to their alleged immigration law violations, were also facing a host of pending violent criminal charges that included armed robbery, murder, kidnapping and terrorism.
Hodgson said the flashbang grenade that the corrections officers used effectively "scared" the detainees into compliance.
"Within 90 seconds, every single one of those 24 people were in flex cuffs and restrained," Hodgson said. "Within five minutes they were out of that building, led out systematically and told to lean against the wall out in the yard.
"That's how fast and efficient (correctional officers) were," said Hodgson, who took issue with the attorney general's claim that his officers illegally used canines to extract the detainees, who he said were not in cells but rather in a "dorm-type" open setting.
The attorney general's report also recommended a series of reforms and other measures that included calling on the U.S. Department of Homeland Security to terminate an agreement that allows the Bristol County House of Correction to house detainees accused of violating federal immigration laws. The report also recommended that state lawmakers pass a law to prevent Hodgson's office from housing immigration detainees or participating in federal immigration enforcement in any capacity.
Hodgson said he takes the report's recommendations about as seriously as trash "halfway down the sewer pipe." He said no internal reforms or policy changes have been implemented that are directly related to the incident.
A spokesperson for the attorney general's office told reporters that the sheriff has refused to publicly turn over video and other evidence from the incident, adding that the ACLU has sued the Bristol County Sheriff's Office for the release of those records. Healey's office supports the release of those materials, the spokesperson said.
Enter your number to get our free mobile app
More From WBSM-AM/AM 1420