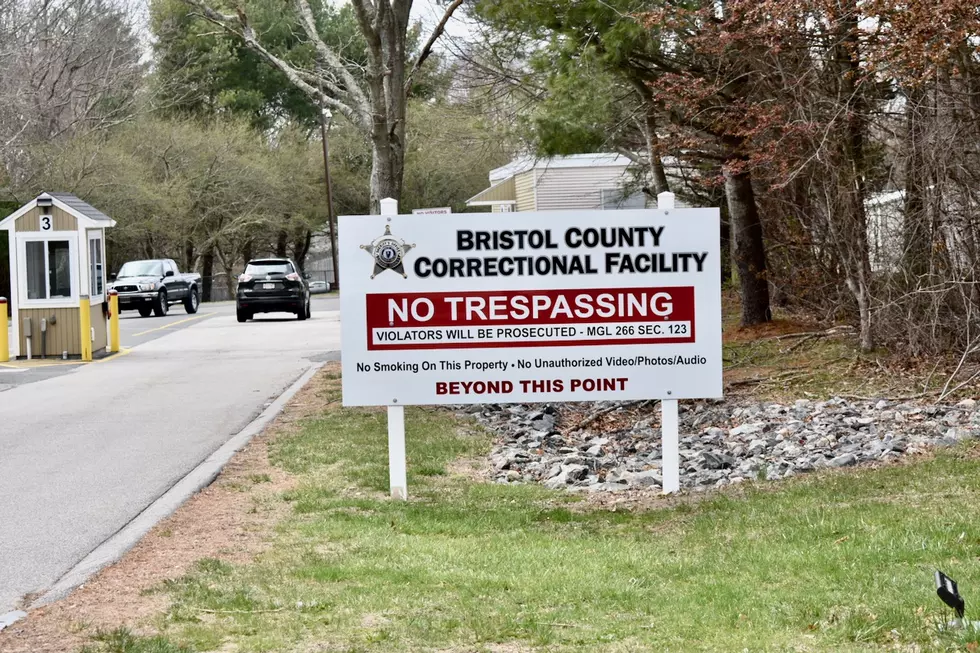 Sheriff Hodgson: 'Combatant' ICE Detainees Trashed Bristol County Jail Facility
Mary Serreze/Townsquare Media
The Office of Bristol County Sheriff Thomas Hodgson states that ICE detainees Friday evening refused COVID-19 tests, attacked correctional officers, and caused $25,000 in damage to the C. Carlos Carreiro Immigration Detention Center in North Dartmouth.
"A group of about 10 detainees in the B Wing of the detention center reported to medical personnel having multiple symptoms of COVID-19, detainees refused to get tested for COVID-19, then when notified they were required to be tested because of reporting symptoms, rushed violently at Sheriff Thomas M. Hodgson and corrections officers, barricaded themselves inside the facility, ripped washing machines and pipes off the wall, broke windows and trashed the entire unit," a Friday evening media release from Hodgson's office states.
According to the Boston Globe, immigration advocates tell a different story. They say the detainees were instead assaulted and pepper-sprayed by corrections officers after they protested being removed to solitary confinement or to the facility's medical unit, which they say is unsanitary.
Hodgson's office states that corrections officers, special response team members and a K9 unit were "attacked by the ICE detainees" when they entered the facility, that the Bristol County security team quickly gained control of the wing and restrained the detainees, and that no Bristol County personnel were injured in the incident.
Three ICE detainees were transported to the hospital. One was hospitalized for symptoms of a panic attack, one for a pre-existing medical condition, and another for a medical incident after being removed from the ICE wing, Hodgson's office states.
"All three are expected to be fine," the media release states.
"This all started because a group of 10 detainees each reported having at least two symptoms of COVID-19," Hodgson said in a statement. "The health care professionals told them they had to be tested in the medical unit because of the reported symptoms. The detainees refused to go to the medical unit for testing. Our medical team alerted me, and I advised the detainees that for their health and the health of their fellow detainees and our staff, they needed to be tested at the medical unit. The detainees refused to comply, became combatant and ultimately put the lives of themselves and many Bristol County officers at risk with their reckless actions."
Detainees have been moved to single cells in the special housing unit pending disciplinary action, COVID-19 testing and criminal charges, according to the release.
The news comes as tensions grow between Hodgson and ICE detainees at Unit B of the correctional campus. In March, 51 detainees signed a letter saying that social distancing was impossible at the facility, with bunks spaced three feet apart. A class-action lawsuit was subsequently filed on their behalf by Lawyers for Civil Rights.
In response, a federal judge in Boston has ordered the release of dozens of detainees at the North Dartmouth campus. On a rolling basis, the detainees were granted release with bail conditions, including electronic monitoring.
Hodgson has vigorously opposed the civil detainees' release while awaiting deportation hearings. He has recently intensified his opposition, pointing out on social media that many ICE detainees have also been convicted or charged with serious crimes.
In recent weeks, several corrections officers at the Bristol County House of Correction have tested positive for COVID-19. Hodgson says that no inmates have tested positive for the virus, while adding that several with symptoms have tested negative. The Bristol County Sheriff has repeatedly denied that ICE detainees are at heightened risk of COVID-19 behind bars.
Hodgson on Friday offered words of praise for his staff.
"I want to commend our medical professionals and our security team for their amazing work for quickly resolving the disturbance," he said.
Hodgson is the honorary chairman of President Donald Trump's 2020 reelection campaign in Massachusetts and has been a vocal supporter of the president's hard-line stance on illegal immigration.
LIVE UPDATES:
Coronavirus in New Bedford/Fall River, MA
Enter your number to get our free mobile app
More From WBSM-AM/AM 1420