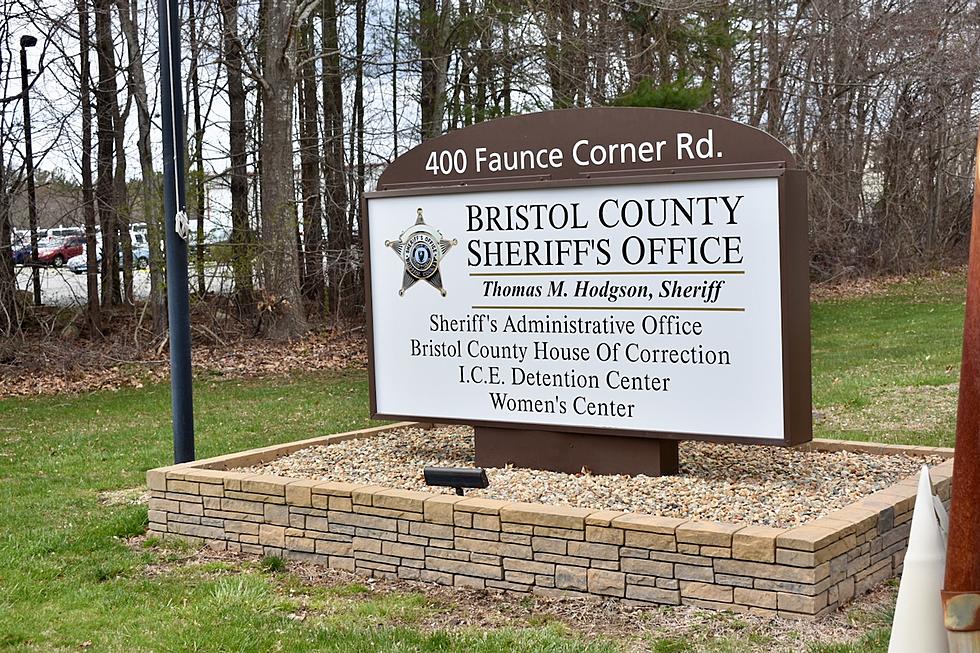 Judge Orders Dozens of Immigrant Detainees Released from Bristol County ICE Lockup
Mary Serreze/Townsquare Media
A federal judge in Boston this week ordered the release of 43 immigrants detained at the Bristol County House of Correction in Dartmouth, and bail hearings for 49 more have reportedly been scheduled for the week of April 14-20.
U.S. District Court Judge William Young issued the release orders in response to a March 27 class action lawsuit that sought an immediate and wholesale reduction in the number of detainees held at the Bristol County facility to prevent the spread of COVID-19 among the detained population. Young permitted ICE to include electronic monitoring as a condition of bail.

This week, Young considered 10 individuals per day for release after advising lawyers for both sides to propose a list of 50 individuals suitable for release. Court records show that lawyers for Bristol County Sheriff Thomas Hodgson argued against the release of some men with criminal records or pending charges, while not contesting the release of others.

For instance, Jhony Orlando Bonilla Ochoa, a native of Guatemala, was arrested on March 3 due to his unlawful immigration status. He was convicted in 2019 for sale of narcotics, has pending assault charges, an alleged history of violent domestic abuse, and is wanted in New York on a forgery charge, according to lawyers for Hodgson, who told the court that Bonilla Ochoa and a number of other civil detainees cannot be safely released into the community.
Declarations from detainees describe medical conditions that would put them at enhanced risk during the coronavirus pandemic. "I have asthma and only one of my lungs works," wrote Cesar Francisco Vargas Vasquez. "Because I have asthma, I am very worried that if I get sick, I will die. It is only a matter of time before the disease spreads everywhere here."

Since the outbreak of the pandemic, Hodgson has vigorously opposed the release of any ICE detainees. He has argued that conditions within the facility are safe and that the detainees should be held responsible for violating federal immigration laws.
Prior to the judge's orders, Hodgson had managed more than 140 ICE detainees across three lockup units on the North Dartmouth campus.
The March 27 lawsuit, filed by Lawyers for Civil Rights, argued that Bristol County ICE detainees were held in dangerous conditions that would "imminently result in the uncontrolled spread of COVID-19 and the likely death of many detainees." The complaint named Hodgson, Bristol County HOC Superintendent Steven J. Souza, and officials with U.S. Immigration and Customs Enforcement.

Detainees have been held "in close proximity, without adequate soap, toilet paper or other daily necessities," the lawsuit alleged. New detainees were being admitted without COVID-19 testing or screening and inmates were "literally trapped" and incapable of protecting themselves from the lethal virus, lawyers for the plaintiffs stated. 
The lawyers argued that detainees are "afraid for their lives" and that their previous pleas for help had fallen on deaf ears. Dozens of the men on March 18 signed a letter complaining that conditions were overcrowded, and they alleged that staffers with virus-like were showing up for work.
"We are trapped inside a storage and in fear for our life. Please help!" an addendum to the letter read.
In apparent response, the entire Massachusetts congressional delegation on April 2 wrote to three Massachusetts sheriffs and to ICE deputy director Matthew T. Albence expressing "grave concern" about the potential for the novel coronavirus to spread within immigrant detention facilities.
"It is more important than ever to take decisive steps to stem the spread of COVID-19," stated the letter, which was signed by U.S. Sens. Elizabeth Warren and Edward J. Markey along with nine House members, including William Keating and Joseph P. Kennedy III, who represent the Southcoast region. "One such step is to reduce the heavy reliance on detention for those awaiting immigration proceedings."
The senators and representatives highlighted Hodgson's March 21 statement on Twitter that "there are no inmates or detainees in the custody of the BCSO who have Coronavirus or show symptoms of Coronavirus" and remarked that not a single inmate or detained person had actually been tested for COVID-19 at the time of the sheriff's statement.
The delegation suggested that the failure to provide COVID-19 testing at the Bristol County facility "could indicate that ICE and the BCSO have an incentive to avoid testing detainees to avoid turning up positive results."
Hodgson, in a scathing April 6 retort, slammed the politicians for "uninformed interference" and said that a small cohort of detainees "are promoting a misinformation campaign inside the facility" with the assistance of political activist attorneys and ministers.
The sheriff took aim at the suggestion that testing was being withheld to suppress the numbers, calling the suggestion "shameful" and "unbecoming of a member of the United States Congress."
On April 8, the Bristol County Sheriff's Office announced that two security staffers had tested positive for COVID-19, had left the job site at the end of March, were "doing well" with minimal symptoms, and had not returned to work. Previously, a psychiatric nurse who worked inside the facility had tested positive but was cleared to return to work this week, the sheriff's office said.
Hodgson's office repeated the assertion that no inmates at the facility had symptoms of COVID-19.
The sheriff's office stated that all employees are now required to wear masks, and that masks were on order for the prisoners. The facility is disinfected several times a day, staff members are being screened before entering the building, new arriving inmates are being screened, and in-person visitation has been suspended, the BCSO wrote.
"I couldn't be more proud of our staff. Everyone on our team has been extremely self-disciplined about the protocols and procedures in place to prevent the spread of this disease," stated Hodgson. "The inmates, as well, have been very focused on hygiene and doing their part to flatten the curve. We're all in this together."
ICE also has contracts to house immigrants in jails run by sheriffs in Plymouth and Franklin counties. The individuals are in civil detention awaiting the completion of immigration proceedings.
ICE has significant discretion to release immigration detainees, and alternatives to detention include supervised release, electronic ankle monitors, home confinement, and telephonic monitoring, plaintiffs state.
The action in Bristol County comes as ICE detainees across the U.S. seek similar legal remedies to protect themselves from contracting COVID-19 while behind bars. ICE holds more than 34,000 detainees, the majority of which have no criminal record and are detained over only a civil immigration violation, according to USA Today.
Enter your number to get our free mobile app
More From WBSM-AM/AM 1420