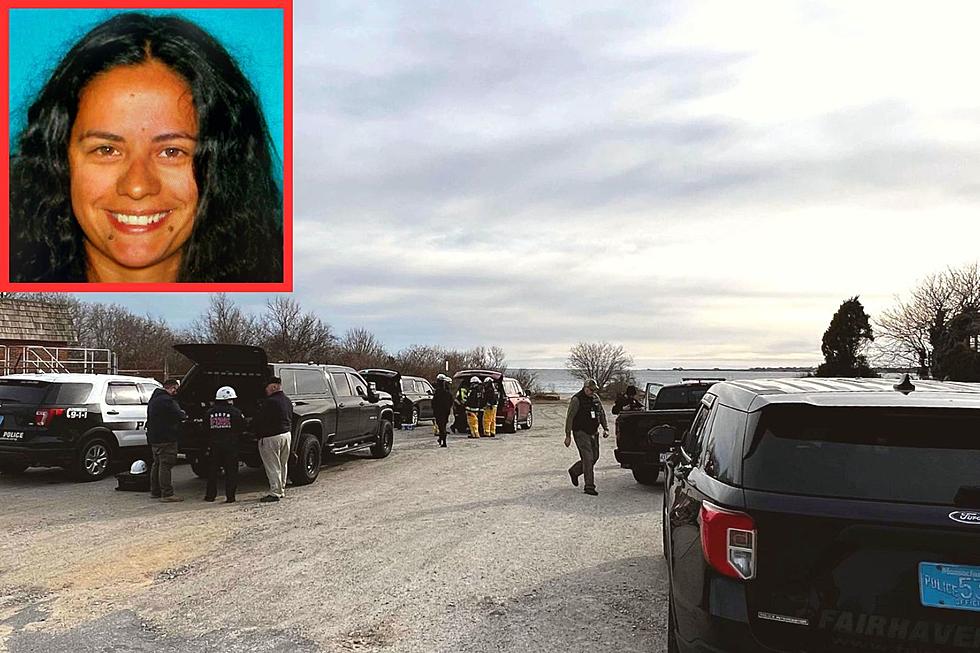 Massive Search Underway for Fairhaven Woman
Barry Richard/Townsquare Media/Fairhaven Police
UPDATE: Anapaula Huggins has been found alive.
FAIRHAVEN — Emergency services in Fairhaven and from all over the region are conducting a massive search for a woman who went out walking her dog and never came home.
Fairhaven police said 43-year-old Anapaula Huggins left her Raymond Street home with the family dog Monday morning, but did not come back — although the dog was found by Fairhaven Animal Control at around 9:30 a.m. Monday.
Huggins was reported missing by her family at 11:30 a.m., police said.
According to police, Huggins was last seen on video surveillance at around 7:30 a.m. Monday near Pope Beach, around Manhattan and Bayview Avenues.
Her dog was found loose in the area a couple of hours later, but there was no trace of Huggins.
Police say the massive search response involves the Southeastern Massachusetts Law Enforcement Council search team, a drone unit, and K-9 units from various local agencies, as well as Fairhaven police, the fire department, and the harbormaster.
Unconfirmed scanner reports indicate that boat crews are now searching the area of Butler Flats in the New Bedford/Fairhaven Harbor.
Huggins is described as being around 5 feet 6 inches tall, with black hair.
She is wearing black pants and a maroon jacket.
WBSM's Barry Richard said emergency crews are driving ATVs all around the scene, and the search is ongoing around the bike path and further south to the coastline.
Mutual aid at the scene is being provided by crews from Carver, Dartmouth, Somerset, Mattapoisett, Freetown, North Attleboro, and Norton.
Anyone who has seen Huggins is asked to call Fairhaven Police at 508-997-7421. Police are asking nearby residents to check their home surveillance footage for any sign of Huggins.
This is a developing story and will be updated as more information becomes available.
List of Bristol County Missing Persons
Some left in the heat of a family argument and haven't been seen since, others were lost at sea and their bodies never recovered. Some have been gone for a few decades, others a few years. One is Bristol County's most wanted fugitive. Here are all the people who have vanished from Bristol County without a trace.
Top News Stories for February
As always, there's a lot happening on the SouthCoast. Here are the most-viewed news stories from the past month.
More From WBSM-AM/AM 1420