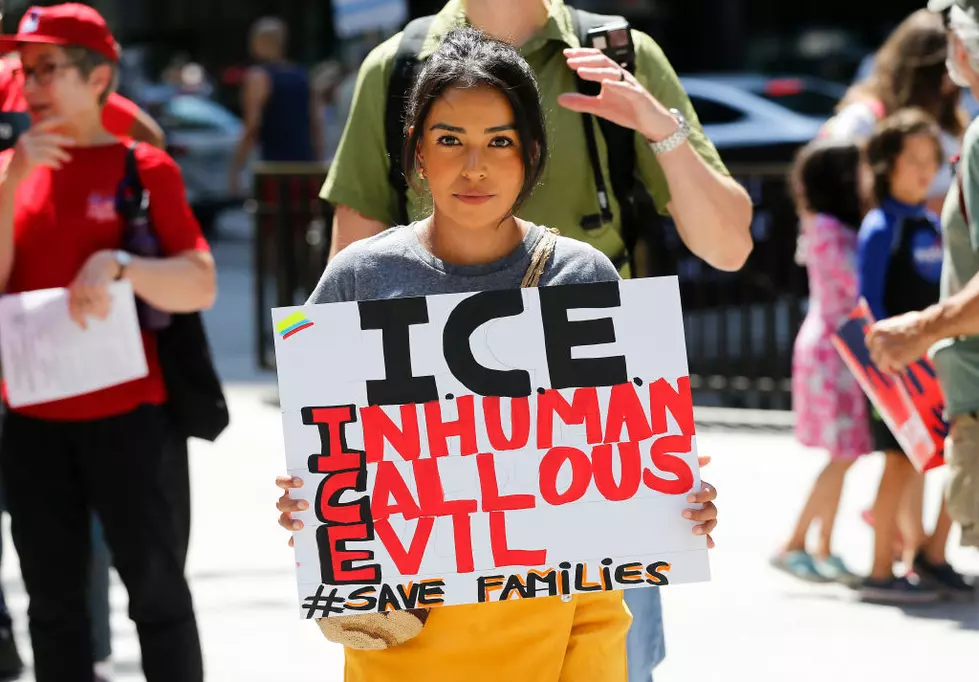 Hundreds of Illegals Rounded Up by ICE [OPINION]
Getty Images
Hundreds of Immigration and Customs Enforcement agents stormed seven Koch Foods processing plants in several Mississippi communities yesterday, detaining 680 "removable aliens" in what ICE says was "the largest single-state immigration enforcement operation in our nation's history."
U.S. Attorney Mike Hurst said in a statement, "The execution of federal search warrants today was simply about enforcing the rule of law in our state and throughout our great country."
Those workers who were confirmed to have legal status were allowed to leave. Many remained behind and shouted, "Let them go! Let them go!" according to Fox News.
In a statement, ICE says "the unlawfully present foreign nationals" are being interviewed and their "criminality and prior immigration history" is being considered in determining what will become of them.
Homeland Security Investigations Special Agent in Charge Jere Miles said in a statement, "Worksite enforcement efforts are equally focused on aliens who unlawfully seek work in the U.S. as well as the employers who knowingly hire them."
I applaud this move by ICE and encourage the agency to continue. In order for these raids to be meaningful, however, HSI must be true to its word that it will focus on employers who knowingly hire illegals. If they cannot find jobs in the U.S., illegals will be less likely to migrate here and cross our border illegally.
Illinois-based Koch Foods is considered to be one of the largest poultry producers in the U.S., employing some 13,000 people in six states. Koch Foods is looking for a way around having to pay fair wages to American workers by hiring illegals, presumably for less money, and is likely ripping off the taxpayer in the process. Such actions require severe sanctions from the government in order to send a clear message.
Employers need to face tough sanctions for hiring illegals.
Just a reminder, some of the presidential candidates such as Sen. Elizabeth Warren (D-Massachusetts) support eliminating ICE as part of their platforms and are for decriminalizing illegal border crossings.
Barry Richard is the host of The Barry Richard Show on 1420 WBSM New Bedford. He can be heard weekdays from noon to 3 p.m. Contact him at barry@wbsm.com and follow him on Twitter @BarryJRichard58. The opinions expressed in this commentary are solely those of the author.
More From WBSM-AM/AM 1420