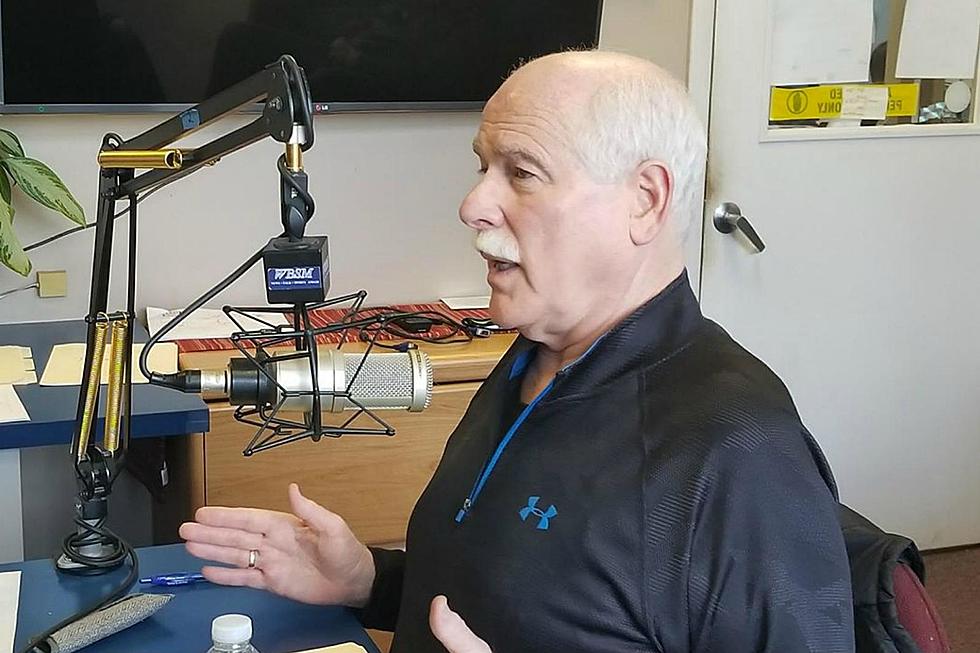 Hodgson Responds to ICE Lawsuit and Is Confronted By Plaintiff On-Air
Tim Weisberg/Townsquare Media
In his first interview since news broke of the lawsuit filed against him and his office by over a dozen former ICE detainees, Bristol County Sheriff Tom Hodgson joined SouthCoast Tonight to give his thoughts on the merits of the lawsuit and speak directly with some of his most fervent supporters and most staunch opponents live on-air.
He even spoke with one of the named plaintiffs in the lawsuit, who called into the program to confront the sheriff on his version of the events.
The lawsuit follows a May 1, 2020 incident in which a confrontation between Sheriff's Office officers and detainees resulted in extensive damage to the facility and multiple hospitalizations.
The incident spurred an investigation and report Attorney General Maura Healey's office, which concluded the sheriff's office used excessive force in the incident, and led to the cancellation of Sheriff Hodgson's contract with ICE by the Biden Administration.
Hodgson began the interview by reaffirming his position that the lawsuit was a politically motivated attack with the intent of hurting his reelection prospects this fall. 
"This incident that you are speaking about was almost two and half years ago at our ICE detention facility," Hodgson said. "And surprise, surprise, it's three months before my election and here we are."
"It'll all come out," he added. "We're not worried about this case at all. In fact, we're looking forward to this coming out and seeing exactly what happened. We have all the tapes." 
When asked why the tapes of the incident haven't been released to the public, Hodgson said that his office is unable to release the tapes while the investigation by the Department of Homeland Security is still open. Hodgson accused the Biden Administration of intentionally withholding the final report of the investigation because the findings would be favorable to the BCSO.
"I would recommend that somebody ask Maura Healey for those tapes," Hodgson said. 
An inquiry by WBSM was placed into Attorney General Healey's office regarding their ability to release the tapes of the incident, which was responded to in real time during the interview.
A spokesperson for Healey's office said they withheld the tapes because they were materials that were received voluntarily in response to an investigation.
"The Bristol County Sheriff's Office is the custodian of this video and has the ability to release it, which we encourage," the spokesperson said.
Hodgson responded that Attorney General Healey should ask DHS to give the BCSO permission to release the tapes.
Hodgson added that he saw DHS Secretary Alejandro Mayorkas on a recent trip to Washington and confronted him face-to-face on their decision to revoke his contract with ICE.
"I said 'I want to know why you shut down my operation cause you gave the order,'" Hodgson said. "He wouldn't give me an answer."
Hodgson took calls throughout the program from listeners with varying perspectives on his job performance and his quarter-century tenure as sheriff.
"I believe you're doing a wonderful job and I hope you're there for the next 25 years," said one caller.
"After 25 years in office, it's time to move on and let someone else do the job," said another caller.
One caller, however, was Marco Battistotti, is a former detainee under Hodgson and named plaintiff in the current lawsuit. He called to confront the sheriff on-air to offer his accounting of the incident.
"I'm the guy that was assaulted by Sheriff Hodgson on May 1, 2020 completely unprovoked," Battistotti said. "I'm the guy that was videotaped by his cell phone while I was on my knees screaming 'I can't breathe.'"
Battistotti said that he was put into solitary confinement, naked, for days by the Sheriff's Department following the incident. He has been an outspoken critic of Hodgson since his release from BCSO custody. Battisotti claimed Hodgson filmed with a cell phone while an officer put his knee on his back as he repeated "I can't breathe."
"My statement was three weeks before the same statement was made by George Floyd. Shame on your team," Battistotti said.
Hodgson brought Battistotti's veracity into question, and gave his version of the incident between the two.
"You have been a proverbial liar from day one," Hodgson said.
According to Hodgson, Battistotti went to make an unauthorized phone call to his attorney and when Hodgson asked him to stop he refused. Then, Hodgson recounted, when he attempted to grab the phone receiver, he said Battistotti erroneously yelled that he was hit by Hodgson for the purpose of inciting an upheaval.
"Nobody was even touching you, Marco," Hodgson rebutted. "But that's you. We have a whole history about you. I'm not concerned about what you're saying because I know your integrity is not there, unfortunately. And the truth is that's what you did and when you yelled like that all the other inmates came running because you incited them by saying something that absolutely wasn't happening. You were trying to create something for your attorney on the other end, and everyone knows it."
Listen to Chris and Marcus' full interview with Sheriff Hodgson and his response to callers on SouthCoast Tonight:
LOOK: Baby names that are illegal around the world
Stacker
scoured hundreds of baby name databases and news releases to curate a list of baby names that are illegal somewhere in the world, along with explanations for why they're banned.
LOOK: These Are the 50 biggest retailers in America
More From WBSM-AM/AM 1420