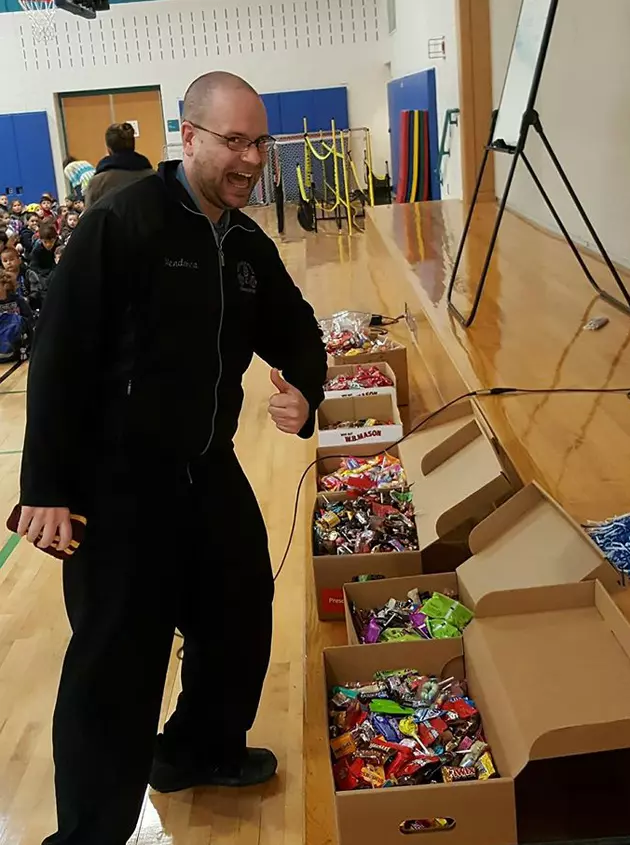 Dartmouth Police Dispatcher Collects Halloween Candy for Troops Overseas
Patrick Mendonca - Dartmouth Police Department
A large amount of candy with a Dartmouth return address has been shipped to men and women of the Armed Forces who are serving overseas.
Shortly after Halloween, Dartmouth Police Dispatcher Patrick Mendonca started a campaign to collect leftover Halloween candy to send to the troops through "Operation Gratitude." Detective Kyle Costa says Mendonca's efforts initially focused on the Dartmouth Police Department. "He actually approached everybody on the department regarding leftover Halloween candy, and bringing leftover Halloween candy in so he could sort it, package it, and send it over to Operation Gratitude just to give a little bit back to the country," said Detective Costa.
But when the Department shared Mendonca's initiative on social media, that's when things took off. Detective Costa says after he posted the project on Facebook, the East Fairhaven Elementary School decided to help out as well. "They saw our effort online, and they decided to collect candy from the students, faculty, and staff. Before we knew it, we were walking out of East Fairhaven with seven huge boxes of candy."
All told, Mendonca and the Dartmouth Police Department collected 224 pounds of sweets along with monetary donations to ship the candy overseas.
More From WBSM-AM/AM 1420