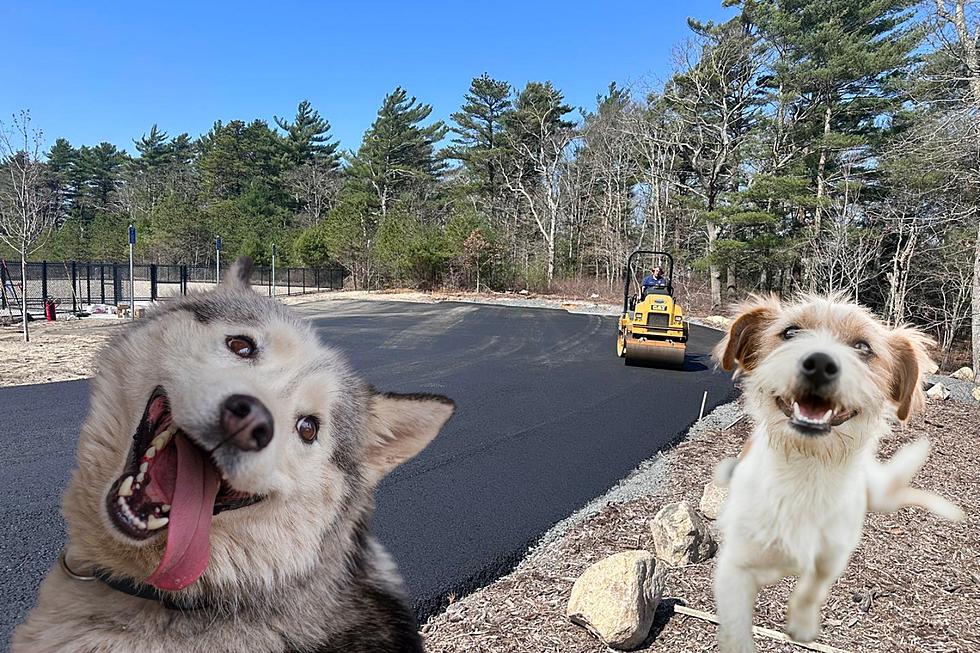 Wareham Dog Park Opening Date Announced
Wareham DNR via Facebook; Getty Images via Canva
WAREHAM (WBSM) — The long-awaited dog park in Wareham is set to open before the end of this month.
"We are so beyond excited to share the great news! Our official ribbon cutting ceremony will be held April 29 at 1:15 pm (with the) park open to the public following this event," the Dog Park Affiliation of Wareham posted on its Facebook page this morning. "We did it, everyone."
The DPAW was formed in 2014 with the intention of creating an off-leash dog park for Wareham residents and their canine companions.
Now, almost a decade in the making, the dream has become a reality as Wareham's Municipal Maintenance Department was out putting the finishing touches on the parking lot Thursday morning, along with assistance from the Acushnet Department of Public Works.
The Wareham Department of Natural Resources shared photos on its Facebook page of the final efforts at the park, which encompasses six acres off Maple Springs Road.
The fenced-in park will feature two separated areas, one for large dogs and another for small dogs, each with play equipment.
There will also be benches, water fountains for both dogs and humans, a shaded structure and other features.
After DPAW gained non-profit status in 2016, Wareham voters approved $20,000 in Community Preservation Act funds at the 2017 fall town meeting to help qualify for a $225,000 Stanton Foundation grant, which it was awarded a little over a year ago. That helped to fund the final stages of the park.
Volunteers are needed to help with the new dog park, the DNR wrote, "to assist in assembling some benches and general upkeep of the park." You can reach out to the DPAW for more information at DPAWareham@gmail.com.
35 SouthCoast Pets That Will Brighten Your Day
SouthCoast pet owners share their adorable "fur babies".
RANKED: Here Are the 63 Smartest Dog Breeds
Does your loyal pup's breed make the list? Read on to see if you'll be bragging to the neighbors about your dog's intellectual prowess the next time you take your fur baby out for a walk. Don't worry: Even if your dog's breed doesn't land on the list, that doesn't mean he's not a good boy--some traits simply can't be measured.
More From WBSM-AM/AM 1420