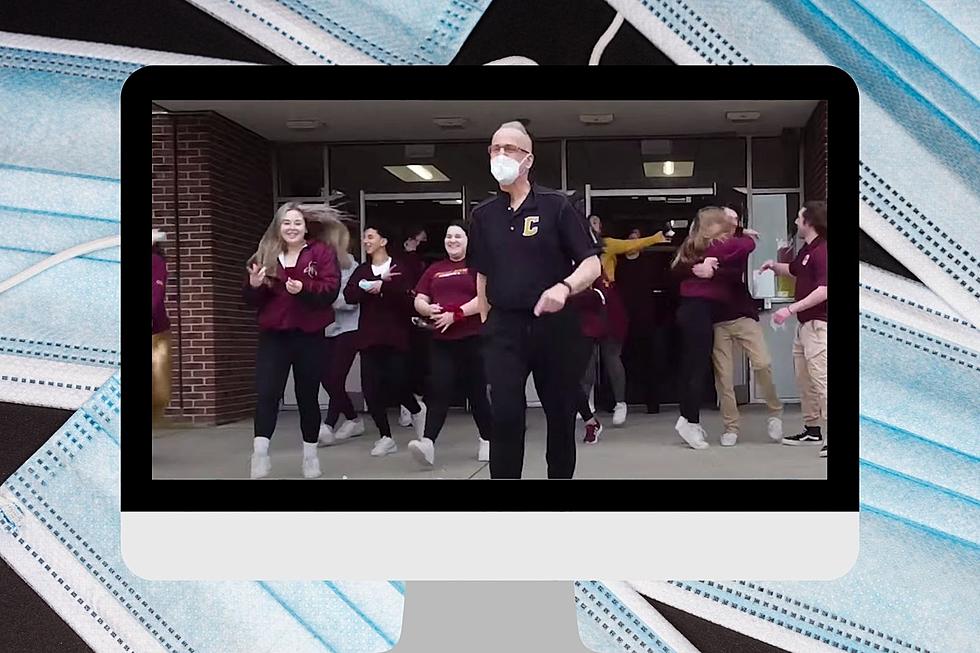 Case High School Swansea Goes Maskless After Releasing Playful Parody to Celebrate
Joseph Case High School Media Channel/Youtube
Today marked a monumental day for some Massachusetts students as the mask mandate for schools was lifted per Gov. Charlie Baker's orders. In preparation for the day, Case High School released a parody of "Tomorrow" from "Annie," the musical, to get students, faculty, and staff excited about the new beginning.
Thanks to its principal, Brian McCann, Case High School is becoming known for these funny videos, and their latest music video is quickly gaining viral status.
From snow days to welcome-back videos, McCann enjoys collaborating with the teachers and students at Case to produce fun projects that will boost the morale of the student body. It's no surprise that McCann had a few ideas up his sleeve for Feb. 28.
"When the state officials announced (that) we were going to go mask optional, I thought this might be a good opportunity to collaborate," McCann said.
With the help of the media and drama departments, McCann and a few of his students wrote and performed a parody music video to the iconic song "Tomorrow" from "Annie."
"We met on Monday, recorded audio on Tuesday, and filmed it on Wednesday," said McCann. "We posted it (Sunday morning) and it's fun to see people liking it."
While these fun projects encourage a positive culture at the school, McCann also wants the videos to show the community that Case is not afraid to take risks.
"If I am not willing to take risks, then how can I expect others to?" he said. "As soon as you put yourself out there, you're vulnerable and not everyone is going to like you."
McCann aims to be a positive influence for his students by showing them the benefits of being true to themselves.
And when it comes to making people smile with these light-hearted videos, that's all McCann really wants.
"Every day has not been sunshine and lollipops. It's been tough to be a student, teacher, principal ... Any day we can have a little fun and bring a smile to you, I think it's important to seize that opportunity," he said.
McCann was excited to report a positive first day of school with the mask mandate lifted.
"I won't say 100% of people were without masks, and that is their choice with no judgment, but the percentage was high," he said. "There is a tangible sense that students are happier today."
Check out McCann's latest music video for Case, starring himself, Isabella Manchester and Neil Jeronimo.
Top 10 SouthCoast Public High Schools
U.S. News and World Report
has released its
high school rankings
. Here are the Top 10 on the SouthCoast.
More From WBSM-AM/AM 1420