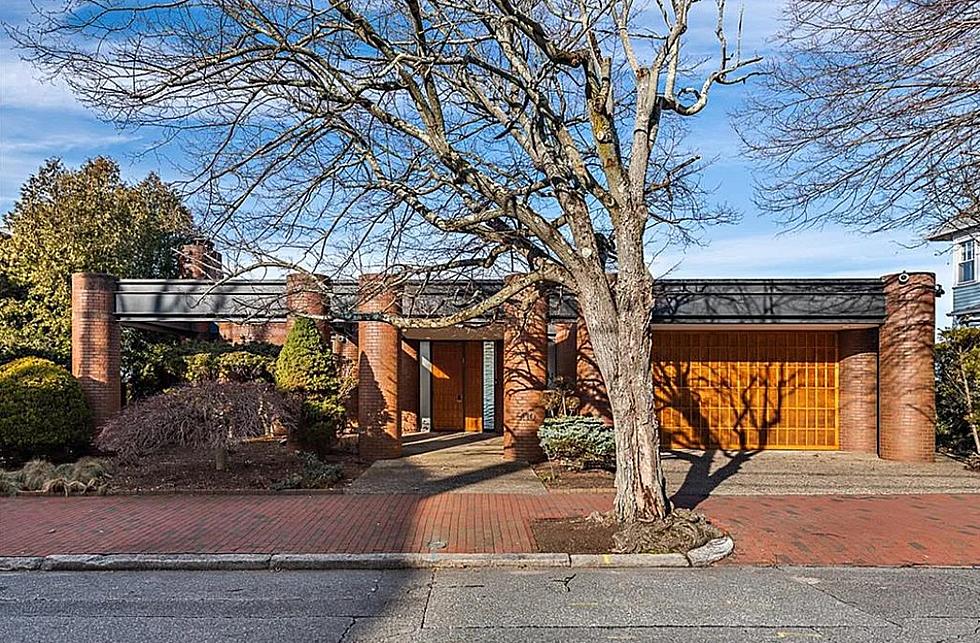 Surprise! This Providence Home Actually Has The Best Views Of The City
The Mackinney Gold Group/Mott & Chace Sotheby's Intl.
If you were driving past this Providence home you probably wouldn't even look twice, but the jaw-dropping views it boasts from the backyard are definitely something to behold.
What appears as a brick-columned one-story house when you see it from Congdon Street in Providence is actually a multi-storied, glass-walled stunner of a home that is on the market for $3.125 million.
If that price tag seems hard to believe from the photo above, just wait until you scroll through the entire house below.
Built back in 1974, the three-bedroom, five-bathroom house utilizes its perch atop College Hill to capture some of the best cityscape views in Providence. Plus it packs its 3,303 square feet of living space with five fireplaces, a chef's kitchen and an indoor waterfall.
The house was a huge departure from the architectural norms of the neighborhood when it was built for Dr. William Mauran in the '70s and it's the only Brutalist-style home in the city.
It's definitely unique both inside and out. It's a house that has to be seen to be believed and you can scroll through it all here.
This Providence House Is Business Up Front And Party In The Back
If a house can be described as a hairstyle, this one at
110 Congdon Street
in Providence is a total mullet. Though it may look like any old home from the street, jaws start dropping when you check out things from the back.
See Inside Providence Friars Coach Ed Cooley's East Greenwich Home
Providence Friars men's basketball coach Ed Cooley has officially listed his East Greenwich home for sale for $1.9 million. See inside the stunning property.
Step Inside this Turn-of-the-Century Waterfront Home in Dartmouth
It's been sitting by Buzzards Bay for over 100 years. Now, this massive Dartmouth home is back on the market and making us drool over its gorgeous waterfront views.
More From WBSM-AM/AM 1420