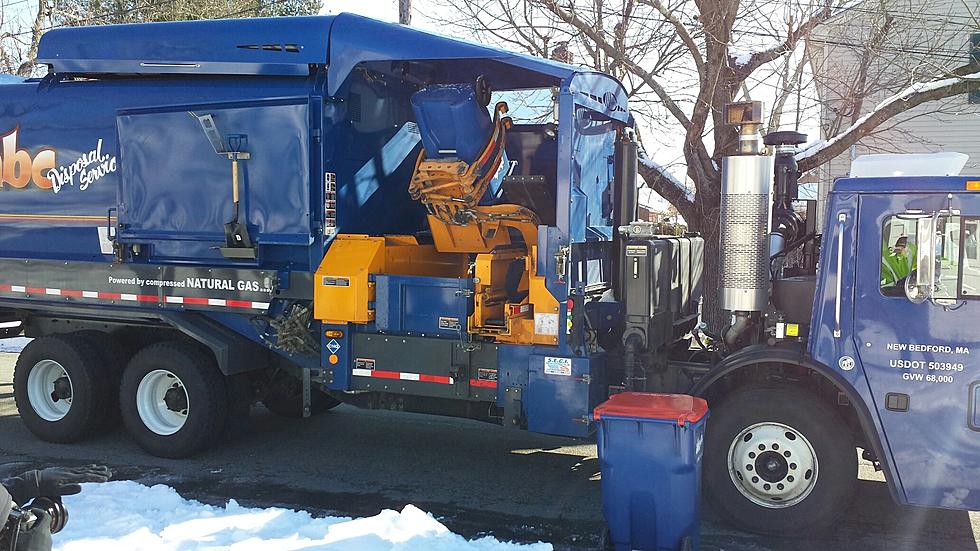 SouthCoast Recycling Pickup Threatened by China Policy
Jim Phillips/Townsquare Media
NEW BEDFORD — The recycling program in five local communities, including New Bedford, may need to be contracted out to a new company, unless the company currently contracted to collect the recyclables opens its books and proves it needs help shouldering the burden of increased fees.
ABC Disposal Service Inc. recently sent notice to several municipalities with which it is contracted for trash and recycling pickup, informing them that after June 30, the company could cease collecting recyclables, due to China's National Sword Policy.
For years, China has been one of the largest importers of U.S. recyclables, but the National Sword Policy bans certain types of solid waste and lowers the contamination threshold for recyclables entering the country. According to the notice sent out by ABC Disposal, continuing the recycling requirements of the contracts it has in place with the municipalities could spell the financial end of the company.
That has prompted five local communities that have contracts with ABC Disposal--New Bedford, Rochester, Mattapoisett, Fairhaven and Plymouth--to send a letter to the company asking for proof that living up to its end of the contracts could push ABC to insolvency.
Mikaela McDermott, City Solicitor for New Bedford, tells WBSM News this has been an ongoing discussion for months between the City and ABC Disposal. She said the City understands that the China National Sword Policy is "a real change in the market," but she said it "relates to a risk that ABC assumed in the contract," noting that for years China paid ABC for recyclables as opposed to ABC paying China.
"The City's contract with ABC basically provides that ABC has all the risk and the reward with recyclables," she said. "We pay them a flat monthly fee, and they could have been profiting for years now."
In the letter, the communities state that they have "repeatedly expressed willingness during the past several months to consider modification" to the contracts they have with ABC, provided they are given an opportunity to review the company's financial information to see if the added costs of recycling will indeed push the company to the brink of financial ruin.
"We value our relationship with them a lot, but we're not willing to pay more for the contract unless we understand if it's because they're not going to be viable as a company, or simply be less profitable," she said. "We have a duty to taxpayers not to spend a single penny of taxpayer money without understanding that."
"If it would make them go under, than we would potentially consider paying them more. But if it's just that they're making less money and they'd still survive, that's a risk they have to bear, and the taxpayers shouldn't have to sort of keep their level of profitability the same," she said.
In addition, the letter states the communities are concerned whether "even if (they) make financial concessions under the contracts, ABC will be in a position to perform on them, given the pre-existing and ongoing claims of its creditors."
"They were in bankruptcy two years ago, and that's still in litigation," McDermott said. "So we want to sort of understand the broader financial picture (of ABC). We don't want to be in the position of putting good money after bad, basically."
According to Mike Camara, CEO of ABC Disposal, the company was out from under bankruptcy over a year ago. ABC had said part of the problem was that it had borrowed money under deceptive loan practices, which led to it suing one of its creditors. But other issues have surfaced as well. At one point early last year, Fairhaven had considered suing ABC Disposal over money owed to the town, and New Bedford Mayor Jon Mitchell had said the city was "closely monitoring" the situation as well, considering its own litigation for money owed to the City.
The letter, dated May 8, does state that the communities are considering legal action once again to get the financial information if ABC does not provide it by today. And that's not the only potential litigation, should ABC decide not to continue collecting recyclables after June 30.
"We all would regard ABC's discontinuance of recyclable collection as a breach of our respective contracts and reject all of ABC's proffered defenses," it reads. "We expect that ABC will continue to fully perform under its contracts on July 1, 2018, including obtaining any required performance bonds."
"The overriding message is that we're willing to talk, but we need to understand their financials," McDermott said. "Thus far, they have not provided us with a transparency that we have requested about their financial situation. We have reiterated that a number of times, but have not yet gotten the information that we've asked for."
The City's Chief Financial Officer, Ari Sky, sent a letter requesting the information to ABC Disposal, and McDermott said the company replied it wouldn't be able to meet until June 11--19 days before ABC's stated deadline in its original notice.
"They said it will take them a while to gather this information, but this is information we've been requesting for several months," McDermott said. "So we're attempting to meet sooner than June 11."
McDermott said the City is hopeful it can figure things out with ABC Disposal before the June 30 date, but if not, there are contingency plans in place.
"We received quotes from other haulers during the bankruptcy, so we know at least other haulers can mobilize in that period of time," she said. "That would likely involve spending more money, so we're hoping we can achieve some sort of resolution with ABC."
Read the letter sent to ABC Disposal here:
More From WBSM-AM/AM 1420