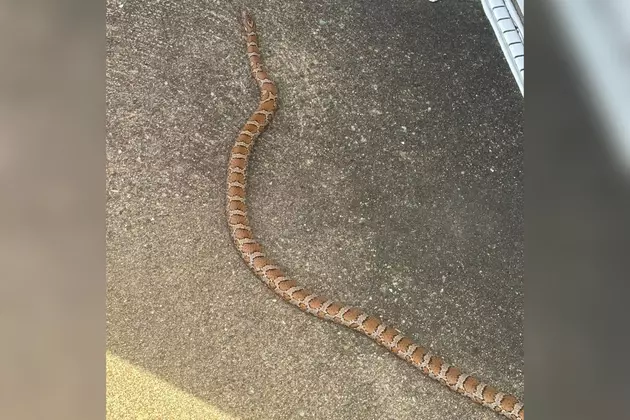 Snakes Awake: Middleboro Mom Finds Massive 'Nope Rope'
Courtesy Heidi Mobark
MIDDLEBORO — SouthCoasters might want to keep an eye on their backyards, after a Middleboro woman came face-to-face with a long snake near her pool house on Friday.
Heidi Mobark posted a photo of the reptile to the Middleboro Helping Middleboro Facebook group, asking what kind of snake it is and adding simply, "I don't like it."
As the weather warms up, Massachusetts residents of all stripes are coming out of hibernation — including the state's mostly harmless snake population.
But despite nicknames like "danger noodle" and "nope rope" growing in popularity, SouthCoast residents can breathe a sigh of relief: only two snakes native to our state are venomous (and they're very rare, and not usually found in this area.)
Mobark's new tenant appears to be a harmless Eastern milk snake, which helps keep rats, mice, and other unwanted vermin out.
She told WBSM News that she found the snake on the cement area by the pool on Friday morning.
"I don't like it," she said. "I'm afraid now to go into the pool house to take the summer stuff out."
Eastern milk snakes can grow up to four feet long and have distinctive brown or red spots or "saddles" along their backs, and can look similar to the venomous timber rattlesnake — although the rattlers are extremely rare and found almost exclusively in the Connecticut River Valley or the Blue Hills.
The harmless milk snakes can also occasionally mimic the rattlesnakes' behavior, and might curl up and fake-rattle their tails if threatened.
They can also sometimes be mistaken for copperheads — the only other venomous snake native to Massachusetts, which are also very rare and live moslty in the Connecticut River Valley.
Last year, a milk snake was mistaken for a rattler by a Rochester resident, who called animal control to report it.
Many large snake sightings reported on the SouthCoast end up being eastern milk snakes.
Occasionally, pet snakes may also escape.
Dartmouth resident Dan Tisdelle found a large bright orange and red snake near his house in June 2021.
He said at the time that the consensus on social media is that it was a non-native corn snake that was likely an escaped pet.
As for Mobark's unwelcome guest, she said she will just leave it alone.
Here's a List of All the Snakes Native to Massachusetts (Two Can Kill You)
Did you know that there's a species of rattlesnake found in the Bay State? Or that two of our local venomous serpents can be deadly to humans — but despite what your parents told you, the water moccasin isn't one of them? (They don't even live in Massachusetts.) Love them or hate them, these slithery little suckers are everywhere. Here's what snakes you're most likely to find in your backyard.
Massachusetts Wildlife You Can Legally Take Home as Pets
Massachusetts has such diverse wildlife, but also strict limitations on what you can bring home and cuddle. In fact, there are only certain reptiles and amphibians you can keep as pets (so no raccoons, squirrels, bunnies, etc.) and you are only allowed two of each. The state also
says
"you cannot sell, barter, or exchange them." Also, keep in mind, these are wildlife, so it's probably best to just leave them be and maybe visit a reptile shop instead to get your next pet.
More From WBSM-AM/AM 1420