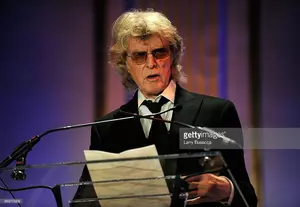 Radio Legend Don Imus Calls It Quits
Legendary radio broadcaster Don Imus is leaving his show in March. Larry Busacca, Getty Images
Don Imus, a tour de force when I was in my early years of broadcasting, will wrap up his legendary "Imus in the Morning" March 29. He announced his decision Jan. 22, on WABC's morning based program. So far, there's no official word from Cumulus Media or Westwood One.
The iconic New York and nationally-syndicated program have been part of the broadcast landscape since the early '70's. Imus's radio journey has, by some accounts, been harsh, difficult and freakish.
Citing bankruptcy by his syndicator and employer, Cumulus - the show airs on WABC/77 - he said, "My contract runs out December of this year and they began to talk to me and say that as long as I wasn't going to be with the station past then, then what would be the point of paying me millions of dollars when they could save that."
Once Imus began broadcasting, his first show back in 1971, fame, acclaim and fortune came quickly. But not without discord, like when in 2007, his comments about the Rutgers women's basketball team lead to his firing by CBS-owned WFAN and MSNBC, where his show had been simulcast.
he has been showered with nearly every imaginable award of radio celebrity including 4 Marconi's, the NAB and Radio Hall of Fame. Imus was featured on television program's from NBC's "Today" show to CBS' "60 Minutes." He was a guest of Charlie Rose, David Letterman and of special note, Larry King, in what Imus describes as "shameless, mutual a**-kissing marathons that challenged the audience's gag reflex."
More From WBSM-AM/AM 1420