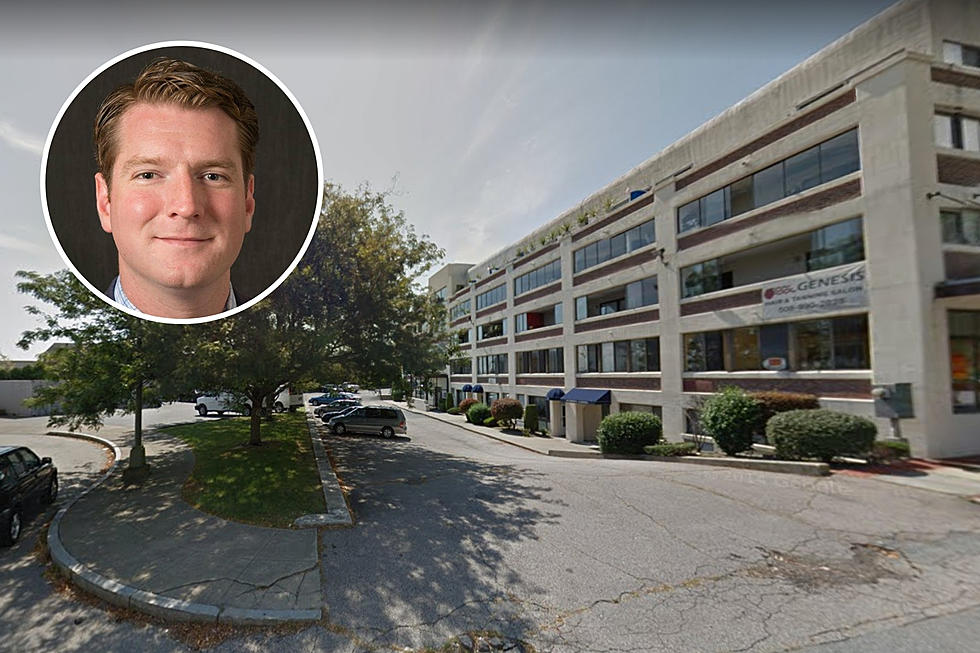 New Bedford Police Release Incident Report in Dunn Crash
Hugh Dunn via Facebook; Google Maps
NEW BEDFORD — According to police reports, there was no crime involved in New Bedford Ward 3 City Councilor Hugh Dunn's motor vehicle crash this past weekend.
The New Bedford Police Department has provided WBSM News with both the incident report and the motor vehicle crash report, which are included at the end of this article.
Dunn told police he was leaving the downtown area after having a late dinner. The call came into police at approximately 1:23 a.m. on Saturday, May 1 for a report of a hit and run in the area of Waterside Landing at 26 South Water Street.
According to the crash report, Dunn was backing out of a parking spot in his 2015 Hyundai Genesis when he struck a parked, unoccupied motor vehicle, then struck a granite curb and then struck another unoccupied vehicle. Dunn then parked on the north side of the parking lot and waited for police to arrive.
From the incident report, Dunn "was still on scene" when police arrived, although it did take the first responding officer a few moments to locate the vehicle. When he did, the report says Dunn was sitting in the vehicle and provided his driver's license to the officer.
The reporting officer then approached the vehicle and said Dunn "seemed confused, shaken and disoriented." He said when asked his name, Dunn was "unable to answer right away but eventually stated his name was Hugh Dunn." The officer asked Dunn if he knew where he was, but Dunn replied by asking if he could reach for his phone. The officer noted that "there was no phone in plain view" and that the officer "began to form the opinion that Mr. Dunn could have possibly been injured in some way causing him to be disoriented as such." The officer then asked Dunn to step out of the vehicle and said Dunn did so "without staggering or fumbling his gait."
The officer wrote that he asked Dunn if he needed medical attention, and Dunn replied that he did. Medics arrived and were informed that Dunn was "shaken, confused about the incident, incoherent and was disoriented and complained of head and back injuries."
The reporting officer specifically pointed out that "Dunn spoke very little, (but) when he did it was not slurred" and at no time did the officer "detect or notice any odor, slight, moderate or otherwise, of any alcoholic beverage coming from his breath or body."
"There was no excessive sweat observed, no clammy, red flushed skin. No red glassy-bloodshot eyes were observed," the officer wrote. "The common indicators and cues that would indicate possible consumption of alcohol were not observed while on scene and at that time."
Because of his physical state at the time, the officer decided he would "not be able to gather a viable statement from him about the incident at (that) time or the immediate future." Dunn was taken to the emergency room at St. Luke's Hospital.
He returned to the police station to give his statement just after midnight this morning. Dunn told officers his "memory was 'fuzzy' in regards to the incident, but from what he can recall he said he had a 'long day,' had taken medication for his allergies (Benadryl), and that he did so due to his new dog."
Dunn told officers he remembered hitting the first vehicle "but that he then 'lost it' and struck another vehicle. He said he felt disoriented and felt he needed to move his vehicle to a 'safer spot' and try to call the police," but was unable to find his phone. The officer noted that he was also unable to find Dunn's phone at the scene.
The incident report is marked "no crime involved" and no criminal charges have been filed. However, Acting Police Chief Paul Oliveira did release a statement Monday afternoon stating the investigation into the incident itself is under review.
"As a result of an accident overnight Saturday involving Councilor Hugh Dunn, the NBPD has launched a review of the matter to ensure the incident was handled properly," Oliveira said. "If anyone has any information on the incident, please contact the NBPD."
WBSM News has reached out to Dunn for a statement. We will update this story if one is provided.
Hugh Dunn Crash Incident Report
Ultimate SouthCoast Playground Guide 2021
The Ultimate SouthCoast Playground Guide for 2021 features 48 public playgrounds throughout Southeastern Massachusetts and Rhode Island.
More From WBSM-AM/AM 1420