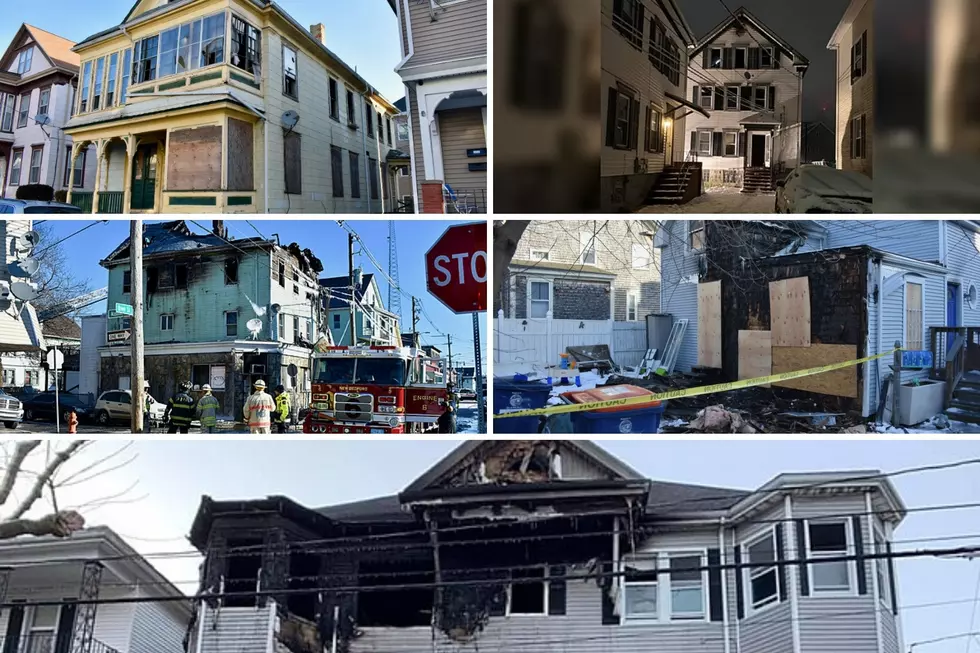 New Bedford Fires Not Related, Chief Kruger Says
Courtesy New Bedford Fire Dept; Mary Serreze/Townsquare Media
New Bedford crews battled five major fires in seven days, and one of the fires is being investigated as arson. However, there is no evidence that the fires are related, according to Acting Fire Chief Scott Kruger.
"There have been several major fires lately in our city besides this one but there is no connection between them," Kruger was quoted in a Jan. 29 statement sent from the Office of State Fire Marshal Peter J. Ostroskey announcing a determination that the Jan. 27 fire at 124 Bonney had been intentionally set.
Kruger provided WBSM News with an update on the status of the five fire investigations:
377 Ashley Boulevard, Jan. 29: Under Investigation
Shortly after noon on Jan. 29, a six-family structure at 377 Ashley Boulevard caught fire. Ten people were displaced in the three-alarm blaze. Five cats and two dogs were safely removed. The fire started in the third floor and spread to the attic. The investigation into the fire is just beginning, said Kruger. The Office of the State Fire Marshal is assisting the New Bedford Fire Department Investigation Unit. Mutual aid was provided by the Acushnet Fire Department and Dartmouth District 1.
124 Bonney Street, Jan. 27: Arson, Under Investigation
Shortly after midnight, a fire broke out at a vacant three-story residence on a narrow street near Jason Court. Access was difficult because the burning structure was behind two adjacent residences and at the end of a small dead-end street, the fire department said. Crews consisting of Engines 1, 6, 7, 8 along with Ladders 1 and 3 stretched hose lines from Crapo Street to the rear of the fire building. ISU-1 also responded for air supply. Members confined the fire to the rear stairwell and attic.
State and city investigators have determined that the fire was intentionally set. The New Bedford Fire and Police Departments and Massachusetts State Police assigned to the Office of the State Fire Marshal are investigating.
"Anyone with information about this fire, or any fire in the state, is asked to confidentially call our office at 1-800-682-9229," said State Fire Marshal Ostroskey in his Jan. 29 statement.
340 Purchase Street, Jan. 25: Under Investigation, Possible Human Involvement
Crews responded at 5:22 p.m. to find a working fire on the second floor of a two-story residential structure. The house was vacant and had been vacant for some time. The cause remains under investigation; however, there was possible human involvement, said Kruger, who mentioned squatters or homeless persons who may have taken up residence there. The Fire Investigation Unit is working with the New Bedford Police Department.
95 Rivet Street, Jan. 24: Under Investigation
A three-alarm fire displaced five people and took the life of a dog and pet bird. The fire was called in shortly before 2 a.m. The mixed-use building housed two apartments on the upper floors and a shuttered former Mi Antijo restaurant on the ground floor. Residents were awakened by working smoke detectors and escaped the building. However, first arriving firefighters conducted an initial interior search as all tenants were not immediately accounted for.
The fire was elevated to a third alarm calling all six engines and three ladder trucks to the scene. Firefighting operations became difficult due to wind conditions, frigid temperatures, dangerous footing, and freezing equipment and apparatus. Three firefighters suffered injuries; one was treated at the scene and two were transported to St. Luke's and released later that day. The building partially collapsed as a result of the fire and was ordered demolished by the city's building commissioner.
Mutual aid was provided by the Fairhaven, Acushnet, and Mattapoisett Fire Departments as well as Dartmouth Fire Districts 1, 2, and 3.
2 Smith Street Court, Jan. 23: Accidental
This fire has been ruled accidental as a result of discarded smoking materials. The fire broke out at a single-family residence around 1:30 p.m. The fire reportedly began at the exterior of the building.
"One point that should be remembered here is that 20 people, including children, are now displaced because of these fires," Kruger wrote in an email. "Some of them lost everything they own. The American Red Cross is assisting all these families."
Kruger said that January can be a bad month for fires due to a variety of causes.
"As we head into the hardest part of the winter, we tax our heating and electrical systems and spend more time indoors," Kruger stated. "It is more important than ever to make sure you have working smoke alarms on every level that are less than 10 years old and have a home escape plan."
New Bedford's 5 Tallest Buildings
Enter your number to get our free mobile app
More From WBSM-AM/AM 1420