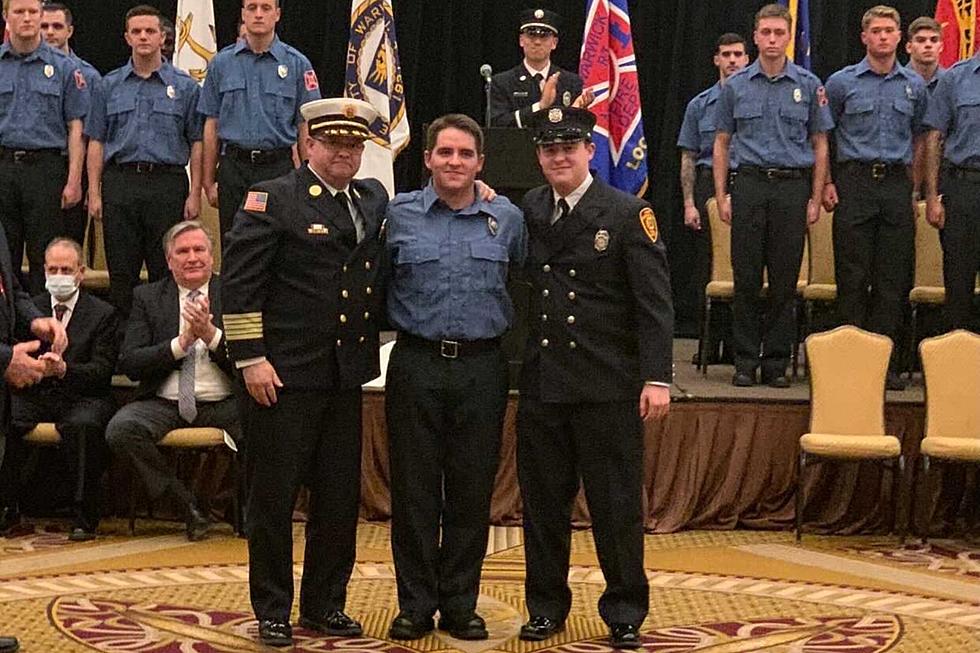 Lakeville Fire Chief Returns an Emotional Favor to Son After Nine Years
Courtesy of Nolan O'Brien
It was an emotional night last Friday for Lakeville's Fire Chief, Michael O'Brien, when he was able to pin his son's badge and officially appoint Nolan O'Brien as a firefighter. Nine years prior, Nolan was there for his father's pinning, and now everything has come full circle for the O'Brien family.
"I come from a family of firefighters," Nolan O'Brien said. His brother, father, grandfather, and great-grandfather were all firefighters, and Nolan knew at a young age he would follow in his father's footsteps.
In 2013, his father was being appointed deputy chief in Portsmouth, and Nolan was given the honor of pinning his dad's badge.
"It was awesome being there," he said. "It was one of his biggest career goals. It was his hometown, and it meant a lot to him."
It was just as emotional when his father returned the favor on Friday night to pin his badge as he officially became a Warwick, Rhode Island firefighter.
"It's tough to describe, but it was awesome having him there," Nolan said. "He and my entire family has supported me along this journey, through college and getting to this point. Getting here was my thank you to them."
Nolan's brother was fortunate enough to have the same experience with his father during his pinning ceremony last year when he became an East Providence officer.
"Firefighting is often a family business," wrote the Lakeville Fire Department on Facebook.
The O'Brien family has protected our neighborhoods for four generations, and surely Chief O'Brien is beyond proud of the men his children have become.
Stay the Night in a Renovated 19th Century Newport Firehouse
After going through a year of extensive renovations and restorations, this 19th century firehouse is now available to rent, and it's safe to say we're obsessed. Check out the Firehouse Inn's six-bed, six-bath space that boasts a neat and modern kitchen and plenty of charm only a historic firehouse could bring.
Converted Provincetown Firehouse Boasts Sweet Porch and a Whole Lot More
If you've ever traveled past 'The Fire House' in Provincetown and wonder what it was like inside, this is your chance to see it. For the first time in nearly 20 years, this stunningly renovated historic home is
on the market
with a $2.75 million price tag.
More From WBSM-AM/AM 1420