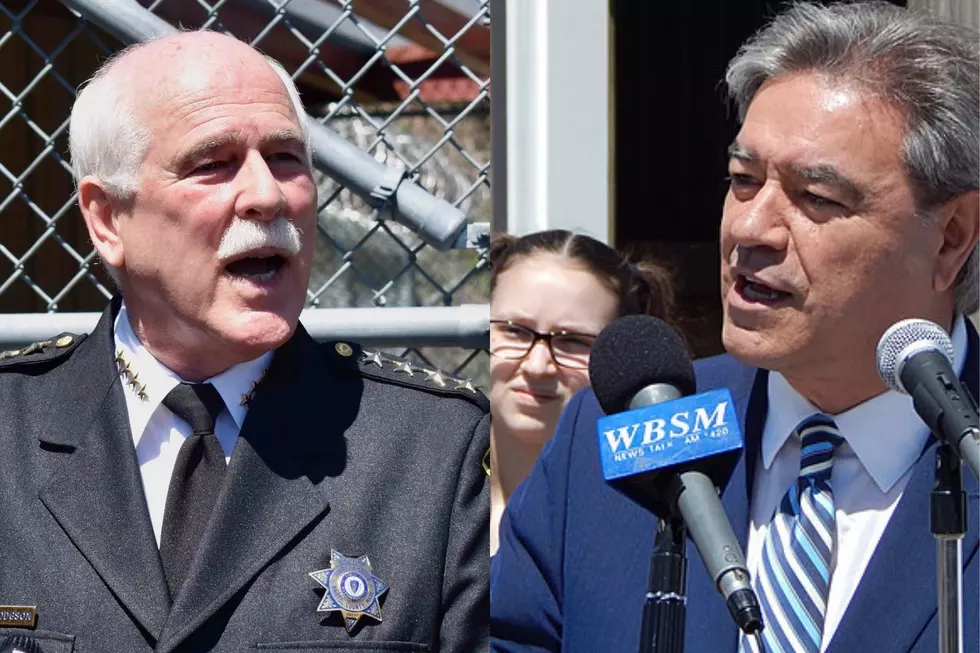 Hodgson: Cabral Bill to Ban Sheriffs From Polling Places 'Outrageous'
Townsquare Media Photos
Bristol County Sheriff Thomas Hodgson is lashing out at a bill filed by two local lawmakers that would ban county sheriffs and state police from "preserving order" at Massachusetts polling places on election day.
"This is one of the most outrageous bills I can remember," said Hodgson on Twitter. "Who wants the public to be less safe at the polls?" In a separate Tweet, the Republican sheriff asked "Why would anyone want to prohibit law enforcement from protecting the rights of citizens of Massachusetts?"
An Act Relative to Polling Place Security or Integrity was filed Friday by Bristol County Democratic state representatives Antonio F. D. Cabral of New Bedford and William M. Straus of Mattapoisett. Eleven other Democratic lawmakers from across the state signed on, including reps. Christopher Hendricks of New Bedford and Patricia Haddad of Somerset.
Asked for comment, Cabral on Tuesday said his bill is designed to clarify the lead role of local police in maintaining order at local senior centers, school gymnasiums, and other polling places. He said local authority in 'preserving order' at polling locations would remain unchanged. Under the bill, sheriffs and other agencies would not provide enforcement during early voting and on election day "unless authorized to do so by both the Secretary of Public Safety and Security and local municipal officials," Cabral told WBSM in an email.
Cabral said he and Straus filed the bill in response to President Donald Trump's assertion that he planned on sending 'sheriffs' and other agencies to monitor polling locations throughout the country during the Nov. 3 election. "We reviewed the Massachusetts law and found that it should be absolutely clear," he said. "We decided to offer clarifying language around whose responsibility it is to provide security at polling locations throughout the state."
Back in August Sean Hannity of Fox News asked Trump if he planned to deploy poll watchers around the country "to monitor, to avoid fraud" and to crosscheck people who show up to vote to see if they are registered.
"We're going to have everything," Trump responded. "We're going to have sheriffs, and we're going to have law enforcement, and we're going to have, hopefully, U.S. attorneys, and we're going to have everybody, and attorney generals. But it's very hard."
Hodgson is an outspoken Trump supporter and is honorary chairman of the president's reelection campaign in Massachusetts.
Despite this week's back-and-forth, a spokesperson for Hodgson is suggesting that the matter could be moot, at least as far as Bristol County is concerned. "We never have had our deputies at polling places and had no plans to do it this year," wrote BCSO public information officer Jonathan Darling in an email.
Under HD.5270, no county or state law enforcement officer would be permitted inside or within 300 feet of a polling place to either "preserve order," to protect election officers from interference with their duties, or to enforce election laws without the written approval of both the Massachusetts secretary of public safety and local police authorities.
Enter your number to get our free mobile app
More From WBSM-AM/AM 1420