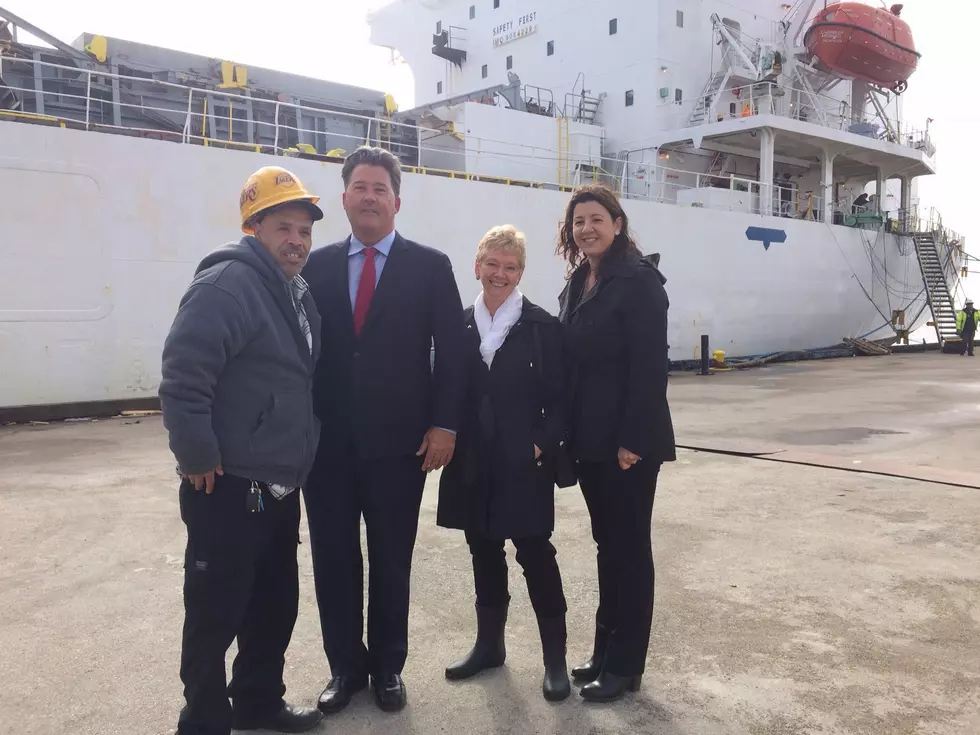 Governor Baker Advances Montigny State Pier Vision
Marty Jones, second from right, posing with Senator Mark Montigny at the announcement of MassDevelopment's taking over of State Pier in New Bedford/Courtesy of Senator Montigny's Office
BOSTON — On Friday, Governor Charlie Baker filed an economic development bill that advances Senator Mark Montigny's longtime vision to transform New Bedford State Pier, including authorizing the Department of Conservation and Recreation to lease the property to MassDevelopment.
Since December 2017, MassDevelopment has been working with DCR to design an appropriate contract, whereby MassDevelopment can assume the management and daily operations of the facility. The provision filed by Governor Baker Friday will provide clear statutory authority to DCR to lease the pier in order to better promote new and existing economic development opportunities at the pier.
This approach was first offered by Senator Montigny in the 2016 economic development bill.
Since at least 2008, Senator Montigny has been a tireless advocate of restoring and redeveloping State Pier into "a multi-use facility for water-dependent cargo, commercial fishing improvements, commercial marine transportation improvements, marine educational facilities, a fresh produce and fish market and capital improvements related to tourism, public recreation and other economic development within the port of New Bedford."
This project marks the third and final phase of an overall economic development vision Montigny has pursued, starting with his legislation to rehabilitate the Star Store into a thriving college arts campus, followed by the extensive redevelopment of Route 18.
"State Pier is the most exciting economic development project along our working waterfront. I look forward to working with MassDevelopment to ensure we can finally maximize the potential of this valuable asset," said Senator Montigny.
Below are just two key legislative efforts by Senator Montigny to implement his vision of connecting the transformed downtown with State Pier by securing a $25 million bond authorization and restructuring of pier management:
S.2423, Economic Development Bill (2016): New Bedford State Pier and Waterfront Redevelopment
Mr. Montigny moved that the bill be amended in item 7002-8018 of Section 2A by inserting the following:
Notwithstanding any general or special law to the contrary, the department of conservation and recreation may lease the state pier facility in the city of New Bedford to the Massachusetts Development Finance Agency established pursuant to chapter 23G of the General Laws for a term not to exceed twenty-five years. The Massachusetts Development Finance Agency is further authorized to sublease the facility, or portions thereof, for the purposes of economic development within the port of New Bedford. Preference shall be given to any sublease proposal that emphasizes mixed-use development for water and non-water dependent uses, including but not limited to, commercial fishing improvements, marine transportation improvements, cargo operations, and capital improvements related to tourism, retail, restaurants, recreation and public waterfront access.
2014 Environmental Bond Bill (Chapter 286 of Acts of 2014)
Mr. Montigny moved that the bill be amended by inserting the following:
6720-1350…."provided further, that not less than $25,000,000 shall be expended on capital improvements to the state pier facility in the city of New Bedford, which improvements shall be made to further economic development within the port of New Bedford; projects may include, but shall not be limited to, a multi-use facility for water-dependent cargo, commercial fishing improvements, commercial marine transportation improvements, marine educational facilities, a fresh produce and fish market and capital improvements related to tourism, public recreation and other economic development within the port of New Bedford"
--Senator Montigny's Office
More From WBSM-AM/AM 1420