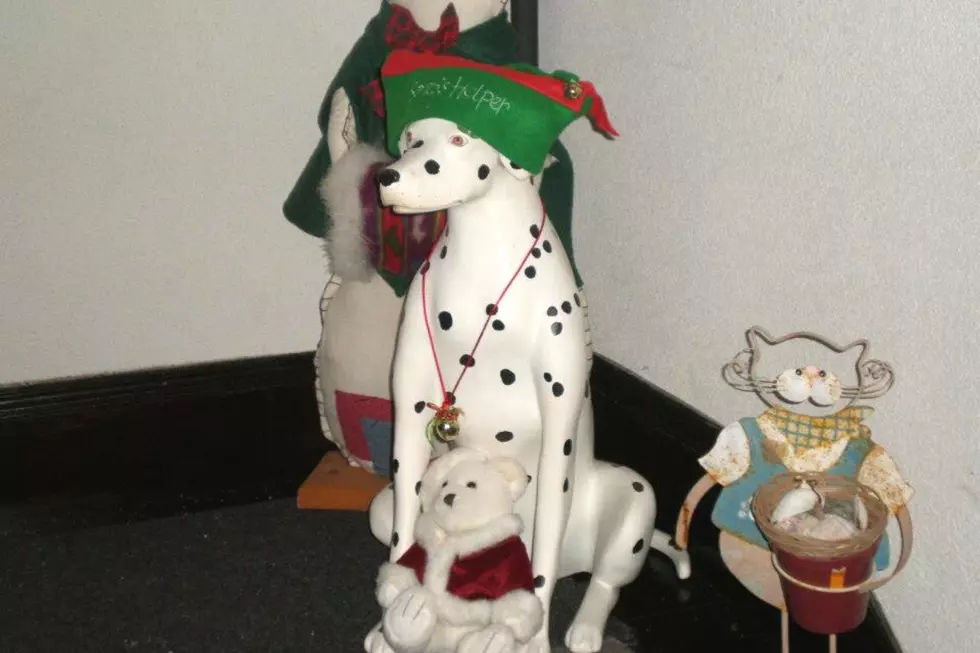 Former Lakeville Wooden Dog Gets a New Job With Carver Fire Department
Courtesy Stacey Wagner
A wooden dog that once served as a catalog model for Talbots now has a new home with the Carver Fire Department, thanks to a longtime employee at the company's Lakeville distribution center who brought him home after losing his job because of its impending closing.
Paul Wagner was a 30-year employee in the maintenance department at the Talbots distribution center. His wife Stacey worked alongside him for 29 years. Both left the company on September 9 as part of the wave of layoffs in advance of the distribution center's permanent closing.
But he didn't leave the "red doors," as Talbots is known, without taking home an old, wooden friend.
About 14 years ago, Wagner said he went to Talbots' main headquarters in Hingham to help clean out some storage closets. He said he happened upon the wooden Dalmatian, and when he inquired about it, he was told it was used in a Talbots catalog with the models and then put into the storage closet.
"They wanted me to put him in the dumpster out back, but I just couldn't do it, so I asked and they said I could have him," Wagner said. "He went home with me to New Bedford and we used him for decorations for the holidays at our apartment."
However, when the Wagners moved to Carver, their new house was a little too small to keep Spot around, so Wagner kept him in the storage shed, until he was needed for a special occasion.
"We were having a Halloween costume contest at Talbots in Lakeville and one of our associates was dressing up like Cruella from 101 Dalmatians and I told her about Spot," he said. "So I brought him in to go with her costume."
Wagner said after that, they kept Spot in the maintenance department in Lakeville.
"We dressed him in Red Sox and Patriots gear throughout the years, and he ended up being like a maintenance mascot," he said.
When the announcement came back in May that the Lakeville distribution center would be permanently closing, Wagner knew he had to bring Spot back to the shed.
"I couldn't leave him to be put into a dumpster somewhere, so I took him back home with me on my last day," Wagner said. "Before that, I was asking the guys what I should do with him because, again, I had no room in my house and I did not want him sitting in the shed, collecting dust. One of the guys suggested I donate him to a fire station."
The Wagners loved the idea, and when they recently attended a fair at South Meadow Park in Carver, members of the fire department were in attendance as part of the fair.
"I asked the guys if they would be interested in Spot for their fire station, and they said, 'Absolutely, bring him down,'" Wagner said.
On October 18, the Wagners dropped Spot off at his new home, where he can become a new mascot and won't have to worry about being stuck in a storage shed ever again.
WBSM's Top SouthCoast Stories 10/10 - 10/16
More From WBSM-AM/AM 1420