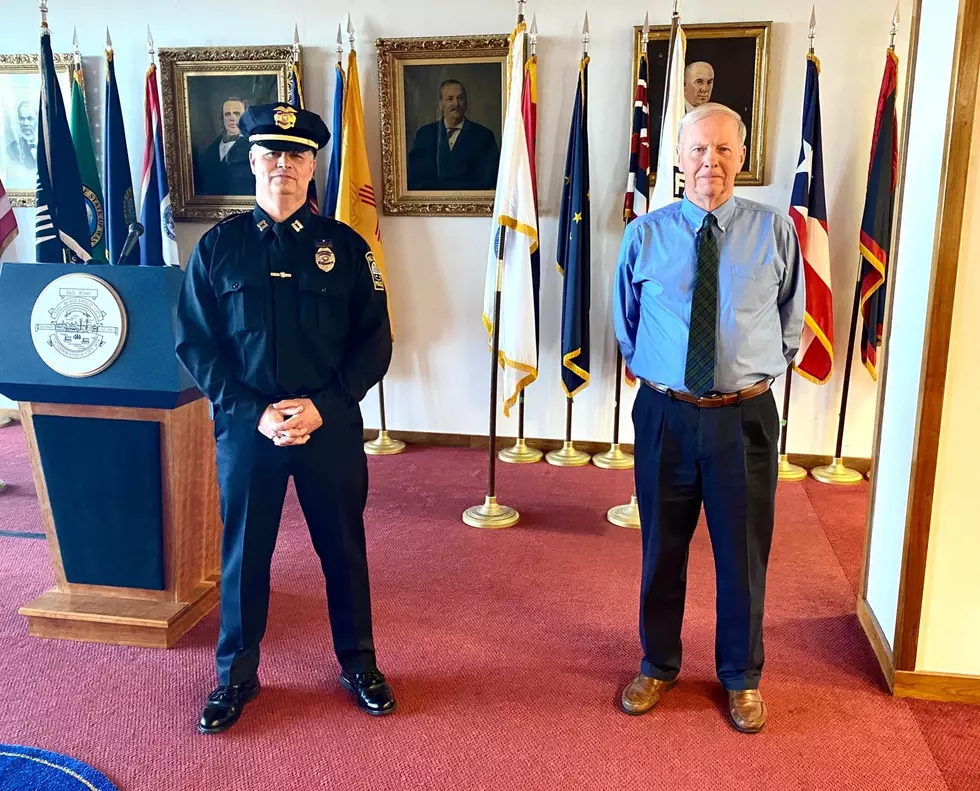 Fall River Police Chief on Extended Leave, Acting Chief Named
Courtesy Fall River Mayor's Office
FALL RIVER — The Fall River Police Department announced that Chief Jeffrey Cardoza is going on extended leave and that an acting chief has been named in his place.
In a release Tuesday, it was announced that Chief Cardoza (pictured above next to Mayor Paul Coogan) had gone on "extended leave for health-related reasons" on December 6, and that it "will continue until his anticipated retirement in March 2022."
Captain Paul Gauvin will be sworn in today as acting chief, and a committee will be assembled to begin the search for the next permanent chief. Gauvin has been part of the Fall River Police Department for over 24 years, serving in the Vice and Intelligence Unit, Staff Services, Professional Standards, Major Crimes Division, and as a Uniform Division Watch Commander.
"Chief Jeffrey Cardoza has acted admirably over the last year and a half as Chief of Police. His leadership made significant positive changes to the force, while overseeing the department's response to the COVID-19 pandemic and several other unexpected roadblocks," Mayor Paul Coogan said.
"On behalf of the City, I thank him for his years of service to the Police Department and to our residents," Coogan continued. "While we are sad to see his departure, he has left the Fall River Police Department in a better place and we look forward to working with the Acting Chief to continue the progress he has made."
40 Photos of Fall River From a Beautiful Perspective
Fall River Photographer and Native Mark Maxwell captured the wildlife in Fall River in a different, yet beautiful way.
Lizzie Borden's Maplecroft Is Back on the Market in Fall River, Massachusetts
While the house where Lizzie Borden's father and stepmother were brutally murdered on August 4, 1892 may have
recently been purchased
, the home where she moved after being acquitted for those same murders is on the market for anyone looking to own a piece of Fall River history.
See How Much This Fall River Intersection Has Changed in a Decade
Well this is surely a blast from the past. While exploring Google Maps' street view feature recently, I came across an old still from 2012 mixed in with the more recent ones. It showed an almost decade-old look at Fall River's New Harbour Mall, which is now dead and has been replaced by the stores at the SouthCoast Marketplace. The more I looked around the intersection on William Canning Boulevard, the more I began to see remnants of the past, some that may now be long-forgotten for some. This Fall River intersection has changed so much in the past near-decade, but if you're needing a little look in the rearview to see how far it's come, check out some of the following stills.
More From WBSM-AM/AM 1420