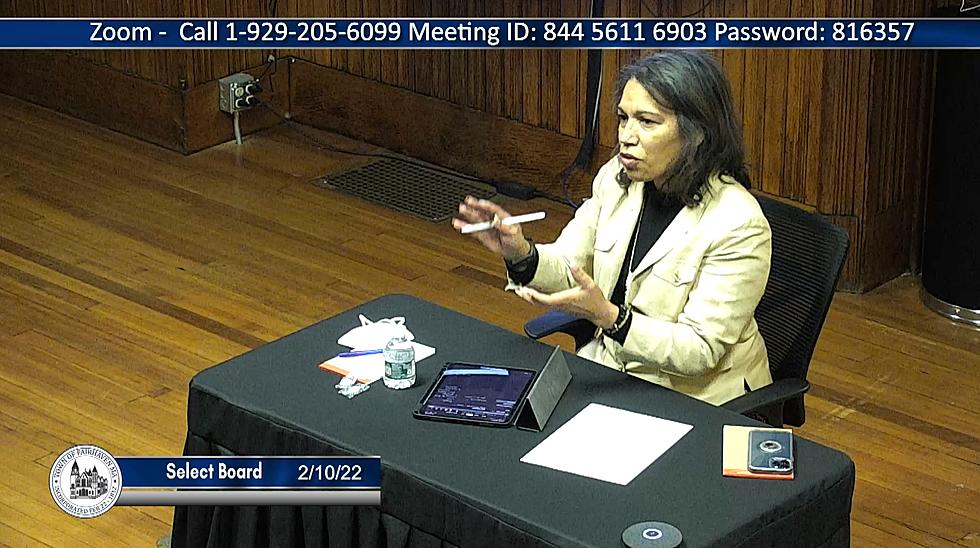 Fairhaven Offers Town Administrator Job to Former Uxbridge Manager
Courtesy Fairhaven Community Media
FAIRHAVEN — The Fairhaven Select Board has made its choice for Town Administrator: former Uxbridge town manager Angie Lopes Ellison, who was offered the position last week.
The board voted unanimously to offer Ellison the job at a Feb. 10 meeting, after an interview that lasted over an hour.
Current Interim Town Administrator Wendy Graves said that Ellison and town officials are still in the process of negotiating a contract.
The Town Administrator role was the subject of some controversy in Fairhaven, after Select Board Chair Dan Freitas was recalled last year in part due to concerns that he was mishandling the search for a candidate.
The group behind the recall effort alleged that Freitas had nominated himself to the candidate screening committee to add Graves back to the list of candidates after she was reportedly not included in the final three.
Graves also serves as Finance Director, Treasurer, and Collector for the town.
Ellison is currently working as an Administrative Officer for the city of North Adams, a position she took in 2020 after she left the manager job in Uxbridge.
Her departure followed the infamous indictment of the town accountant Justin Cole on charges of embezzling more than $900,000 from several Massachusetts towns.
Ellison had played a part in uncovering Cole's alleged scheme.
But she told the Fairhaven board members that her decision to keep the Attorney General's investigation quiet to town officials — some of whom were friends with Cole, she said — led to an erosion of trust between her and Uxbridge leaders.
She called it a "mistake" on her part, and said she has since learned from the experience.
Now, Ellison said, she advocates for communication, and would focus on transparency to foster trust and citizen engagement in municipal government.
"I tell everybody everything," she noted. "What you do with that information is up to you."
"The more people have information, the more informed they are, the better they can make decisions," she added.
WATCH the full Fairhaven Select Board meeting, including Ellison's interview:

Fairhaven Filmmaker Shares Behind-the-Scenes Photos of New Film
Fairhaven filmmaker Alyssa Botelho shared behind-the-scenes photographs from the production of her latest short film, a folk horror piece titled To Dust All Return.
Fairhaven House Allows You to Live Out Your Hobbit Fantasy
This A-Frame home with 624 square feet sits on just over one acre of land and the views are something out of a dream. With a touch of Maine architecture to the house, it is very much meant for someone who enjoys the outdoors and the great wilderness.
More From WBSM-AM/AM 1420