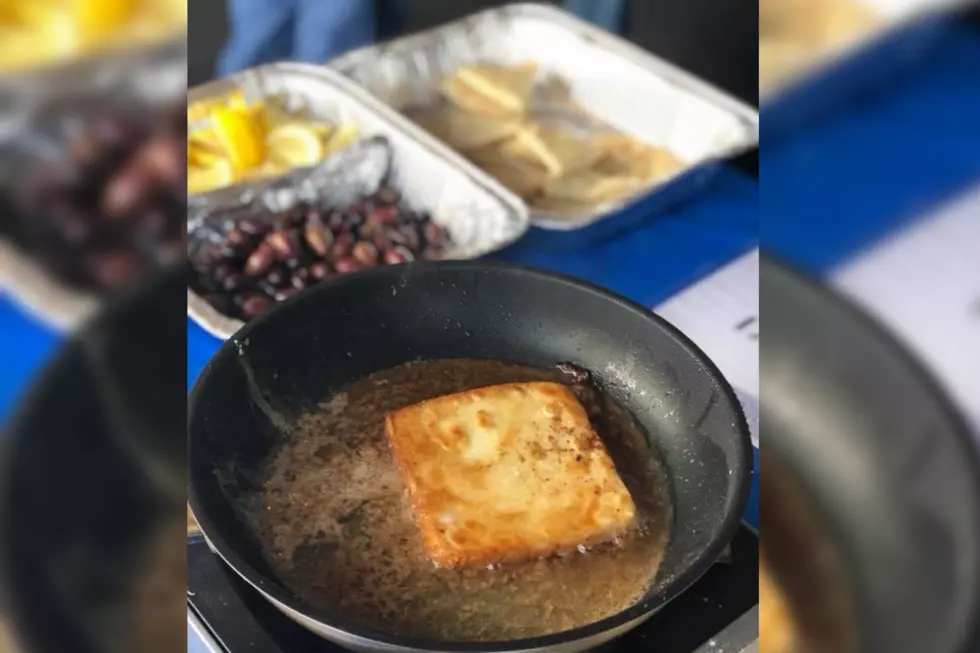 Best Year Yet For Greek Festival [PHIL-OSOPHY]
Courtesy Andrea Paleologos
The Greek Food Festival at St. George Greek Orthodox Church in Dartmouth had its best year to date over the weekend.
Thousands of folks were willing to spend well over an hour waiting in line to pick and choose their favorite dishes, like fresh roasted lamb, mousaka, spinach pie and Greek style string beans. One of the delicacies is fried Saganaki cheese, a buttery sharp cheese that's melted to perfection and topped with flaming cognac.
The ladies of the Philoptohos Society sold out of their homemade Greek pastry, from fresh fried Loukoumades--dollops of fried dough topped with warm honey syrup, chopped nuts and cinnamon--to filo-filled delicious goodies like baklava.
In the background, the sounds of bouzouki music played, as many enjoyed wine and beer under a giant tent filled with folks sitting back and chilling. The aroma of marinated chicken grilling and gyro meat sizzling on the rotisserie filled the air with the basic elements of a perfect outdoor festival.
Close by, Greek dancers in their traditional costumes of the Greek islands were circle dancing, while everything from Greek jewelry and trinkets and imported spices lured the festival goers. There were tours of the church, where icons of saints lined the walls.
All this was a labor of love and a way to raise revenues to help with church expenses. I have a feeling that money aside, the members of the local Greek community would still hold a festival just to share its traditions that date back to Ancient Greece.
Phil Paleologos is the host of The Phil Paleologos Show on 1420 WBSM New Bedford. He can be heard weekdays from 6 a.m. to 10 a.m. Contact him at phil@wbsm.com and follow him on Twitter@PhilPaleologos.
More From WBSM-AM/AM 1420