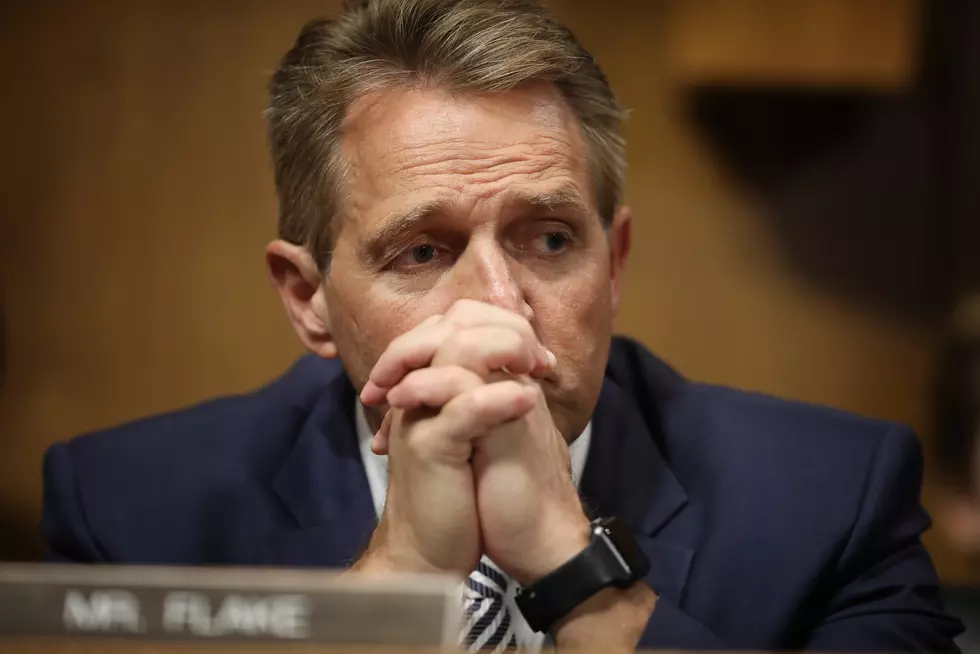 What Does Senator Flake Know? [OPINION]
Getty Images
Arizona Republican Senator Jeff Flake is demanding a one-week delay on the confirmation of Brett Kavanaugh to the Supreme Court, and another FBI investigation into the nominee.
One important detail is that Senator Flake is retiring from the Senate. He doesn't have to face a Democrat challenger to keep his job. He doesn't have to appeal to woman voters in Arizona. He doesn't need to motivate his Republican base of voters to get out and vote for him in November. He has a free hand to act as he wishes.
He doesn't like President Trump, and the president doesn't like him. They have publicly traded barbs while nominally being members of the same political party. But I don't think this is about his feud with President Trump.
Earlier today, Sen. Flake issued a press release saying he would vote to confirm Judge Brett Kavanaugh to the Supreme Court. Then, just a few hours later, he did an abrupt turnabout and is demanding an FBI investigation and a week delay in the vote. He did vote in favor of Kavanaugh's nomination in the Judiciary committee today.
Sen. Flake has the support of at least one Republican in the Senate, and he obviously has the support of the Democrats. The Democrats will support anything to delay the vote on this nomination. The Democrats don't have the votes to stop Kavanaugh, so they have to force him out of the process. A delay in the vote keeps their hopes alive of stopping him by dropping him.
What has changed in Sen. Flake's mind? He may just be covering all his bases, doesn't think a week delay is too much of a wait, and he is confident that an FBI investigation, the seventh in the life of the nominee, will not turn up anything bad.
Or, maybe he has learned something else.
Chris McCarthy is the host of The Chris McCarthy Show on 1420 WBSM New Bedford. He can be heard weekdays from 10 a.m. to noon. Contact him at chris.mccarthy@townsquaremedia.com and follow him on Twitter @Chris_topher_Mc. The opinions expressed in this commentary are solely those of the author. 
More From WBSM-AM/AM 1420