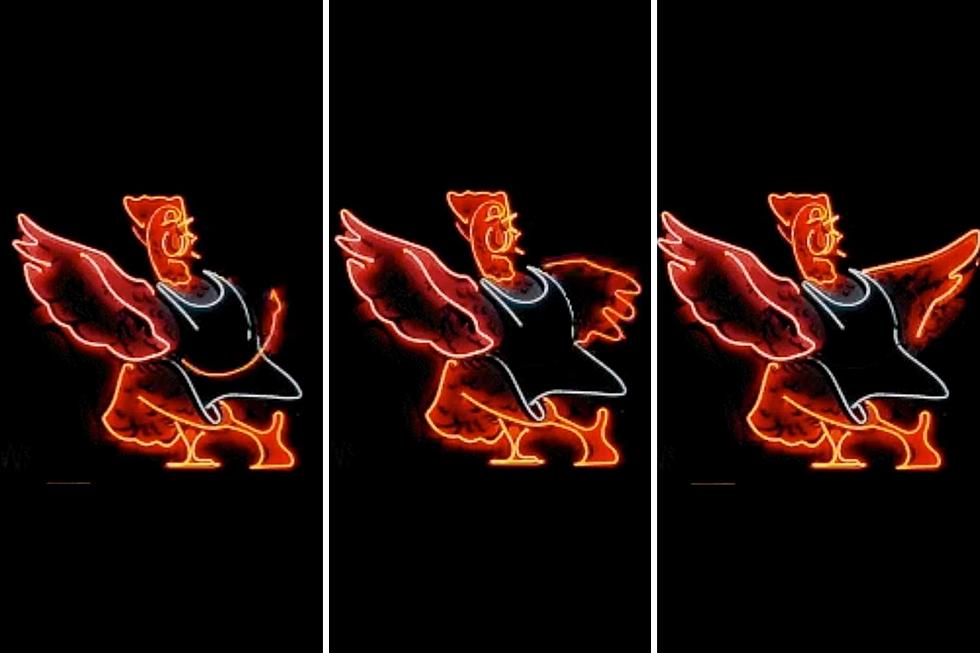 Sorry, New Bedford, the Greatest Neon Sign Was a Waving Chicken, Not a Guy on a Horse
@ChickenWingDiet via Twitter
Listen, SouthCoast people, I know how much you all revere (get it?) New Bedford's famous Paul Revere sign. A caller to my radio show even suggested recently that the city should use some of the American Rescue Plan Act funding to get it back on the side of Interstate 195.
Well, sorry to break it to you, but the sign is in the hands of a private collector now, Dave Waller. Waller owns multiple neon signs, including the greatest neon sign in Massachusetts history.
No, not Paul Revere. That's simply a man riding a horse – albeit one who played a significant role in our country's history.
Nope, the greatest neon sign in Massachusetts history was a giant waving chicken.
Topsy the chicken stood tall outside of Fontaine's in West Roxbury starting all the way back in 1952. According to the Rose Kennedy Greenway Facebook page, George Fontaine was very proud of the bird, which he designed himself. He and his wife Helen turned Fontaine's into one of the most popular restaurants in the Boston area, until it closed in 2004. Topsy was one of the last animated neon signs in the area when it was finally taken down in 2005.
Waller took ownership of the Topsy sign. In 2018, an installation of his collection of neon signs was displayed along the Rose Kennedy Parkway.
A number of people back in the day referred to Fontaine's as "Topsy's," including my own grandmother. Were they really using the name of the neon chicken over the family that owned and operated the restaurant? I'm not sure what the story is there, and I couldn't find much history on the Topsy moniker for the chicken, either.
What I do know, though, is that Fontaine's had some of the absolute best fried chicken I've ever had in my life. To this day, there are a number of restaurants still claiming to use the Fontaine's recipe for their own fried chicken, but online reviews seem to suggest that they're also close but no cigar.
There was something special about making the trip up to the West Roxbury/Dedham line, heading down Route 1 to the VFW Parkway and watching along the horizon for Topsy to rise in the distance. Of course, you'd always want to drag out your dinner for as long as you could at Fontaine's – not a hard thing to do, considering sometimes the wait to get in was as long as two hours – just so that you could see Topsy in his full neon glory once the sun had gone down.
Fontaine's also did a bustling takeout business in addition to its sit-down dining room. I have memories of my dad grabbing a bucket of chicken for us kids to have as a picnic in a nearby park. Also, as delicious as their fried chicken was, their dinner rolls were just as legendary. All the people who get so excited about Texas Roadhouse rolls obviously never went to Fontaine's.
Yes, the Paul Revere sign was a great symbol for New Bedford and welcomed people into the Whaling City for generations. There's no way, though, that a guy on a galloping horse could ever top Topsy, the apron-wearing, forever-waving neon chicken.
50 Famous Brands That No Longer Exist
KEEP LOOKING: See what 50 company logos looked like then and now
More From WBSM-AM/AM 1420