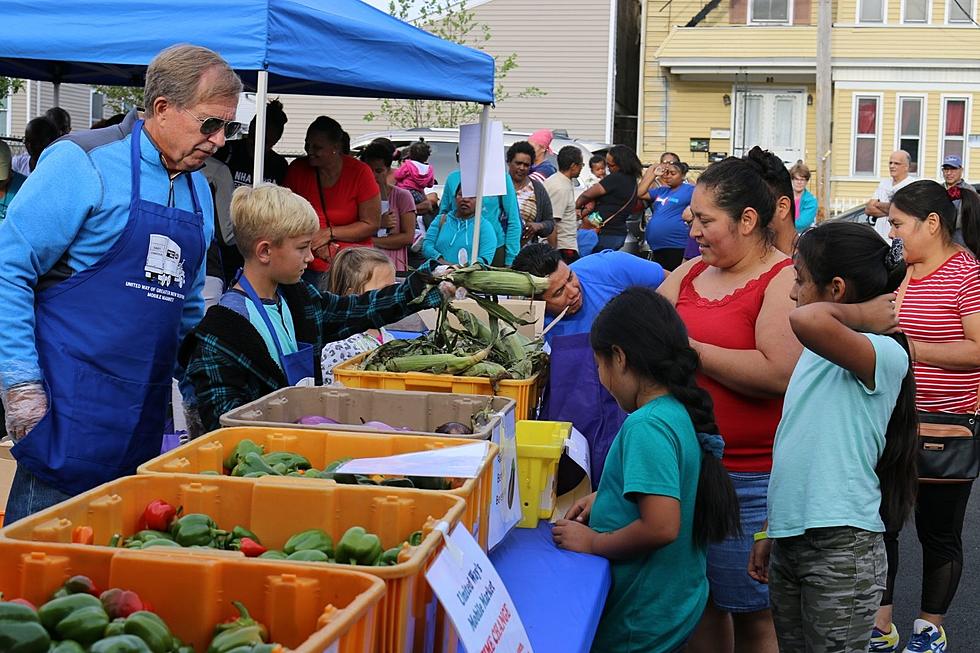 Mobile Market Provides Free, Fresh Produce to the SouthCoast
Photo contributed by United Way of Greater New Bedford
United Way of Greater New Bedford's Mobile Market launched its seventh season in July providing free, locally grown, fresh produce for low-income working families in Greater New Bedford.
The Mobile Market's primary focus is to remove the barriers that families often face when accessing fresh produce. By offering free produce after traditional work hours, families are given access to fruits, vegetables, eggs, and other produce they might not otherwise be able to obtain due to financial restraints or the hours that traditional food pantries are open.
Victoria Grasela is the VP of Marketing and Community Engagement. The Mobile Market is an essential event for many SouthCoast families.
"Mobile Market has been a great resource in our community since it began, providing so many with valuable, healthy produce they may not be able to get otherwise," Grasela said. "We're not only feeding those in need but also providing access to healthier options to improve the overall health and wellness of residents we serve."
Markets began on Tuesday, July 20 in Wareham and Thursday, July 22 in New Bedford. Those in need can get produce from 5:30 to 7 pm or until all food is distributed. Markets are on a first-come, first-served basis. Markets will be at Wareham Middle School located at 4 Viking Drive on Tuesday evenings and will alternate between BankFive locations at the north end (1724 Acushnet Ave.) and south end (160 County St.) of New Bedford on Thursday nights. Click here for the full schedule.
The fresh produce distributed is grown locally by Sharing the Harvest Community Farm at the YMCA Southcoast Dartmouth. Mobile Market New Bedford is sponsored by BankFive and Mobile Market Wareham is sponsored by Southcoast Health – both of whose employees also volunteer at many of the Mobile Markets throughout the season. Additionally, Southcoast Health will have its Mobile Health Van on sites in August and September to provide COVID-19 vaccines to those who still need them.
Qualifying families and individuals are invited to visit the Mobile Market every other week. Pre-registration is encouraged electronically in order to cut down on wait times and reduce the spread of germs, however, registration may also be done on-site. Pre-registration does not guarantee produce, as Mobile Market operates on a first-come, first-served basis. Due to the recent CDC recommendations, masks are now required for anyone attending Mobile Market, whether they are vaccinated or not.
Families and individuals who are able to visit a food pantry during traditional hours are encouraged to do so. Pantries distribute fresh produce from Sharing the Harvest in addition to bread, meat, dairy, and other food items.
To learn more about the Mobile Market, the Hunger Commission, or United Way of Greater New Bedford, please visit unitedwayofgnb.org.
New Bedford Mitsubishi encourages you to Live United.
The Dishes to Try Most at Over 100 SouthCoast Restaurants
From the freshest seafood you can find to some of the best dang Portuguese dishes outside of Portugal itself, there are so many dishes to enjoy and love here on the SouthCoast, and we put 'em all into one spot. Check out more than 100 of the SouthCoast's favorite restaurants, and let us know if your favorites made the list.
More From WBSM-AM/AM 1420