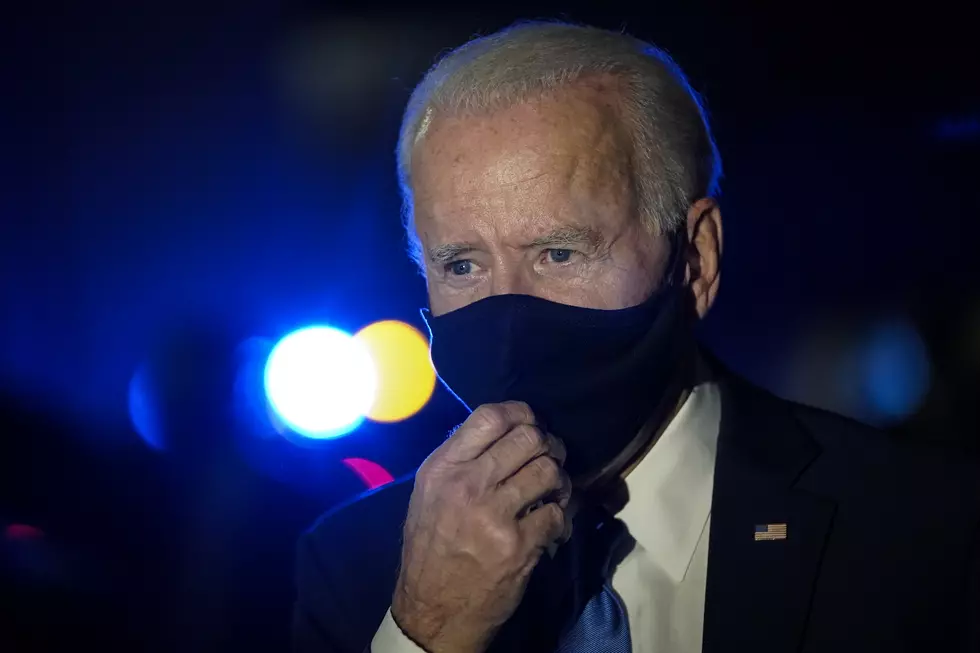 Trump Decidedly Wins Second Debate as Biden Leaps Left [OPINION]
Getty Images
Who knew? As bad as the president was in terms of following the rules and expected decorum in the first debate on September 30, he was perfectly well-behaved (for him) last night.
President Trump was able to implicate the former vice president's family with unsavory if not criminal ties to tens of millions of dollars. He accurately laid the blame for the creation of Mexican border holding cages for illegal immigrants on the Obama-Biden administration. The president effectively reminded Americans on numerous occasions that Joe Biden had been at the highest levels of government in both legislative and executive branches for 47 years and did not accomplish all of the things Biden said he'd address as president if given the chance.
After stepping away from the TV last night, I eventually absorbed the content and became increasingly stunned at just how far to the left Biden's platform became during the debate.
He is going to go after not just fracking, but the whole oil industry.
He plans to grant amnesty to 11 million illegal immigrants.
He is increasing the federal government's budget in healthcare with "Bidencare," which he said is Obamacare, but more.
A national minimum wage of $15 per hour.
He will roll back the Trump tax cuts but insists his new plan will spare those earning under $400,000; of course, if he strips the Trump tax cuts, he has no such assurance from Congress that he will pass any such new tax plan, leaving all vulnerable to his executive order.
It would seem the Trump advertisements have been given several gifts from Biden here.
In addition to the new eyewitness who is handing all of the documents he says are proof of Joe Biden's personal gains through Chinese transactions while in office, the emails and texts from the "Laptop from Hell" will be putting him on the defensive until November 3.
Biden also seemed to rely on the hopes of Americans not knowing the difference as he offered some whopper lies.
Joe Biden (at 20:13 of the debate): "I never called you either of those things," after Trump accused the vice president of calling him racist and of being xenophobic for shutting down the flights from China.
Well, fact-checkers from CNN offered their clearly delusional version, which was to say that Biden did say that Trump was a xenophobe and admit he said it on the day Trump shut down the flights from China – before flopping, as they do. They explained to their viewers that there is no proof that Biden was aware of the president's order to shut down the flights when he made the statement. But the reporters were there strictly to get a response from Biden regarding the flight restrictions.
Snopes.com, however, was honest about the obvious, agreeing the president's accusation was true.
As far as the word "racist" being used against Trump by Biden, one needs to look no further than last night's debate itself, because he accused him of it right there and then.
Joe Biden (19:57): "I never said I oppose fracking."
Biden responding to Trump's claim that Biden's son and brother were making millions of dollars off of the then-vice president's position. "Not true," he said.
Hunter Biden flew over to China aboard Air Force II during his father's visit in 2013. Hunter's business partners joined him; Devon Archer was a college roommate to then-Secretary of State John Kerry's stepson Christopher Heinz, and Archer was also a former senior advisor to Secretary Kerry.
The other was James Bulger, nephew of notorious gangster James "Whitey" Bulger of South Boston. Before leaving, Hunter Biden and friends secured a partnership with the Bank of China, whose assets in the merger brought in $1.7 billion and merged their Rosemont Seneca investment firm with Bohai, a Chinese firm, as a result, and with Thornton Group LLC, run by Bulger. Kerry's stepson, Christopher Heinz, is also a partner in RSB.
Hunter Biden also garnered a monthly salary of $83,333,33 from Burisma Holdings, an energy company out of Ukraine, just two months after his father – the seated Vice President of The United States – demanded to be the point man in Ukraine for the Obama Administration. Hunter Biden had zero experience in the energy sector.
Joe Biden's brother James, according to investigative journalist Peter Schweizer at realclearpolitics.com, was granted a contract in Iraq to construct 100,000 homes – also with no experience.
Ken Pittman is the host of The Ken Pittman Show on 1420 WBSM New Bedford. He can be heard Saturdays from 9 a.m. to noon. Contact him at ken.pittman@townsquaremedia.com. The opinions expressed in this commentary are solely those of the author.
Enter your number to get our free mobile app
More From WBSM-AM/AM 1420