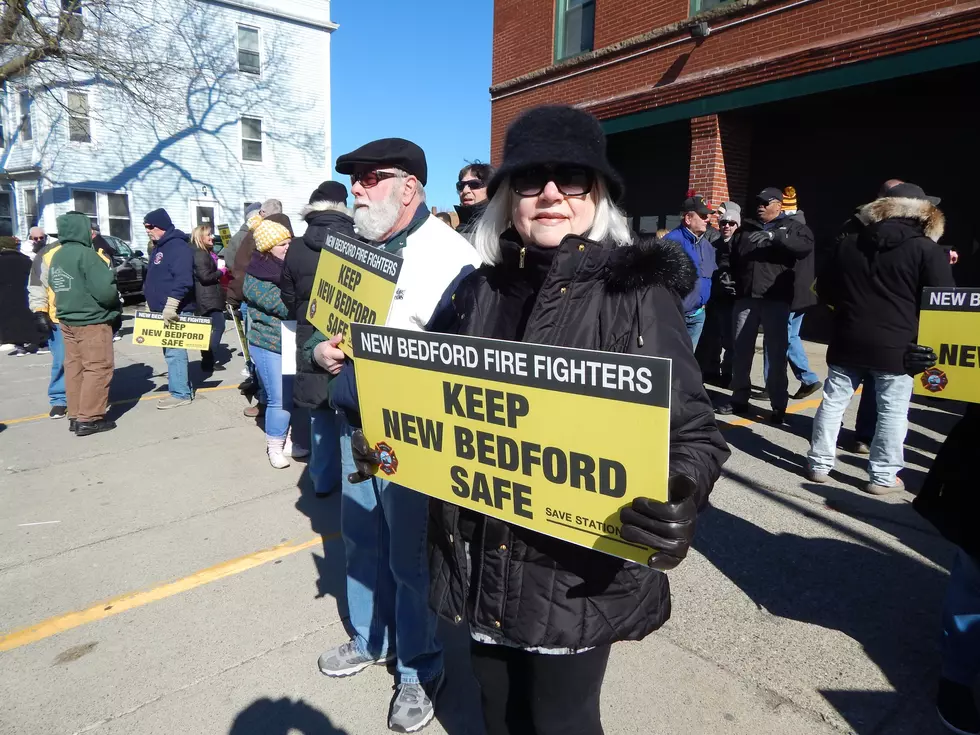 South End Residents: Keep Fire Station Open
Jim Phillips/Townsquare Media
About 50 people braved bitterly cold temperatures Saturday morning, continuing to protest the proposed closing of Engine 11 on Brock Avenue.
The closing is slated to happen next month. South End residents were joined by members of the city council, off-duty firefighters and members of their families.
Kathy MacCord lives right near the fire station on Brock Avenue along with other elderly and handicapped residents. She tells WBSM News that shutting the station is a nightmare for her and her friends.
"We have a quadriplegic in our building. If a fire starts, he needs help. If he doesn't have a care-taker in that apartment, it's going to take them 10 to 20 minutes to get there," she said. "What happens to him?"
Fire Chief Paul Coderre announced earlier this month he planned to take Engine 11 offline on March 1 as part of a plan to end the Fire Department's controversial "rolling blackout" policy, where fire stations are closed around the city on a rotating basis. Chief Coderre said he planned to extend the coverage areas of other apparatus around the city to help cover the South End. The chief's plan has the support of Mayor Jon Mitchell.
Brian Gomes chairs the City Council's Public Safety Committee. He favors keeping Engine 11 open, and he's confident a resolution can be found.
"This is a matter of us coming together and brainstorming and putting together a plan of action," Gomes said. "I am willing to work in any capacity in order to solve this problem. We cannot put this entire city in jeopardy."
Gomes says he's concerned that assigning engines from other parts of the city to cover the South End could result in slower response times in the South End and in other parts of the city.
Council President Joe Lopes wants to keep Engine 11 open but says he's not sure the station can be saved. He told WBSM News he was meeting Tuesday with Chief Financial Officer Ari Sky to review the numbers.
Lopes says Engine 11 has been the first responder for water-rescue operations at East and West Beaches, and he can't imagine the station being closed.
Enter your number to get our free mobile app
More From WBSM-AM/AM 1420