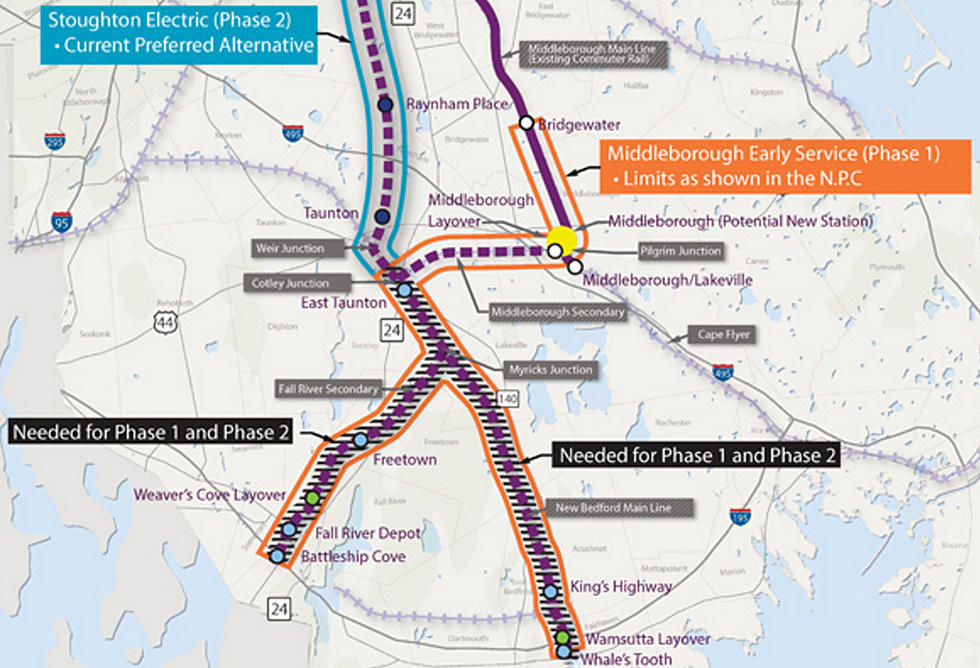 South Coast Rail Is Promising, But Mass Transit Is a Mess [OPINION]
MassDOT
On September 17, the MassDOT, the MBTA, and the City of New Bedford will be holding a Public Information Meeting at Keith Middle School. Whether or not you plan to attend the meeting, it is important to not only have a general idea of South Coast Rail's progress and projected impact to the region, but to have a snapshot of the state of the Commonwealth's transportation as a whole and what reforms are needed to optimize the impact of rail expansion.
At the outset, there are two points I want to make clear:
1. South Coast Rail is critically important to the region's economic development, and our municipal leaders should welcome and celebrate its implementation.
2. Though the expansion of rail will be a boon to this region's economy, the state of transit in the Commonwealth, on the whole, is – to put it lightly – horrendously inefficient. South Coast Rail is just one of the many transportation reforms needed to ensure that the economic benefits of rail expansion aren't capped by these inefficiencies.
Over the summer, Governor Charlie Baker accompanied Lt. Governor Karyn Polito, as well as other elected officials and community leaders, as they broke ground in East Freetown to mark the commencement of Phase 1 of South Coast Rail after completing the finance plan and securing approval from the Army Corps of Engineers. According to the Spring 2019 Fact Sheet issued by MassDOT, the goal of Phase 1 is to create six new stations: Middleboro, East Taunton, Freetown, Fall River and New Bedford. These stations will filter through the already existing Middlesborough/Lakevile Commuter Rail line, providing rail access for the residents of the SouthCoast while the full build (which is years away given its particular environmental and building considerations) is in development. Phase 1 is slated for completion by 2023.
The governor's press release noted enthusiasm from SouthCoast municipal leaders on the positive impact rail access will have in the region, as newly-elected State Representative Chris Hendricks stated:
"It is imperative that the Commonwealth move firmly in the direction of lower emissions and reduced congestion," said Rep. Hendricks. "This project works toward easing both of these urgent problems while providing South Coast residents improved access to jobs and other opportunities."
This enthusiasm is matched by local developers, who are preparing for the positive economic impact the expected 2,700 daily rail passengers will have. Projects such as the conversion of a vacant lot into a six-story 57,000-square-foot commercial and residential complex in Fall River mark a shared interest and exception between the public and private sector in South Coast Rail's Development.
THE STATE OF MASS TRANSIT
Amid the enthusiasm for the South Coast Rail project, there are unavoidable deficiencies with the Commonwealth's transportation system that need to be addressed to ensure we are receiving the best possible benefit from rail expansion.
The issue most pertinent to the residents of the SouthCoast is the ticket price. A recent study released by MassINC found that cost of a daily commute via rail to Boston is financially untenable for an average gateway city resident. Applying the $12.50 one-way cost from Worcester to Boston, Fall River and New Bedford commuters would incur a cost that is approximately 15 percent of the median household income, as opposed to the approximately two percent cost of daily commutes for Boston's more affluent suburbs. The study contests that the MBTA must take into consideration gateway residents' increasing housing costs and existing travel costs and adopt ameliorative measures, such as means-tested fares and lower fares for off-peak and reverse commuters. Though rail will attract residents of means greater than the median household income, ensuring rail access for all residents will optimize economic opportunity in the region.
South Coast Rail, aside from spurring economic growth in the region, also aims to curb an ongoing epidemic in Massachusetts transit: congestion. Governor Baker recently stated that we are at a "tipping point" in the Commonwealth when it comes to traffic congestion. Congestion costs the commuter and metropolitan areas a great deal time and money. Boston Metro, in particular, stands out above the rest of the county with an annual $4.1 billion per year loss to Boston's economy and $2,991 per driver. Representatives of Massachusetts' burgeoning biotech industry, which has experienced a 35 percent growth over the past decade, has noted that growth isn't sustainable with the current state of transportation.
As a compliment from rail expansion, the primary combative measure to this epidemic is congestion pricing, which is a system of variable tolling in highly congested roadways in order to encourage public transit and travel during off-peak hours. A smart-tolling measure passed by the state legislature was vetoed last summer by Baker, who recently released a study with more politically palatable measures such as streamlined permitting, and offering tax credits to business who encourage employees to work at home. Most transportation advocates are skeptical of these proposals while maintaining that congestion pricing, though politically unpopular, has been shown to be effective.
Most importantly, however, in order to ensure the success of railway expansion to the SouthCoast and other gateway communities, we need a complete overhaul of our public transportation system. As Douglas McGarrah reports in Commonwealth Magazine reports:
We have an out-of-date, diesel-powered commuter rail system that runs infrequently, unreliably, and at a high cost to passengers. We have a deficient, early 20th century transit system that operates at over-capacity and is unreliable and increasingly unsafe.
According to the American Public Transportation Association, failure to bring the MBTA to a "State of Good Repair" costs the Boston Metro-Area over $9 billion in lost wages annually. The system, as it stands, is carrying more passengers than it was designed to handle. McGarrah notes that the time for incremental change over time to our public transit has passed, and immediate more sweeping action is required.
As I've said at the outset, we need South Coast Rail, and should welcome both Phase 1 and the Full Build as important milestones in the upward trajectory of our region. However, while transit expansion is at the forefront of the conversation, we must demand our leaders at the state and municipal levels take action.
If Massachusetts wants to tout itself as a progressive bellwether for societal change, then we need to bring our public transit up to par.
Marcus Ferro is an attorney practicing in New Bedford and a weekly contributor to The Chris McCarthy Show on 1420 WBSM. Contact him at marcusferrolaw@gmail.com. The opinions expressed in this commentary are solely those of the author. 
More From WBSM-AM/AM 1420