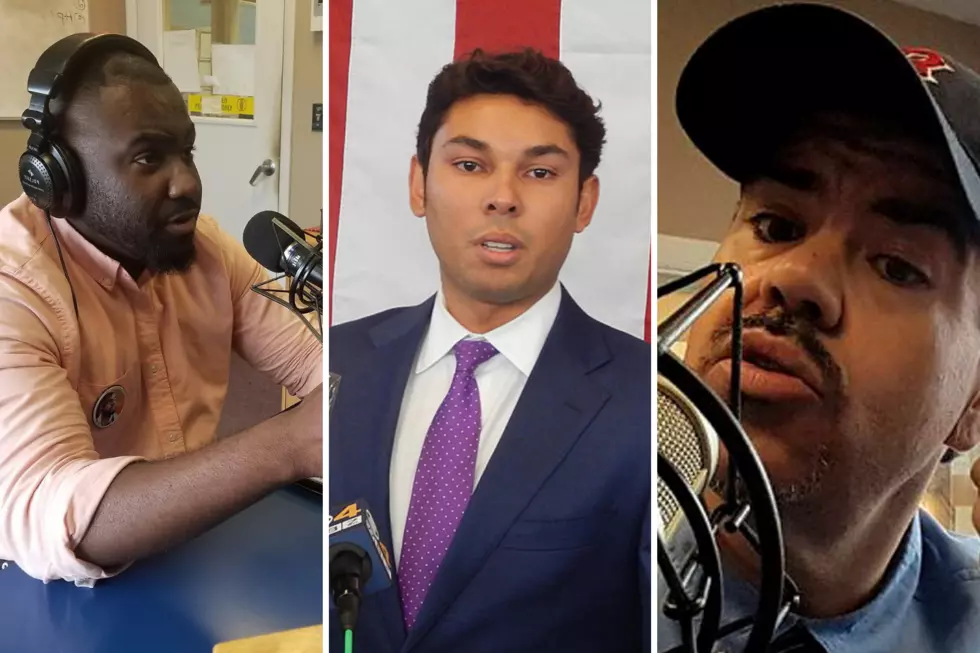 So, What Did I Miss? [OPINION]
Townsquare Media
After Chris McCarthy and I had an unexpected and at times explosive "pop-up" interview with newcomer politician Richard Tyson Moultrie, I had to jet-set to the crystal shores of Cancun for a destination wedding for two of my closest friends.
But even the blazing heat of the Mexican sun couldn't cook up what went down back home.
Here are a few quick thoughts on what was a wild week in SouthCoast politics:
Tyson Moultrie's Miserable Failure of an October Surprise
During Moultrie's "pop-up" interview on the Chris McCarthy Show, he made several accusations of political corruption of the New Bedford elected officials, and Mayor Jon Mitchell in particular. His evidence? A wildly inaccurate and nonchalant accounting of political contributions made to Mitchell's campaign, calling his campaign a de facto witness protection program for individuals slighted by the Mitchell administration, and a promise to unveil a victim of this alleged corruption at a "pop-up" interview that Sunday.
Turns out this "October Surprise" was an exploitation of a mother who is displaced from her home who then wrongfully blamed the mayor's office for her predicament. Moultrie then admits afterwards he didn't know her full story before putting her on the podium. Even if Moultrie has had a *few* interesting policy initiatives, those who support him have to at the very least admit that he is a person who has no issue with using his public platform to traffic in lazy conspiracy theories and false accusations of nefarious conduct. Don't #RunWithTy, run away from him. 
Carlos Felix Doing Carlos Felix Things
Councilor-At-Large candidate Carlos Pimentel Felix unloaded during his closing remarks at a debate with incumbents and challengers for the office. He accused longtime councilor Brian Gomes of trying to intimidate him by looking at him before making several off-color comments about matters Gomes' personal life and suggesting Gomes resign because of them. This led fellow candidate Michael Janson to try and Kanye West the mic from Felix, calling him a "piece of human feces" before walking out. Felix had said prior that he "didn't wanna say this" but we all know that's bull feces. I do believe Felix deeply cares about New Bedford and the issues facing the city, but it's undercut by his constant carnival barking. He had been waiting to say it all night, and it's unbecoming of a candidate for public office.
Mayor Correia Finally Gives In
The biggest bombshell of the week was embattled and federally indicted Fall River Mayor Jasiel Correia taking a leave of absence from his duties and suspending his campaign. After unwaveringly and stubbornly failing to do so for the past year, the prevailing theory for Correia's sudden change of heart is that after getting a shellacking in the preliminary election from frontrunner Paul Coogan, this is Correia's best attempt at saving face and pretending that he is going out on his own terms.
This development also further reaffirms my stance that the city council overstepping their authority to attempt to vote Correia out of office was a stupid, petty, and expensive demonstration of political grandstanding.
What was shaping up to be a pretty boring local election cycle has turned out to be one of the most newsworthy in recent memory, even if it has been for all the wrong reasons. Amid the sideshow, I am thankful for many of the actual elected officials who spend their time making policy instead of headlines.
Marcus Ferro is an attorney practicing in New Bedford and a weekly contributor to The Chris McCarthy Show on 1420 WBSM. Contact him at marcusferrolaw@gmail.com. The opinions expressed in this commentary are solely those of the author. 
More From WBSM-AM/AM 1420