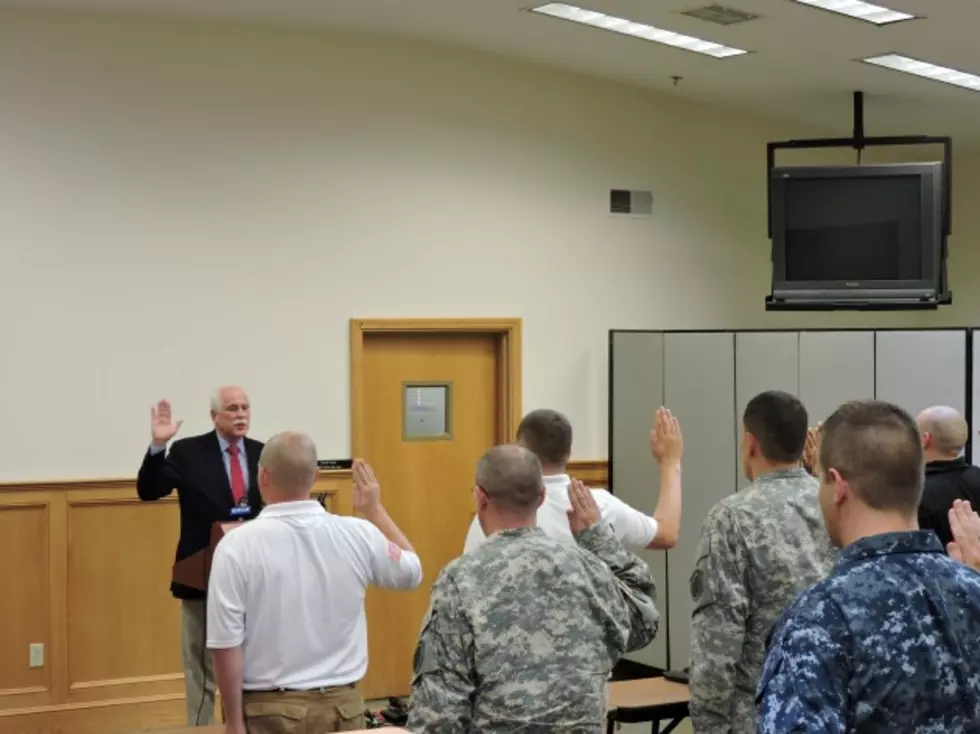 Sheriff Swears-In 13 Members of the Armed Forces as Deputy Sheriffs
Local military recruiters taking the oath to become Bristol County Deputy Sheriffs - Greg Desrosiers/TSM
Bristol County Sheriff Thomas Hodgson welcomed 13 active members of the armed services to his department Monday afternoon.
The 13 men and women, representing all branches of the military, will serve as Deputy Sheriffs. They won't have the power of arrest or a commission, but can be called upon by the Sheriff in times of crises.
The goal is to strengthen ties between law enforcement and the armed services.
Hodgson says the new partnership will involve better information sharing and allow the department more resources.
"We want to make sure that we're giving them as much information as we can so that they're safe in our communities and, as well, to have the benefit of their expertise and training at anytime we have a critical incident we can call upon them," Hodgson said.
Naval recruiter Caleb Minson says he doesn't feel any more threatened after the shooting in Chattanooga, TN but appreciates partnering with the Sheriff's Department.
"I appreciate them beefing up the security around here. I don't really feel any different right this second than I did before but I guess we'll see what happens," said Minson.
Minson works out of the recruiting office in Dartmouth, where Sheriff's deputies have increased patrols in recent weeks.
Two civilian deputies were also sworn-in after missing a previous ceremony last week.
More From WBSM-AM/AM 1420