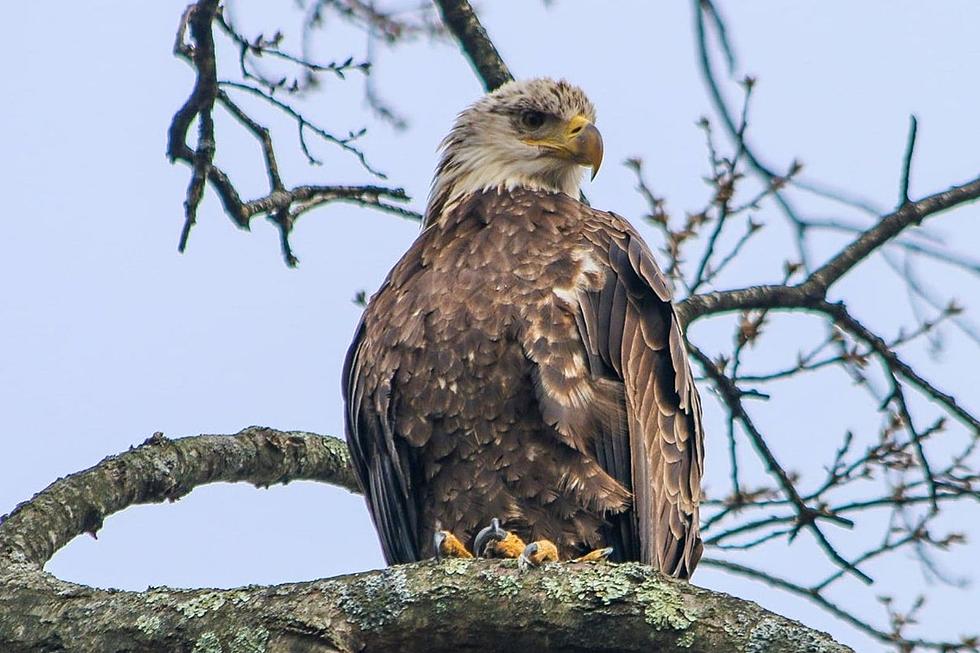 Roger Williams Park Zoo Eagles Receive Visits From Wild Bald Eagle
Roger Williams Park Zoo via Facebook
Roger Williams Park Zoo recently posted photos of a wild Bald eagle hanging around the eagle habitat of the Zoo on Facebook. It would appear that this young wild bald eagle has been visiting its rescued counterparts.
Corrie Ignagni is the Manager of Digital Communications at Roger Williams Park Zoo. While she cannot comment on the actions of this particular eagle since they are not under the zoo's care, she did explain that Zoo staff and visitors have had numerous wild bald eagle sightings near the eagle habitat over the past couple of years.
"Sometimes they can even be seen perched in the habitat near our rescued eagle residents," Ignagni said. "Our eagles can usually be heard calling out to their wild friend. They are also very attentive to the wild bald eagle's location and movements, keeping a very close eye on its presence."
Ignagni explained how the two eagle residents came to live at Roger Williams.
"Our Zoo is home to two rehabilitated Bald eagles, Prairie and Charlie," Ignagni said. "They were unable to be released as a result of wing injuries they sustained in the wild leaving them unable to fly. These birds serve as animal ambassadors for their species and teach our visitors about the importance of conservation."
Ignagni also shared a fun fact that the Bald eagle is the only eagle solely native to North America.
Next time you visit the Bald eagles at Roger Williams Park Zoo, see if you can spot their new wild friend.
Meet the Animals of Dartmouth's Don't Forget Us, Pet Us Sanctuary
Just off Faunce Corner Road in Dartmouth is an animal sanctuary for livestock that has become home to over 50 animals is just five short years. Whether they arrived because their owners could no longer care for them or they were removed from an abusive situation, Deborah Devlin and Jill Tagino, who run Don't Forget Us, Pet Us sanctuary, take in animals with no where else to go. Clearly, the livestock they care for are very happy to have found a home for the rest of their natural lives.
More From WBSM-AM/AM 1420