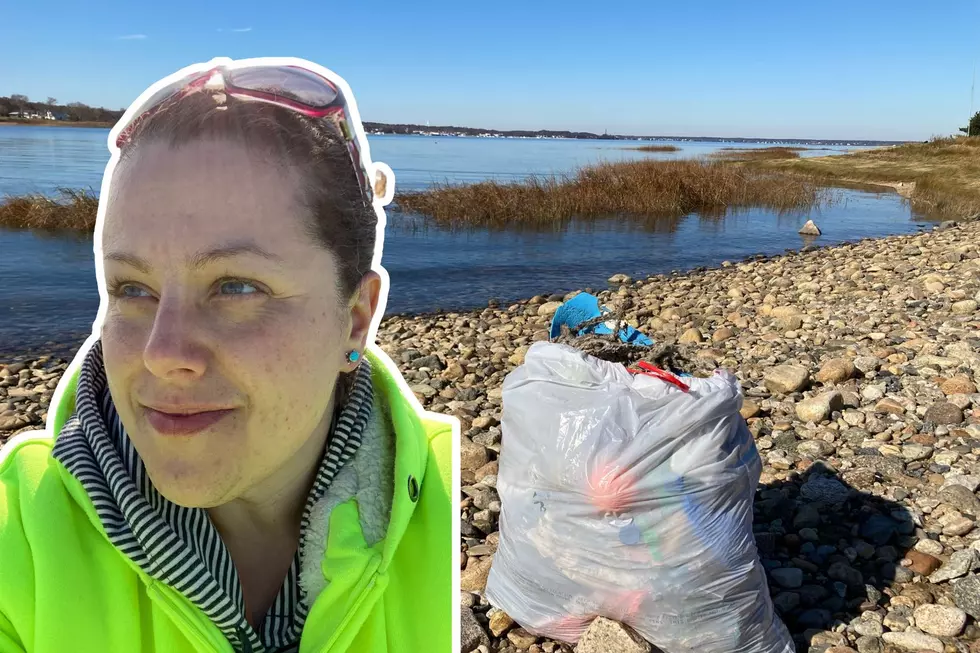 Plymouth 'Trash Lady' On a Mission to Keep Local Beaches Clean
Courtesy of Nicole Young
Living by the ocean certainly has its perks, but take a walk down the shoreline and you'll see more than just nature's beauty. You will see the trash that gets left behind from a day at the beach, intertwining with seaweed and sand.
One Plymouth woman has taken matters into her own hands by volunteering her time and effort in cleaning up the beaches she loves so much.
This is the story of the Trash Lady, the unofficial protector of local beaches.
The Trash Lady of Plymouth
Nicole Young has been in Plymouth her entire life and she is no stranger to beachside living. She is a mental health therapist, a mother to three boys with autism, and for the past year-and-a-half, has spent every single day with a trash bag in her hand, cleaning up the beaches.
"We live on a small road with a little beach at the end, and we were noticing a lot of dead birds washing up," she said. "Their bodies would break down and we could see plastic in their throats. So, I decided to teach my boys the importance of picking up trash."
Since her effort started, she is proud to report there are fewer dead birds on the shoreline.
Litter on the Beaches Just Keeps on Coming
Her mission has expanded past her small, little beach, hitting up places such as Long and Horseneck beaches, filling up at least four large trash bags a day.
From fishing rope to plastic, Young is shocked at how much she clears in a day.
With the start of sticker season at beaches, however, her reach gets limited.
"It's hard to get on during sticker season, and (the trash) is building up significantly," she said. It's a never-ending problem, and while Young enjoys teaching her children the importance of a clean environment, she can only do so much.
Solutions for Cleaner Beaches
It's a problem we see every year, and there never seems to be an end in sight. Young would like to see more accountability for littering on our beloved beaches.
"There needs to be more checks and balances," she said. "I post online about how much I pick up and I advocate through showing. I think if people see it more, they will start realizing (the impact)."
Young hopes that sharing her efforts will encourage others to keep the beaches free of litter.
"I hope more people stop walking by the trash and just bend over and pick it up," she said. "If you can bend over and pick up a shell, you can bend over and pick up a piece of plastic."
The next time you take a trip to the beach, don't forget to take home everything you came with. Our oceans and animals deserve better.
The 10 Unspoken Rules of the Beach to Keep in Mind This Summer
It's the rules you hope everyone abides by, but just to make it crystal clear, here are the 10 most important rules for proper beach etiquette, as offered up by SouthCoast beachgoers.
Harsh Realities About New England Beaches
Everyone loves a day at the beach and on the SouthCoast, the waterfront is everywhere. But the sand and sun people usually picture in their heads is not always the reality in New England.
More From WBSM-AM/AM 1420