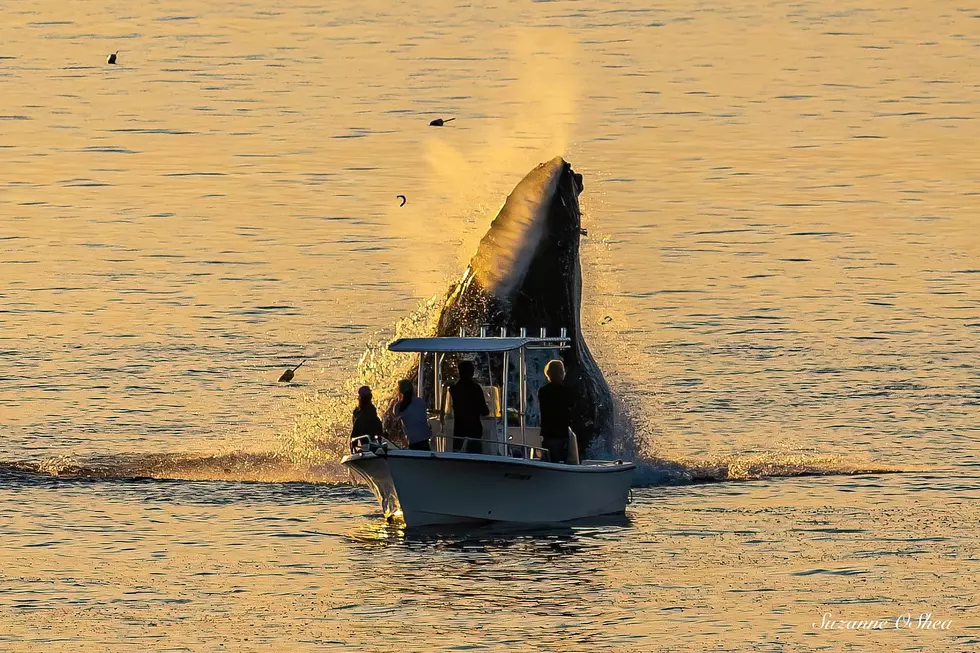 Close Encounter With Humpback Whale Off Plymouth
Courtesy Suzanne Lewis O'Shea
We hear a lot about the great white sharks that like to vacation off the Massachusetts coast during the summer, but let me tell you, the sharks are not the only fish in the sea, so to speak.
Ask Suzanne Lewis O'Shea of East Bridgewater about the humpback whales that migrate up and down the Massachusetts coastline.
"I love whales," she said.
She said she often visits Manomet Point in Plymouth to watch the whales as they pass. This week, while whale watching, she saw a wondrous sight.
"I was at Manomet Point in Plymouth watching the whales close to shore when a whale swam behind the boat and breached at sunrise yesterday," she said.
"I love whales, and for them to be this close and breaching is awesome to see," she said. "The fact that I caught it on my camera is a once-in-a-lifetime shot."
U.S. Whales.org says humpback whales live an average of 80 years. There are an estimated 68,500 humpback whales in the world's oceans. The average humpback is 17 meters or 55.7 feet long and consumes 1,360 kg or roughly 3,000 pounds of food per day.
Humpbacks are found worldwide, except for in the very high Arctic, according to the North Atlantic Marine Mammal Commission (NAMMCO.) The commission says, "In the North Atlantic, they migrate between breeding grounds in the tropics (the Caribbean) and feeding grounds as far north as Northern Norway."
There is a host of whale-watching excursions in Plymouth, Provincetown, and elsewhere along the Massachusetts coast that will take you out to where the whales hang for a closer inspection – or you could visit Manomet Point in Plymouth like Suzanne Lewis O'Shea and watch as the whales pass by.
Thanks to Suzanne for allowing me to share her awesome photos with our readers.
LOOK: Stunning animal photos from around the world
From grazing Tibetan antelope to migrating monarch butterflies, these 50 photos of wildlife around the world capture the staggering grace of the animal kingdom. The forthcoming gallery runs sequentially from air to land to water, and focuses on birds, land mammals, aquatic life, and insects as they work in pairs or groups, or sometimes all on their own.
LOOK: 30 fascinating facts about sleep in the animal kingdom
More From WBSM-AM/AM 1420