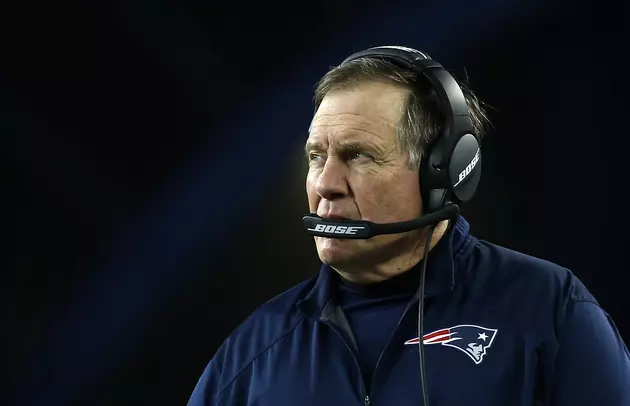 Patriots Schedule Released For 2018 Season
Jim Rogash/Getty Images
The New England Patriots, along with the rest of the league, saw their 2018 regular season schedule released Thursday. Let's take a look at how the campaign breaks down:
The Pats will start with a four-game preseason set, in which they will open things up by welcoming the Washington Redskins to Gillette Stadium. In Week 2 of the preseason, they will host the Philadelphia Eagles for a Super Bowl LII rematch. Their third game will be in Carolina against the Panthers, before they close out the preseason in typical fashion against the New York Giants.
Now for the regular season:
Week 1- Vs. Houston Texans (9/9 1:00 PM)
Week 2- @ Jacksonville Jaguars (9/16 1:00 PM)
Week 3- @ Detroit Lions (9/23 8:20 PM)
Week 4- Vs. Miami Dolphins (9/30 1:00 PM)
Week 5- Vs. Indianapolis Colts (10/4 8:20 PM)
Week 6- Vs. Kansas City Chiefs (10/14 8:20 PM)
Week 7- @ Chicago Bears (10/21 1:00 PM)
Week 8- @ Buffalo Bills (10/29 8:15 PM)
Week 9- Vs. Green Bay Packers (11/4 8:20 PM)
Week 10- @ Tennessee Titans (11/11 1:00 PM)
Week 12- @ New York Jets (11/25 1:00 PM)
Week 13- Vs. Minnesota Vikings (12/2 4:25 PM)
Week 14- @ Miami Dolphins (12/9 1:00 PM)
Week 15- @ Pittsburgh Steelers (12/16 4:25 PM)
Week 16- Vs. Buffalo Bills (12/23 1:00 PM)
Week 17- Vs. New York Jets (12/30 1:00 PM)
Within the 16-game schedule the Pats play an impressive, five prime-time games. New England will play it's first prime-time game in Week 3, when the team heads to Detroit to battle the Lions.
The Pats then play back-to-back prime-time games in Weeks 5 and 6. Week 5 will see the team play their lone Thursday night game, as the host the Indianapolis Colts. In Week 6, they're back at home for an 8:20 PM start against AFC West foe the Kansas City Chiefs.
New England's final two prime-time games come again as a back-to-back special in Weeks 8 and 9. First, they play a Monday night game in Buffalo against divisional foes the Bills and then play on Sunday Night Football at home against the Green Bay Packers.
The Pats will have a late bye week this season, as they'll be off in Week 11.
More From WBSM-AM/AM 1420