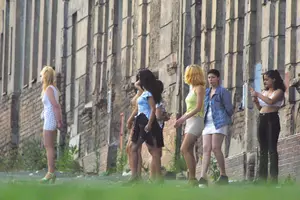 OPINION| Brian Thomas: A Date Is Prostitution
Sean Gallup/Getty Images
You strike up a great conversation with a fine woman. Your first date sounds like it's going to be hot, hot, hot. Great locker room talk. A few hours before the huge event, you go to the barber shop, buy a new shirt and withdraw a C-note from the ATM.
Inside your head are visions of a romp in the room. She harbors similar thoughts. You enjoy a nice dinner with a bottle of fine wine. The conversation is a mixed bag: work, hobbies, family events and future plans. The restaurant tab reads $75. A stroll through the park and a cup of coffee later and you're primed for a hop in the hay. She agrees and a couple of hours later, you're back home fulfilled. A date is prostitution.
Prostitution? Yes, you spent nearly $100 under the mutual assumption you and this woman would later partake in a sexual activity. No, you indulged in a night on the town that led to sex. What's the difference? A woman may reply you romanced her. A guy exclaims I paid a lot for a little sex.
In the eyes of the law, if the money doesn't go into the woman's pocket, it's not solicitation for sex. To the guy, the funds hopped out of the wallet for the same outcome. In fact, many times you pay more for a regular date than a sex date with a prostitute. Who is really being exploited?
There's a bill pending in the Massachusetts legislature that would decriminalize prostitution but only for women. Females are considered victims that are exploited by men into and around in the sex trade. Nikki Bell considers herself a sex trafficking survivor and a Founding member of Living In Freedom Together. As an ardent backer of H 3499 she tells me many of the women began their prostituting career as teens. More than a handful of these girls/women are hooked on dope. Worse, because quite a few of these women of the night (and day) end up with a criminal record, it affects their housing and job opportunities. Net result, they wind up staying in this sometimes lucrative industry. If H 3499 becomes law, unsuspecting women won't be charged for selling their bodies to make an unhonest buck.
Conversely, pimps and johns face a stiff fine, incarceration or both if convicted of just attempting to offer some dough to the Ho.
BTW>> Hookers tell me there's a huge demand for their services.
No state allows the exploitation of one person by another, whether for sex or work, by man or woman. It's very problematic enforcing the existing laws. We don't need another law aimlessly leading to a similar result.
There's a more ominous problem with H 3499. Under the premise both parties in this sexual transaction are consenting adults, only one gets penalized. The law considers each john as taking advantage of the poor, unsuspecting, drug crazed hooker. There's never the case of the obese man scouting out a prostitute for a little sexual relief. No hubby can't get that at home. There are no exception. This reads like a Lifetime Network special. Money waving aggressive man dominates vulnerable woman.
The probability of H 3499 becoming law in the very near future is slim. However, with a slew of sexual harassment cases exploding on the scene, the next five years could see major changes in the Commonwealth's world of prostitution.
In its purest form, prostitution should not be a crime. It's criminal because government knows the honor system won't yield the requisite tax dollars. If a drugged out woman can deliberate over the pros and cons of having an abortion, she can decide if and how she wants to sexual service another. She's been doing this legally for 44 years.
Sex trafficking and sexual exploitation are definitely crimes that shall remain illegal. We already have laws on the books to nab and prosecute those criminals. Let's not pressure law enforcers into another no win situation with feel good legislation.
Beacon Hill lawmakers don't listen to me. To keep the men out of the state pen, my advice, give your favorite Ho twenty five bucks to buy a pack of butts. Let her keep the change.
Editor's Note:   Brian Thomas is the host of Brian's Beat on 1420 WBSM New Bedford.  He can be heard weekdays from 10am-Noon and Saturdays from 6am-9am.  The opinions expressed in this commentary are solely those of the author.
More From WBSM-AM/AM 1420