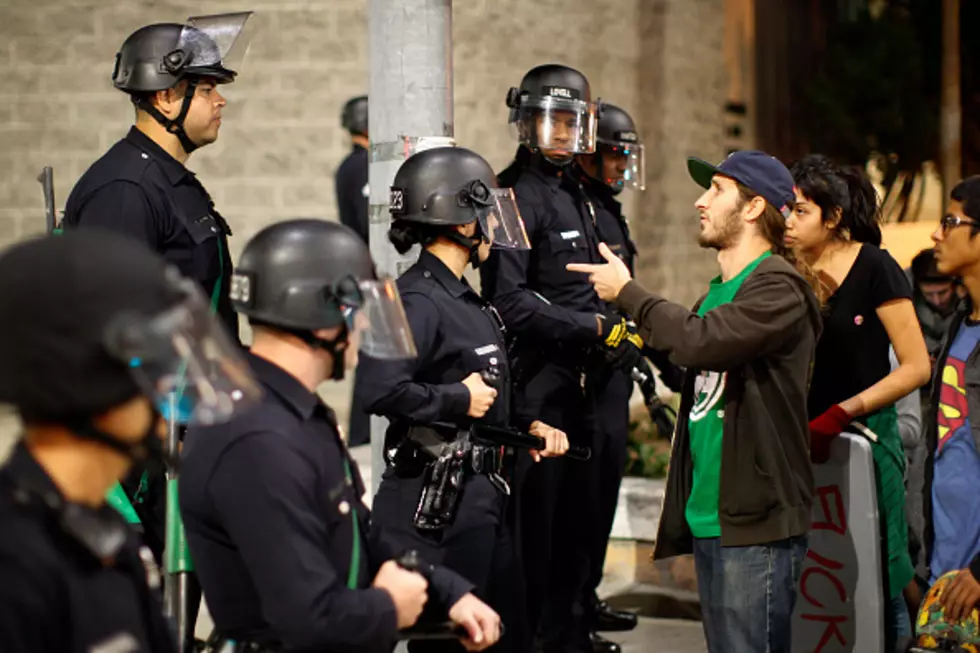 OPINION |Barry Richard: Police Careers Are a Tough Sell to Millennials
Protesters In Los Angeles confront police / Photo by David McNew/Getty Images
Finding young people who want to be police officers is becoming tougher to do, especially in larger cities where violent crime is on the rise.
Dallas Police Chief Renee Hall told the City Council on Monday night that millennials are less excited about a life in law enforcement;
"We have nights, weekends and holidays, and those are some of the things that are not necessarily attractive to millennials who want all days off and to be the chief in six months. We recognize that is a challenge."
Hall, who says she needs to hire 250 new officers this fiscal year is considering changes to the recruitment process including rewarding officers who recruit candidates to eliminating some of the automatic disqualifiers for potential officers, such as minor drug use from someone's past.
Many young people who might consider a career in law enforcement remember seeing the industry abandoned by politicians who did little to discourage the anti-cop sentiment that swept the nation in cities such as Ferguson, Baltimore, Los Angeles, Chicago and yes, Dallas.
The image of Congress people marching into the chambers chanting "hands up, don't shoot" and the labeling of cops as racist and unscrupulous killers of young black men is a tough one for potential recruits to shake. Remember "pigs in a blanket, fry 'em like bacon?"
It's coming home to roost.
Editor's Note: Barry Richard is the afternoon host on 1420 WBSM New Bedford. He can be heard weekdays from Noon-3pm. The opinions expressed in this commentary are solely those of the author.
FOX NEWS.com contributed to this report
More From WBSM-AM/AM 1420