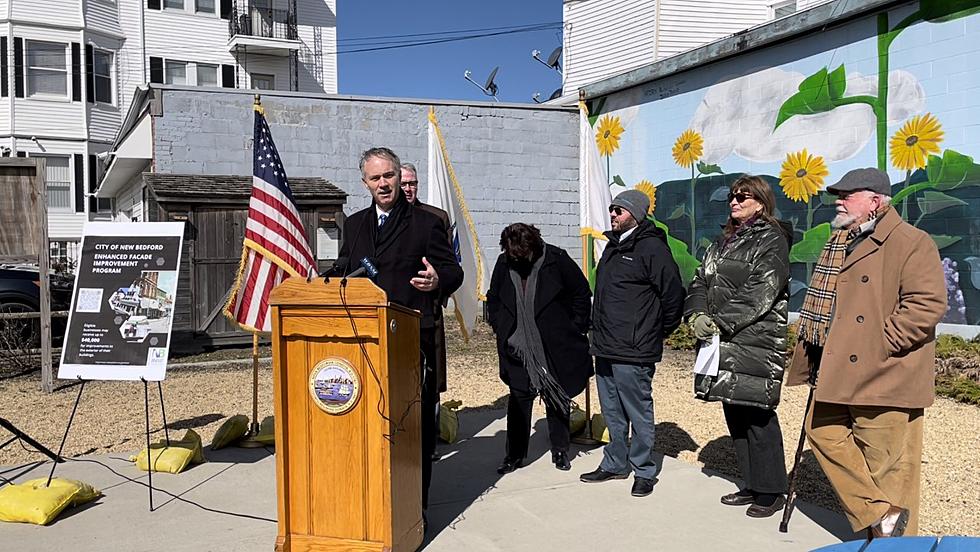 New Bedford's First COVID Relief Funds Going to Facade Facelifts
Kate Robinson/Townsquare Media
NEW BEDFORD — A program to help beautify New Bedford's commercial areas is getting a $1.5 million cash injection in the city's first investment of federal COVID relief funds approved by the city council last week.
Mayor Jon Mitchell announced the Enhanced Façade Improvement Program as the first distribution of American Rescue Plan Act funding in New Bedford at a press conference held on Acushnet Ave on Tuesday.
The program — which previously funded up to $2,000 in improvements to city storefronts through community block development grants — will now have a maximum award of $40,000, Mitchell stated.
Nonprofits will now be eligible for grants along with businesses (either tenants or commercial property owners anywhere in the city), and all applicants are required to provide 25% of the total award, with the rest contributed by the city.
"It's a pretty good deal," Mitchell said of the program. "You can get a lot of stuff done."
Eligible improvements include replacing or restoring original architectural details, façade-mounted signs and awnings, new storefronts within an existing building, window framing and replacement, painting or residing, exterior lighting, and others.
The announcement follows the city council's approval on Thursday of Mitchell's plan to allocate around $64.7 million in ARPA funds.
"I can officially declare it ARPA season in New Bedford now," the mayor said at the chilly gathering in a pocket park at the corner of Acushnet Ave and Phillips Ave on Tuesday afternoon. "We can get going on a whole lot of projects."
The announcement was made in the Acushnet Ave neighborhood, he noted, because "this is the place to talk about [small businesses]," as the area has the highest concentration of retail and restaurants in the city.
"An injection of life, an injection of capital in this place will go a long way," he added.
"Small businesses here in cities like New Bedford are certainly in dire need of this support," said City Council President Ian Abreu.
"We may be on Acushnet Avenue here today, but this isn't just about Acushnet Avenue," he added.
"This is about Rivet Street. It's about County Street, Dartmouth Street, Mount Pleasant, and every street in between that may have a business district or brick and mortars that could need the support."
For more information or to download an application, visit newbedford-ma.gov/arpa.
Mercedes Slams into New Bedford Driving School
An accident on Belleville Avenue sent a car into the brick wall of Martin Auto School March 24, 2022. Here is a look at the damage.
Look Inside New Bedford's Abandoned Orpheum Theatre
New Bedford's Orpheum Theatre has been vacant for decades, but artifacts remain in place as an ode to its rich history. Let's go inside.
WARNING: Under no circumstances should you enter this property. By doing so you risk bodily harm and/or prosecution for trespassing on private property.
More From WBSM-AM/AM 1420