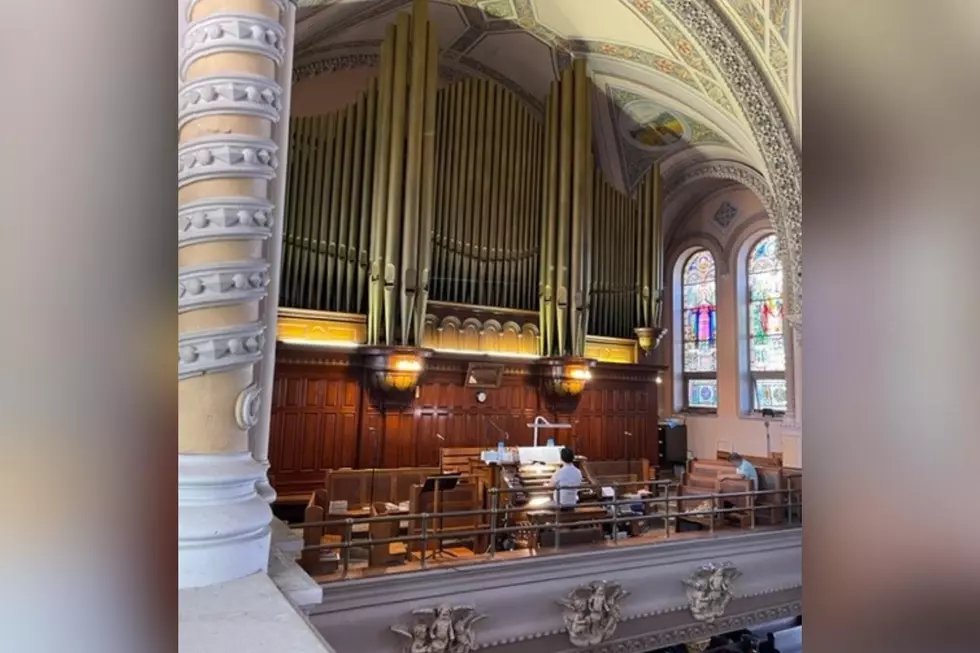 Organ Recital to Open Music Series at Historic New Bedford Church [TOWNSQUARE SUNDAY]
Contributed Photo
St. Anthony's Church in New Bedford will open its 2022 Concert and Recital Series on Sunday, October 16 at 3 p.m. with an organ recital on its 110-year old Casavant Freres pipe organ.
Peter Krasinski, currently the theater organist at the Providence Performing Arts Center and who is experienced in playing the St. Anthony's pipe organ, will perform.
Concert Coordinator Gisele Pappas said work on the steeple of the cathedral has now been completed, and an elevator has been installed, so the church is now fully accessible for all.
Both Pappas and Krasinski joined Townsquare Sunday this week to talk about renovations at St. Anthony's and the upcoming recital.
Krasinski described St. Anthony's as a perfect venue for the pipe organ performance.
"If anyone has never been to St. Anthony's, this is a great opportunity to see the building first, experience the incredible architecture, the glass, the statuary, but then, there's an instrument that echos that same beauty with sound," he said.
Pappas said the October 16 recital will be the first event at St. Anthony's since since the start of the pandemic in 2020.
Admission is free, but donations are encouraged with all of the funds collected going to the maintenance and repair of the pipe organ.
"Twenty years ago, we starting raising money for the pipe organ and we spent over $150,000 restoring it," Pappas said. "However, the latest assessment is (that) we will need to replace the bellows of the organ soon."
Krasinski said its an expensive project; in fact, if you were to build the pipe organ today, it would cost well over $1 million.
Again, the organ recital is October 16 at 3 p.m. at St. Anthony's Church, located at 1359 Acushnet Avenue in New Bedford. Also, on December 18 at 3 p.m., St. Anthony's is presenting a Christmas concert with the Spirit of St. Anthony Choir.
The complete interview with Pappas and Krasinski can be heard here:
Townsquare Sunday is a public affairs program heard Sunday mornings at 6 a.m. on 1420 AM and 99.5 FM.
The program highlights individuals and organizations striving to make Greater New Bedford a better place to live and work.
If you would like your organization featured on Townsquare Sunday, please e-mail the host at jim.phillips@townsquaremedia.com.
See Inside the Boyhood Home of Fairhaven's Legendary Henry Huttleston Rogers
This small, unassuming Fairhaven house was the boyhood home of Fairhaven's greatest benefactor, Henry Huttleston Rogers, and was even the home that had the first telephone in Fairhaven history. The house
recently sold
for $335,000.
More From WBSM-AM/AM 1420