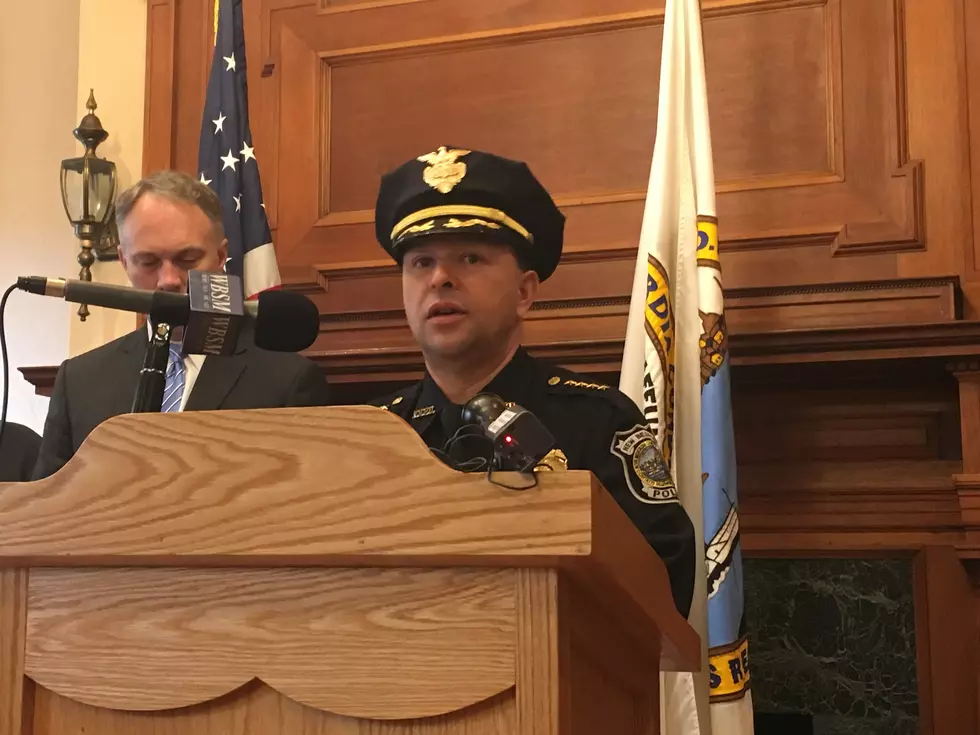 New Bedford Police Chief Addresses Shooting of Officer's Home
Tim Dunn/Townsquare Media
New Bedford Police Chief Joseph Cordeiro on Tuesday addressed concerns over the way his department handled the release of information regarding the shooting of an officer's residence early last Thursday.
Cordeiro called into WBSM's Barry Richard, who initially broke the story on the air last Friday after confirming details with multiple sources, and later having those details confirmed by two city councilors on-air and the police chief himself via an emailed statement to WBSM News. Richard and others have criticized Cordeiro and Mayor Jon Mitchell for not holding a press conference and alerting the public to the shooting, and for not informing the entire police department that one of their own had been a target of violence.
During the chief's phone call Tuesday, when Richard took Cordeiro to task for the way the situation was handled, Cordeiro maintained that he must balance the public's right to know with the integrity of an investigation.
"My philosophy is transparency with the police department and the community. Honestly, if I could take the proverbial walls out and have glass where you could see everything that goes on here, I'd be absolutely open to that," Cordeiro said. "But when it comes to our investigations, yes, I'm a little more conservative about what we put out until it's completely done."
Richard asked Cordeiro why he felt it was not important to release the information to the public about the shooting, stating that the public had a right to know if their safety was at risk by an armed gunman still on at large.
"Public safety is always at the top of my priorities," Cordeiro said. "If I thought for a moment that by releasing that information it was going to bring any additional safety, or if there were any safety concerns for those folks in that neighborhood at that time, I would have put that out."
"My primary job is to keep everyone safe – my police officers, the community, even officials from other agencies," Cordeiro continued. "There's more to this story than meets the eye. I can't come out with it and put that out there and jeopardize everyone's safety. This community is always at the forefront, keeping my community safe."
"There was no advantage in that moment, in the heat of this investigation, as we're trying to get as much intel and track down the individual responsible and the evidence, that was my first focus," Cordeiro said.
Cordeiro also disputed the notion that other officers were put at risk because they were not informed of the shooting.
"We got involved in this case at about 8:20 in the morning when we found out shots were fired earlier in the day. We tracked that plate and within a little over an hour later, about 9:30 or so, shortly after that, we put out a BOLO (be on the lookout) on that vehicle," Cordeiro said. "Every officer on that shift that has their radio on had the information that went out, so everybody knew."
Cordeiro said that as the investigation, he didn't "want to put out bad intel, even to our own people," which is why the information was kept to just those on-shift. He said later on in the afternoon, the captain of the North End district "put out additional facts, that's normally how we operate." He noted that within a few hours of putting out the BOLO, police had the vehicle in question in custody, although the suspect still remains at large.
Cordeiro said the case is "still unraveling" and that there are "multiple agencies involved," giving for the first time an idea of the scope of the investigation. He also discussed at length a desire to forge a stronger relationship with WBSM and understands why some feel that his department is not being forthcoming with the media or the public, even if he feels that is not the case.
"This community's safety is my priority, as are my officers, second to none," Cordeiro said. "I'll take the criticism on anything else I do when I'm trying to accomplish that."
LOOK: 28 Modern Black History Makers & Moments
Enter your number to get our free mobile app
More From WBSM-AM/AM 1420