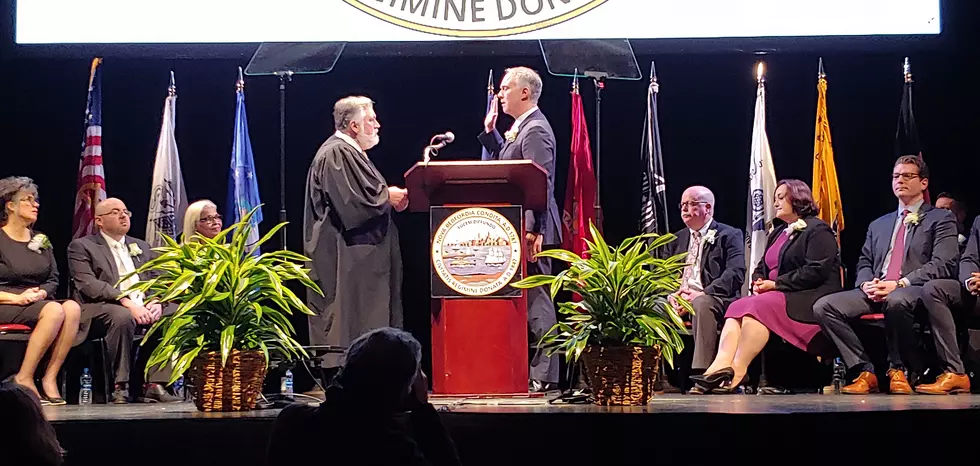 New Bedford Mayor Jon Mitchell Cites City Progress at 2020 Inauguration
Mary Serreze/Townsquare Media
Long-range planning and tackling problems head-on have helped transform New Bedford from a city in decline to a community on the upswing, said Mayor Jon Mitchell during the city's 2020 inaugural ceremony at the Zeiterion Theater Monday night.
"We've gone about the work of renewing our city in a way that sharply departs from what has been practiced in the past," Mitchell said.
Firefighters wrapped up a protest outside the downtown building as Mitchell was sworn into his fifth term in office — and his first four-year term — taking the oath along with city councilors, school committee members, and the city assessor.
Mitchell's message was positive, saying that the city has made great progress under his leadership and promising to stay the course.
"We've gone about the work of renewing our city in a way that sharply departs from what had been practiced in the past," Mitchell said. "First and foremost, we stopped thinking of ourselves as a victim of powerful outside forces, and instead established a bias toward action."
Mitchell said that holding to a vision is key, and that his vision for the city "recognizes New Bedford as the economic, cultural, and political center of Southeastern Massachusetts."
The mayor noted that the public schools are no longer beholden to a state monitor, and that educational outcomes have improved. He praised Superintendent Thomas Anderson for bringing a new level of accountability to the district. "But make no mistake, the work is not done," Mitchell remarked.
He touched upon themes of economic development, public safety, education, public spaces and infrastructure, and sustainability. He touted ongoing investment in the Port of New Bedford, improvements in the physical condition and appearance of the city, and efforts to upgrade infrastructure to deal with climate change.
Mitchell quoted Ralph Waldo Emerson: "Without ambition, one starts nothing. Without work, one finishes nothing. The prize will not be sent to you. You need to win it."
In the middle of his speech, Mitchell expressed confidence in Police Chief Joseph Cordeiro. That's despite the fact that last week, the police union demanded that Mitchell fire Cordeiro. Union president Hank Turgeon publicly accused the police chief of incompetence and mismanagement, and claimed that morale within the department is at an all-time low.
"Under Joe Cordeiro's leadership, the police department has intensified community policing efforts and made better use of data to make deployment decisions," said Mitchell.  "They have made their presence felt in the right places and at the right times, and have developed stronger relationships in our challenged neighborhoods. This approach has worked to reduce violent and property crime, and it is one we will stick with."
The mayor made no mention of a separate conflict between his administration and city firefighters. Budget cuts have left the fire department with so-called "rolling blackouts," with one engine apparatus taken offline every night on a rotating basis among the city's fire station.
Firefighters and their supporters — including Turgeon and some members of the police force — staged a protest outside the Zeiterion as people arrived for the ceremony. They carried signs and chanted "no more blackouts."
During a recent house fire on Myrtle Street that took the life of an elderly man, the closest fire station was "blacked out," union representatives have charged.
Mitchell in November defeated challenger Richard Tyson Moultrie by a nearly three-to-one margin. "We will hustle, we will persevere, and we won't let up," he said Monday.
City Councilor Brian Gomes delivered remarks Monday in his role as City Council President pro tempore.
Gomes emphasized the importance of public safety in the neighborhoods, and said the eradication of gang activity should remain a top priority. He vouched for economic development, and said he does not believe that business owners and residents are currently getting their money's worth for their taxes.
"I've been here a long time, and seen plans come and go, with no beneficial to the people of the city," said Gomes. "The people of New Bedford deserve nothing but the best. New Bedford is a great city."
Also sworn in Monday night were all eleven members of the City Council, three School Committee members, and one elected assessor.
Taking the oath of office were School Committee members Christopher A. Cotter, Joaquim Jack Livramento, and Bruce J. Oliveira. At-large city councilors Ian Abreu, Naomi R. A. Carney, Deborah Coelho, Brian K. Gomes, Linda M. Morad will serve new terms. Sworn in were Ward One Councillor William Brad Markey, Ward Two Councillor Maria E. Giesta, Ward Three Councillor High Dunn, Ward Four Councillor Derek Baptiste, Ward Five Councillor Scott J. Lima, and Ward Six Councillor Joseph P. Lopes.
The oath was administered by Judge Phillip Rapoza, retired Chief Justice of the Massachusetts Appeals Court. Father Michael Racine delivered the invocation, and the New Bedford High School Marching Band performed "America the Beautiful" and "My Country 'Tis of Thee."
A previous version of this story incorrectly said that Council President Linda Morad was not present. The error has been corrected.
Enter your number to get our free mobile app
More From WBSM-AM/AM 1420