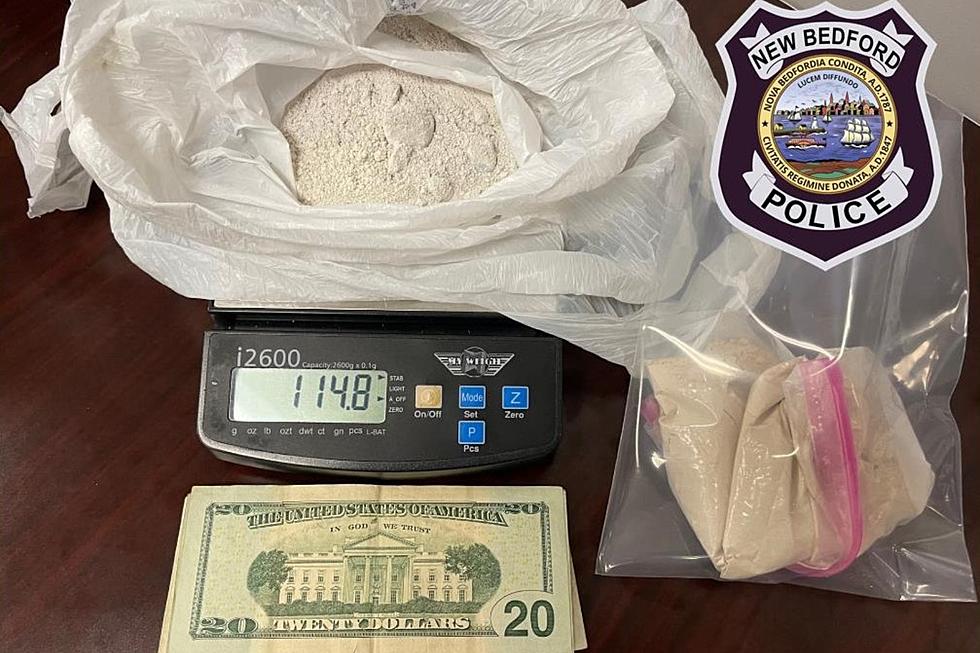 New Bedford Alleged Repeat Drug Offender Arrested for Third Time in Under a Year
Courtesy New Bedford Police
NEW BEDFORD (WBSM) — A New Bedford man with a history of fentanyl trafficking was arrested recently after being the target of a drug raid for the third time in less than a year, police said.
According to New Bedford Police, narcotics detectives were investigating a fentanyl distribution operation allegedly being run out of 101 Coffin Street, Apartment 1, with the target of the investigation being Manny Cardona Molina, 22.
On September 4 at about 11 a.m., detectives entered the apartment and said they saw Molina jumping out of a window. Detectives outside watching the perimeter were able to stop and secure him.
Police said the search of his apartment turned up a baby formula container that contained over 112 grams of fentanyl and a cutting agent, as well as two cell phones, cut-corner baggies and a digital scale.
According to police, Molina has been arrested two other times within the past year for alleged drug trafficking. He was arrested in December 2022 for trafficking in over 190 grams of fentanyl following a Phillips Avenue raid, and then was arrested again in March of this year following a raid on South Second Street.
At the time of this most recent arrest, Molina was on a GPS anklet and under home confinement, police said.
"It frustrates me to see how much of our limited resources we continue to spend on the same individuals time and time again," Police Chief Paul Oliveira said. "Here is a person who has been raided by our narcotics detectives three times in less than the span of one year."
"When those who deal in illicit poison are not held in the jails that we put them in, it not only compromises public safety but also diminishes the motivation of our law enforcement officers who should ideally be inspired to serve," he said.
WBSM's Top SouthCoast Stories 8/22 - 8/27
More From WBSM-AM/AM 1420