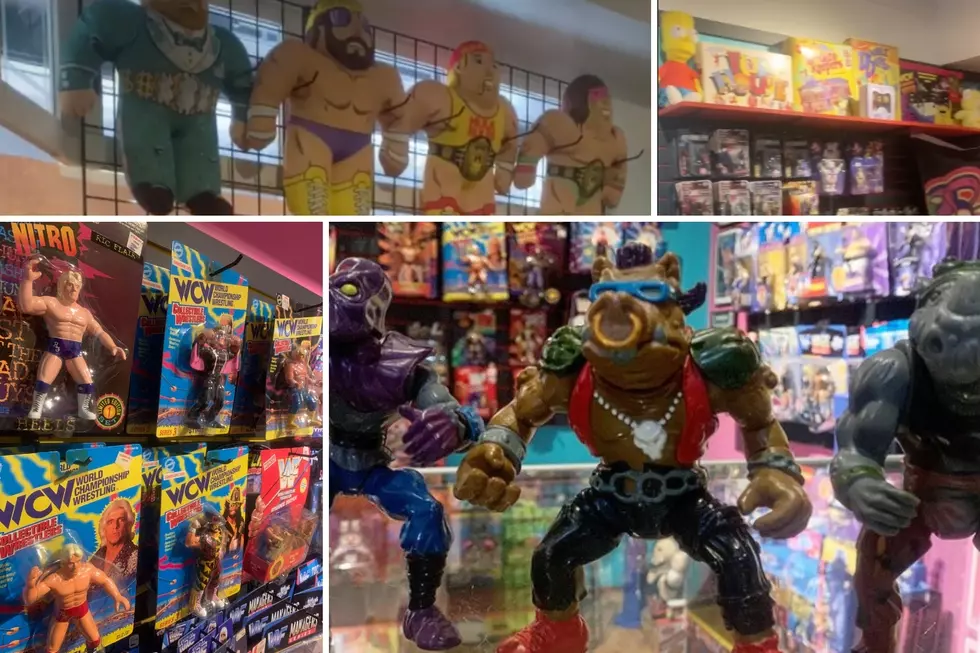 New Bedford's Newest Store, Cojo's Toy World, Opening Soon
Courtesy Cojo's Toy World
As downtown New Bedford continues to flourish in the new millennium, a new store is about to open that will continue to bring the downtown area back in time.
First, Purchase Street Records brought in that vintage vinyl. Then last year, PLAY Arcade opened up to combine dinner and drinks with throwback video games.
Now, there's a toy store coming soon that will help kick up the nostalgia to another level.
Cojo's Toy World is slated to open March 16 at 763 Purchase Street, nestled between Purchase Street Records and Sanctum Folklorica, in the spot that formerly housed Finest Hour Athletics. Store hours will be Wednesday through Saturday, 11 a.m. to 6 p.m., and Sundays, 11 a.m. to 4 p.m.
The vintage toy store is being opened by cousins Jason "Cojo" Aguiar of Swansea and Ted Bolduc of Westport.
"We're hoping to bring back nostalgia to adults while creating a fun and safe family environment in historic downtown New Bedford," Bolduc said. "The store will feature mostly toys from the '70s, '80s and '90s, with a few modern pieces sprinkled in."
Bolduc is well known across the SouthCoast as his pro wrestling alter ego "Teddy Goodz," so it's no surprise that Cojo's will feature a ton of vintage wrestling figures, as well as Ghostbusters toys, Simpsons figures, My Pet Monster stuff, and ALF dolls – all just a small portion of the toys currently stocking the shelves, with more to come.
"My cousin and I have had this vision for 39 years," Bolduc said.
And that's no surprise, because toy sales are the family business. Their grandfather, Joe Aguiar of Westport, was a toy dealer at the old Taunton Dog Track in the 1980s and also sold toys at various consignment shops in the area.
Bolduc said that led to his uncle Randy Aguiar then opening up Joe's Toy World in Westport back in 1990.
So it's no surprise that collecting toys has been a lifelong passion for the cousins, but they are now especially motivated to honor their grandfather's legacy after Joe passed away this past summer at the age of 94.
Cojo's Toy World is located in a section of Purchase Street that is already a hotspot for seekers of vintage and second-hand merchandise, with vintage clothing shops like Hewn and Mad Lila, along with Purchase Street Records. Cojo's is also looking to buy vintage toys as well, so dust off those old Masters of the Universe or My Little Ponies and bring them on down.
Stay up to date with all of the progress as the store prepares to open by following Cojo's Toy World on Twitter, Facebook, Instagram and YouTube.
MORE: See 30 toys that every '90s kid wanted
KEEP READING: Check out these totally awesome '80s toys
EVEN MORE: 30 Toys That Defined the '70s
More From WBSM-AM/AM 1420