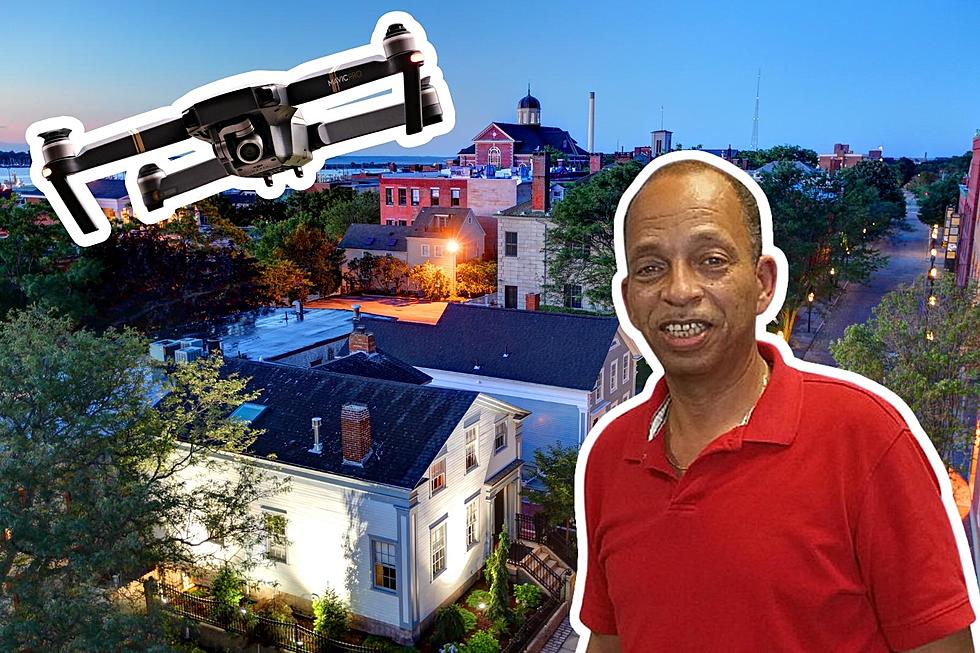 New Bedford City Councilor Wants to Use Drones to Combat ATV Riders
Townsquare Media; Canva
New Bedford City Councilor at Large Brian Gomes is once again suggesting that the police department adopt the use of drones to help fight crime in the city.
"They use them across the country," he said Tuesday in an appearance on WBSM. "I can't see why we couldn't use them here."
Gomes said he will file a motion at the next city council meeting, scheduled for April 28, to allow New Bedford Police to use drones to patrol the skies in order to combat the roving groups of young people recklessly riding dirt bikes and ATVs on city streets.
"It's hard for the police to chase these things. They jeopardize the safety of traffic, they jeopardize the safety of people on sidewalks," Gomes said. "If you've seen any of the films, it's totally outrageous what they will do with these bikes, so why not a drone?"
Gomes said it would be a way to track down the illegal riders without putting officers at risk.
"There is no better way in the 21st century than cameras and the use of drones, and I will be proposing this at our next city council meeting, to consider using a drone for this purpose because it would keep our police safe, (and) we'd be able to track these guys right to where they are."
Gomes had previously suggested using drones to combat increased gang activity in New Bedford back in 2016, an idea that also seemed to interest then-Police Chief Joseph Cordeiro. It was met with resistance from the American Civil Liberties Union, however, with Kade Crockford of the ACLU of Massachusetts telling WJAR that drones should only be used if there is a warrant allowing it, or in a life-or-death emergency.
"The government shouldn't be involved in your business unless it has good reason to believe you're up to no good, and goes to a judge and gets a warrant to invade your privacy," Crockford said.
Gomes refuted the idea Tuesday that drone patrol would lead to a decrease in personal privacy.
"These drones would be used in a professional manner. These drones would be monitored," Gomes said, noting that they would be monitored by a commanding officer similarly to how the city's surveillance cameras are monitored. "One thing people have to understand is when you step out your front door, you are in public view, so we can take a picture of you."
If drone patrols were to be put in place, Gomes sees it not only as a viable option for chasing illegal motorbike riders, but also as a daily tool to fight crime in New Bedford. He said the police department already has two drones used for search and rescue operations.
"I know we have some of these drones already. Why couldn't we start flying a drone early in the morning, watching our traffic flow, watching some other things that affect the daily lives of people? I can't see why not," Gomes said "It would be part of the normal daily patrol."
Gomes said although he wasn't sure of the specifics, there would be certain regulations the drones would have to follow considering the proximity to the New Bedford Regional Airport. He also said officers could use drones to patrol the skies over the different festivals and events that take place in New Bedford each year.
One point Gomes made is that while the drone cameras would be used for surveillance, they wouldn't actually begin recording until a crime was committed in order to track that crime and its suspects.
"You would handle that just like you would with those cameras I'd like to put on police," Gomes said, referring to his long-standing desire to have New Bedford Police officers outfitted with body cams. "The drone would not start recording until a crime was committed, that's all controlled by the department."
Speaking of police body cameras, Gomes had pushed to have some of the City's $64.7 million in American Rescue Plan Act money used to purchase those cameras, but was told it wouldn't qualify under the federal government's stringent ARPA guidelines for how the money can be spent.
"The city council was told we couldn't use ARPA money for any police equipment, such as putting police cameras on our police department," Gomes said. "But we can use the money, and I thought we were told the wrong story, and I fought it then on the city council. Do some reading on it, we can use it for the cameras."
Hear Councilor Gomes' call into WBSM at 17:10 of the podcast episode:
LOOK: What major laws were passed the year you were born?
Data for this list was acquired from trusted online sources and news outlets. Read on to discover what major law was passed the year you were born and learn its name, the vote count (where relevant), and its impact and significance.
LOOK UP: Recent UFO Sightings on the SouthCoast
There are frequently things that can't be explained in the skies above the SouthCoast. The
National UFO Reporting Center
keeps a database of all of the reports of unidentified flying objects that are submitted by those who see them, and you can see just how often they appear right above our own heads.
More From WBSM-AM/AM 1420