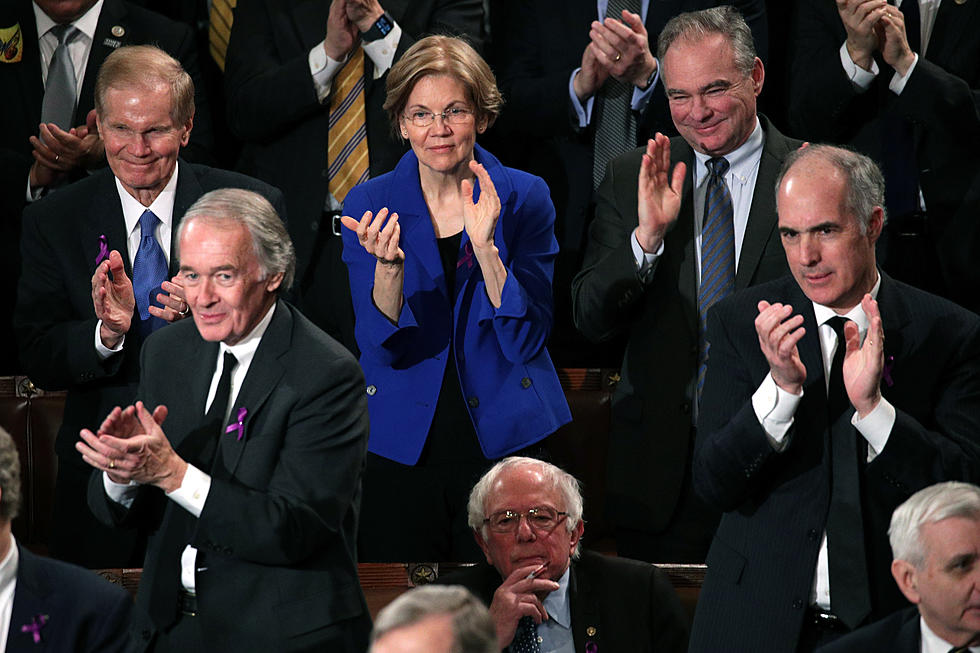 More Proof the Democrats Might Just Be Too Weird [OPINION]
Getty Images
There have been a series of missteps by seasoned Democrats that make them appear weird to lots of the Americans they need to vote for them in 2018.
Massachusetts Senator Elizabeth Warren recently called the entire criminal justice system "racist" at a political event. The brave men and women of America's police departments are rightfully insulted and concerned that a U.S. Senator would broadly condemn them all as racist. Yarmouth Police Chief Frank Frederickson was particularly angry and outspoken about Sen. Warren's off-the-cuff public remarks. Earlier this year, the chief buried one of his officers who was murdered in the line of duty.
America likes and respects their police officers, and most people have a friend or a family member who wears a badge, a gun and a bulletproof vest to work. Like any occupation, there are bad actors and mistakes happen, but the vast majority of police officers earns and re-earn the public's respect every day in America. The voting public is particularly fond of the police.
I have written about how impressed I have been with Sen. Warren's ability to work with Republicans in the Senate on important issues like hearing aids, military gambling, and state's rights regarding marijuana. Unfortunately, she may have to say the police are racist, along with the prosecutors and the judges, to get the nomination for president in the current weird Democratic Party.
A big problem for some Democratic candidates in 2018 is they will be asked by the Republicans and some in the media if they agree that the justice system is racist. Voters in more conservative states that voted for Trump in 2016, but will also vote for certain Democrats, will be turned off by anti-police rhetoric. However, the radicals in the Democratic Party who truly despise police officers will abandon Democrats who stand up for law and order. Most people find it weird to hate the police, and they will reject most people who mouth that rhetoric.
Poor Montana Democratic Sen. Jon Tester was the victim of over exuberant supporters this week. The rock band Pearl Jam did a concert to benefit his campaign and may have killed him off politically. They created a poster for the concert that depicted a dead President Trump and a burning White House, with Tester flying approvingly above like a super hero on a tractor. Not his fault, but very weird for most voters in a state that overwhelmingly voted for Trump in 2016.
The Democratic party of John Kennedy is gone, and this new party might be too weird for voters.
Chris McCarthy is the host of The Chris McCarthy Show on 1420 WBSM New Bedford. He can be heard weekdays from 10 a.m. to noon. Contact him at chris.mccarthy@townsquaremedia.com and follow him on Twitter @Chris_topher_Mc. The opinions expressed in this commentary are solely those of the author. 
More From WBSM-AM/AM 1420